Nationwide Auto Transportation Boat Shipping Service
Do you need to ship a boat from Point A to Point B? That's no problem! Nationwide Auto Transportation offers a professional boat shipping service across the US. With a track record spanning over 12 years, we're ideally placed to deliver on your needs.
Although boat shipping seems simple enough, only professionals can really foresee the risks that weather and road conditions can impose on your vessel. You may have a friend who is experienced in towing boats, but it is important to know that your insurance will not cover boat shipping unless it is done by someone who carries the proper insurance, Motor Carrier Authority and Department of Transportation registration.
Our carriers have a blemish-free safety record when it comes to shipping boats on behalf of our valued customers, which includes new boat buyers, custom boat manufacturers, dealers, and sellers.
Clients rely on our boat shipping services when:
They want us to transport their boats across the country to their vacation destination. Towing a boat across land is much slower than driving without it. Instead of towing your boat, ship it with Nationwide Auto Transportation, and fly to your destination. This could give you several additional days of vacation enjoyment!
They buy boats from out of state. Towing boats should be left to the professionals. When you buy a boat from out of state, let us bring it to you.
They want to ship their boats to international destinations and need someone to take it to the port.
Boat Shipping: What Goes Into a Quote?
Boat manufacturers, dealers, and private sellers also call on Nationwide Auto Transportation when they need to transport boats to their clients.
The first step to transporting your boat is to get a free quote. In order to provide the quote, we will need the following information from you:
Full dimensions of your boat (height, widths, length and weight)
Collection and deliver addresses
Once we have these details, we'll be able to determine the equipment and carrier needed, and we will be able to determine the most appropriate route and permit and insurance requirements. Another important equation in boat shipping, is the weather.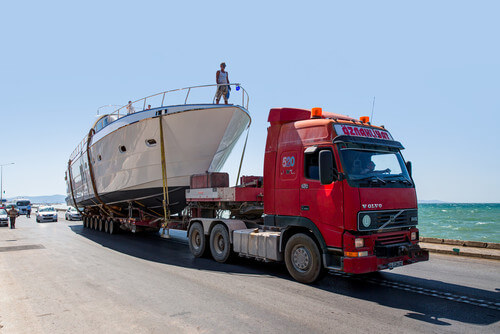 Understanding Boat Shipping Services
Nationwide Auto Transportation frequently ships oversize boats and yachts through our network of professional carriers. We can usually arrange your transport in approximately one or two weeks before pick-up. We provide a door-to-door boat shipping service.
Most boats are shipped on flatbed trailers, however, we can facilitate it via tow-and-go shipping – where it's shipped on its own trailer, provided the trailer is roadworthy. To make use of the tow-and-go method, the trailer must be in perfect working order. The lights must be functioning as it should, and the tires must be in good shape. If your trailer does not work as it should, please inquire about our other shipping methods. [Check out these 6 important tips for shipping a boat…]
Request a Free Boat Shipping Quote
Nationwide Auto Transportation offers free boat shipping quotes. Simply provide us with the dimensions of your boat, the pick up and drop off locations, and approximate dates, and we'll provide you with a free quote.