What exactly is car relocation shipping?
Managing a fleet of cars is not always as easy as one might imagine. Although cars can move themselves from one place to another, it's not always going where you need it to go. A fleet of cars is a costly asset which depreciates every day. That's why it's important to make the most of every foot of mileage. That's why Nationwide Auto Transportation helps dealers and fleet specialists to move idle stock from situations where they sit idle to busy airports, cities or other busy hubs, by means of car relocation shipping.
Reasons for Car Relocation Shipping
Rental cars may be in high demand in certain areas, such as around airports, rather than in smaller towns. Another reason may be that you're upgrading your inventory, and wish to replace older cars in high-demand locations with the newer vehicles. Perhaps there has been a sudden boom in a previously slow business location, and you want to capitalize.
Maybe you're retiring a few cars from your fleet and need them to be shipped to a re-seller.
Finding the best spot for your fleet gives you the potential to achieve maximum returns on your investment. But knowing your options can be infinitely more beneficial. Your car relocation shipping options include:
Paying your employees to move your cars to busier centers.

Hiring freelance drivers to move the cars to car hire hubs.

Pricing city-to-city rates at rock bottom to entice renters to move the cars to the new location.
Each of these methods have benefits and risks, mostly financial.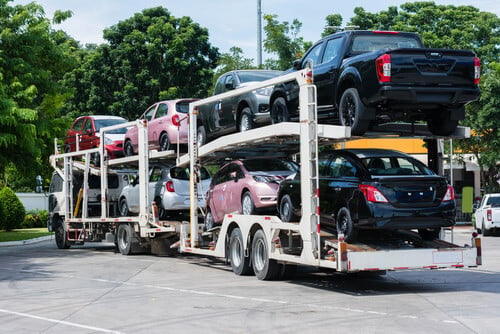 Professional Car Relocation Shipping
The fourth option is professional car relocation shipping. Nationwide Auto Transportation offers a fleet relocation service, which is a safe, reliable and economical method for moving your vehicles from one location to another.
Nationwide Auto Transportation collaborates with reliable auto transportation carriers around the US to provide car relocation shipping services. The benefits of working with Nationwide Auto Transportation offers real benefits to car dealers, car hire companies and other fleet management providers in terms of fleet shipping services.
These are some of the factors that set us apart as the #1 car relocation shipping provider:
Extensive Network of Auto Carriers
Nationwide Auto Transportation is an auto shipping broker, which means that we act as a liaison between you and the transporter. Car carriers are driving all the time and unable to take calls and manage customer service on the road. That's where we come in.
Our vast network of carriers operate on all major routes in the US, including roads leading to airports and seaports, providing professional car relocation shipping services.
Expedited Service
We offer a coast-to-coast car relocation shipping coverage to anywhere in the continental US. Thanks to our coverage and vast network of carriers, we're able to quickly assign spots on the most suitable carrier for your needs. It also enables accurate scheduling.
Real-Time Order Tracking
Our proprietary software enables us to provide precise tracking of your shipment at all times. Need to know where your vehicles are at any point during the car relocation shipping process? We can easily track it using data from our network of major GPS providers.
Book Your Car Relocation Shipping With Nationwide Auto Transportation
Ready to let Nationwide Auto Transportation be your shipping partner? Consult with one of of logistics experts online, via email, or telephonically and we will gladly provide a car relocation shipping quote based on your specific requirements.