St Louis Car Shipping Services
St. Louis is the second larges city in Missouri, and is known for the iconic arch that graces the entryway to the city that welcomes thousands of visitors every year. The city is also popular for the Jefferson National Expansion Memorial, the St. Louis Rams NFL team, and the Cardinals baseball team. The local economy thrives on manufacturing and industry, and popular companies such as Anheuser-Busch, Emerson, Energizer and Monsanto are headquartered in the city.
The large concentration of major employers beckon people from around the US to St. Louis in search of employment, which drives the demand for St. Louis car shipping services. Whether it is a corporate relocation or simply an individual moving to the city for their own personal reasons, people rely on Nationwide Auto Transportation to facilitate their St. Louis car shipping services.
Nationwide Auto Transportation is a leading auto shipping company in the USA. We offer regular St. Louis car shipping services to the city, which features many interstate and auxiliary highways. Its central location enables fast and efficient collection and delivery of vehicles. This also tends to reduce auto shipping rates.
When our large network of carriers provide cheap auto shipping rates, we pass the savings down to you, our valued customer. Speak to NAT today about affordable door-to-door St. Louis car shipping.We ship your vehicle door to door at the lowest rate possible, utilizing the highest quality equipment in the industry. Our drivers are dependable and highly experienced professionals. We guarantee safe shipping and timely delivery of cars, trucks, motorcycles, and boats.
Missouri offers incredible natural scenery. From botanical gardens to casinos, premium boating, live theater, to golfing and horseback riding, there's plenty to do for everyone. Looking to ship your car to Missouri? Nationwide Auto Transportation offers vehicle shipping to Missouri, including Columbia, Springfield, St. Louis, Kansas, and many other cities.
If you need to move your car from Missouri to any other US state, Nationwide Auto Transportation will pick it up and deliver it safely to its new home. We offer a range of vehicle shipping options to suit your needs and budget. Our reliable vehicle transport carriers cover routes running in every direction across our country, from the West Coast to the East Coast and everything in between.
FREE St Louis Auto Transport Quote
Need a free St Louis auto transport quote? Don't hesitate to get in touch for a free, no obligation quote using our door to door car shipping calculator or by calling our friendly, helpful car shipping logistics consultants at  1800-311-7073.
Car Buyers Transport to and From St Louis
Looking into purchasing your new car from out of state? It may even be from another city within Missouri. Sometimes, car buyers just don't have the time to collect their new cars, and need to make use of car buyers transport – a professional car buyers transport service which collects your car from the address provided, and delivers it as close as possible to your destination.
Nationwide's Car Buyers Transport could very well be what you are looking for. Recently shipped your car from another country? In addition to that you need it delivered from the dock at which it arrived as close as possible to you destination. Or purchased a car from a dealership across country? After spending a small fortune on a car its natural that you would want the lowest rates possible on your car buyers transport.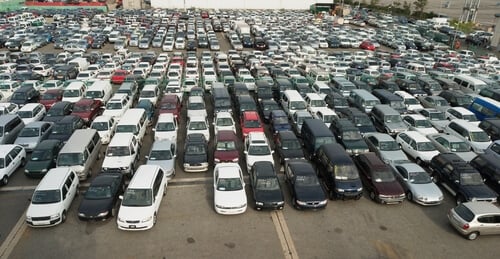 Our car buyers customers are free to choose between two shipping services which are:
Open Car Carrier – This is the preferred and most common mode of car buyers transport as it is cheaper and faster, not to mention safe.
Enclosed Car Carrier: This method of transport is preferred for luxury cars as this adds privacy and helps to secure your car from harsh weather conditions.
St Louis Car Shipping Services & Car Buyers Transport
Nationwide Auto Transportation car buyers transport services is just what you need for safe, reliable, efficient services. We ensure that your car gets to its destination in one piece.
Car Buyers Transport [St Louis]
Our car shipping uses the best suited carriers to make sure your vehicle is carried safely. Nationwide Auto Transportation St Louis car shipping services are usually used by person moving into St Louis or out of. This usually includes homeowners as well as college students. If you are a college student looking to make the move to St Louis, then you are absolutely in luck! NAT has had over 15 years of experience in the car shipping service provider. Has shipped to over 50,000 customers over 48 states. Nationwide Auto Transportation is the leading car buyers transport companies in Norfolk metropolitan area.
9 Tips in Preparing your Car for Transport to or from St Louis
Things you should consider when shipping using our St Louis vehicle shipping services. We value our customers and as such take great pride in being able to offer competitive pricing. In addition to providing world-class customer care and service. Here's how you can also help to ensure that you receive the best possible service when shipping with Nationwide Auto Transportation:
Remove all personal items such as clothing, electronics or accessories from the car. Visible items can result in theft.

Don't fill your gas tank all the way up before shipping as this adds extra weight. ¼ tank of gas in the car is the recommended.

The vehicle would need to be loaded onto the ramp so provide an extra set of keys so the driver can have access to move the vehicle.

Wash your vehicle before shipping in order to ensure the most accurate inspection.

Turn off or deactivate car alarms.

Always request the bill of lading from the driver upon delivery.

Make sure the battery is in good working order and the car starts easily. A vehicle that stops operating in the midst of an auto transport will be treated as an inoperable vehicle (this may attract additional charges).

Secure any loose items such as racks, convertible tops, etc. 

Disconnect projecting antennas for safety reasons

.
Weather Info for
St Louis