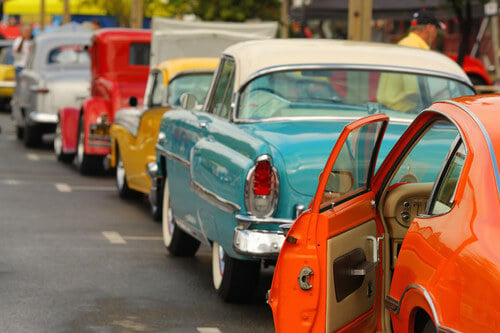 If you're a lover of classic cars, owning your dream vehicle could well mean buying it online or from an auction out of state. Either way, you will probably require professional classic cars auto transport to bring it to you. The last thing you want is to add more unnecessary miles onto an older car. That's why experienced exotic car owners trust reliable classic car transportation services to bring their babies home.
Many vehicle shipping companies offer classic cars auto transport, but it is important to choose one with a strong track record in delivering smooth, safe auto transportation. Once you've made the decision to purchase that exclusive vehicle, you will have to do your research to find the most suitable company to bring your classic car home.
Nationwide Auto Transportation has the largest carrier network that covers the entire U.S. We pride ourselves on a track record of quality and an exemplary safety record, which you can view on the Federal Motor Carrier Safety Administration website. Whether you have a single car or a fleet of vehicles, we take a custom approach from providing you with the best possible classic cars auto transport quote to in-house customer service, real-time tracking of your vehicle, and auto shipping insurance.
At Nationwide Auto Transportation, we understand that a classic car is an investment. That's why we look after your car as though it were our very own. We're committed to ensuring it arrives back to you in the same condition in which we received it.
Successful classic car auto shipping starts with proper equipment to handle the low clearance and elements that cater to the specific shipping requirements of a vintage car. Most often, classic cars are shipped using enclosed transport.
Why Would You Need Classic Cars Auto Transport?
At Nationwide Auto Transportation, we serve many different people. One of our biggest groups of clients, is classic car clubs and organizations. We also serve vintage car dealers and individual collectors.
At NAT, we understand – and we're passionate about – classic cars. We understand that some of these vehicles are rare, fragile, and many still have their original paint. For most classic car owners, their vehicles are priceless and sentimental. You don't want your car damaged and that's why we make it our business to transport your classic vehicle in the safest way possible. Like you, we put that extra little bit of thought into safeguarding your classic car to ensure it reaches its destination in the same condition in which it left.
Whether you call us to ship a number of vehicles from your dealership or club to another, or whether you're an individual who wants to have your vintage car shipped from your home to a specialist repair shop, we can help. We also ship classic cars from private collectors to museums and from exhibitions to clients' homes or shops.
There are numerous benefits to shipping classic cars including the fact that there's no wear and tear on your vehicle, and a much lower risk of accidents.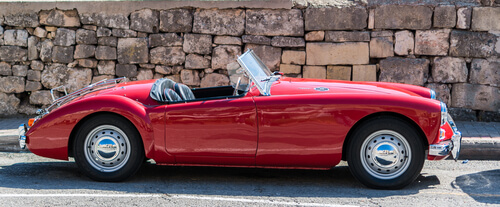 How much does it cost to ship a classic car?
While shipping costs are important, it's only one factor of the equation. There are several other issues to take into consideration. Many companies are focused on shipping as many cars as possible, and only a few specialize in shipping classic cars, muscle car transport and classic car delivery.
Our car shipping calculator makes it easy to find out exactly what vintage or exotic car transport cost. There are no hidden fees, as everything is included in the quote for our standard car shipping package. If you have any special requests or requirements, do get in touch with our team. Additional fees will be charged if:
your fuel tanks need to be emptied
your battery requires charging
special equipment is needed to load or offload your car
we cannot collect from or deliver to the addresses specified and you're unable to meet us at the nearest public parking area
the delivery fails and storage is required
To avoid incurring any additional costs, please speak to our team upfront our your exact needs and the specifics of your muscle car transport requirements.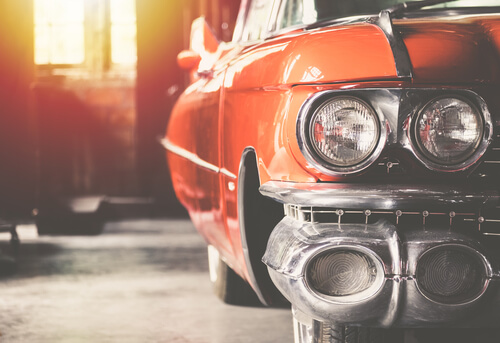 Classic Car Delivery from Nationwide Auto Transportation
It's always a good idea to choose an established company to ship your car, because they are more likely to use expert drivers and to know what they are doing. Established companies have all the experience and the equipment required to strap your car and ensure that it is as safe as possible.
When you work with Nationwide Auto Transportation, you can rest assured that only the most modern enclosed carriers will be used (if you choose enclosed transport) to ship your classic car. Our reliable matrix of delivery carriers operate across forty-eight states, delivering professional experience and care. Here's what you can expect from your experience with Nationwide Auto Transportation:
Our fleet includes fully enclosed transport options for older model cars, muscle cars, classic cars or antiques.
Your car will be shipped in a shift-resistant carrier with air-cushioned suspension.
Each door-to-door classic cars auto transport order will receive excellent customer service, insurance coverage, and GPS tracking.
We are committed to providing reliable classic car transport on which our clients can always rely. Contact Nationwide Auto Transportation today to book your classic cars auto transport.