For more than 12+ years, Nationwide Auto Shipping has been the leader in heavy duty shipping. We pride ourselves on a phenomenal success record of safely delivered wide load, over-dimensional or heavy shipments. We can move what other carriers can't.
From power generating equipment to heavy machinery, turbines, coolers, compressors, generators, specialty vehicles, boats and RVs, we handle it all. With an extensive network in nationwide shipping partners, we have served the construction, alternative energy, oil and gas, agriculture and mining industries. In fact, Nationwide Auto Transportation is the leading provider of heavy duty shipping for these industries in the U.S.
Logistics experts at Nationwide Auto Shipping understand how to find solutions to the most common heavy haul trucking requirements, such as:
Selecting the best trailer – Heavy loads usually require trailers with seven or more axles. The dimensions and weight of the cargo will determine the type of trailer required.
Permits – Each state has its own requirements for heavy haul carriers, however, each state requires permits from certain authorities such as the Department of Transport to move any cargo that exceeds load limits.
Escort vehicles – In cases where the load prevents the truck from maintaining the legal speeds, escort vehicles will be required. This typically includes a pilot car in front and another in rear. Nationwide Auto Transportation will arrange this if needed.
Cargo loading – Nationwide Auto Shipping will arrange your shipment with a reliable carrier who will supply all the necessary equipment for loading and unloading your heavy cargo.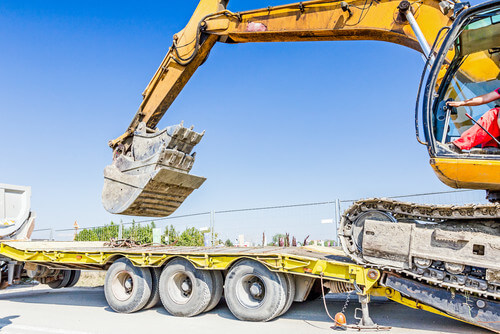 Choose NAT for Your Heavy Duty Shipping Requirements
When you need heavy duty shipping, you can rely on Nationwide Auto Transportation team of logistics experts to choose the perfect trailer and equipment to suit your heavy duty shipping requirements. Our network of carriers have:
Removable goose-neck (RGN) trailers
Double drop deck trailers
Nationwide Auto Shipping only works with the most reliable, expert drivers who can handle over-sized or overweight loads. With skills honed over many years in the industry, as well as professional training, our carriers know how to adjust loads to meet per-axle requirements.
Each of our carriers complies to our high expectations of customer satisfaction, on-time delivery and cargo safety. We only work with fully insured, licensed and bonded carriers who have clean MVR records. Our heavy duty transporters service all routes across the US, assisting your vehicle with the necessary shipping solutions.
When you book your heavy duty shipping service with Nationwide Auto Shipping, you can rely on expert, personal service every step of the way. We provide real-time tracking and timing of each shipment, so you can call us at any time for an update on the status of your cargo.
We have been in the industry for more than 12 years, and most of our carriers have been in the business for decades. We pride ourselves on providing a single point of contact between clients like yourself and our busy, on-the-road carriers. We provide both parties with the best possible value service.
Book your heavy duty shipping service with Nationwide Auto Transportation now.