Whether you are being deployed, changing your duty stations or simply need your vehicle shipped from point A to point B, Nationwide Auto Transportation will assist with professional military auto transport. Out of gratitude and respect for our active duty military and their families, we offer the best discounts available on our military auto transport services. We also make our military customers our top priority.
Sometimes, having to relocate from your home base to another can be an overwhelming process. If you and your family are moving across the country or even to another country, you may be wondering what to do with your vehicle. Nationwide Auto Transportation will remove some of your stress by shipping your vehicle to your new base, or back home when you are being deployed.
Nationwide Auto Transportation offers military auto transport to and from any military base in continental USA, with routes and carriers operating on a frequent basis. We recommend that you contact us for your military auto transport booking as soon as you become aware of it – ideally a month in advance. As with all kinds of auto transport, the sooner you book, the better your experience. Although our network of carriers span over 15, 000 vehicles, auto transport is a busy industry, and finding reliable last-minute reservations tend to be more costly.
Our military auto transport services include cars, sport utility vehicles, motorcycles, vans, RVs, boats, heavy machinery and equipment, and utility service vehicles. With a BBB A+ rating, and hundreds of five-star customer satisfaction ratings, you can rest assured that it's our goal to ship your vehicle to your PCS destination safely and on time.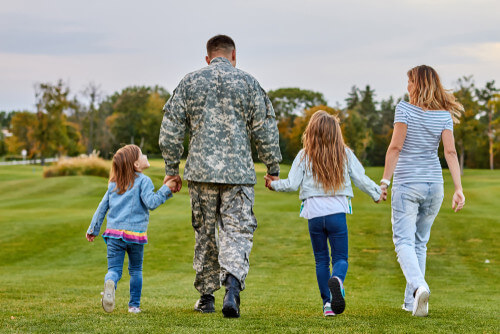 Answers to Your FAQ About Military Auto Transport
Is my car insured while it is being transported?
Yes! Your carrier is obligated to carry cargo insurance to provide coverage against transport damage. Additionally, we also offer contingent cargo insurance.
Can Nationwide Auto Transportation deliver my vehicle to my base when I'm not there?
Yes, we can! The NAT logistics team will liaise closely with you to make it the most stress-free shipment ever.
My vehicle has been modified. Will this cost extra?
Yes, there are additional charges for modified military PCS vehicles. The reason for this is that modified vehicles tend to take up more space on the carrier.
Are personal items shipped inside the car insured?
No. Although you can ship a small amount of personal items in the care, they will not be insured. We recommend that you ship all valuables, sentimental items and important documents on your person.
How long does military auto transport take?
When you place an order for military auto transport, an estimated transit time will be provided, which will provide an indication as to when your vehicle will be delivered. Moving distance has a great influence on the transit time. Each delivery is unique, however, it is possible for your car to be delivered faster than the estimated transit time.
What are the requirements for POV military auto transportation?
To book a military auto transport service:
The vehicle must be legal on public highways and self-propelled.

The vehicle must be leased or owned by a member of the military or their dependent.

Leased vehicles require written consent from the third party.

All vehicles that are not motorcycles, mopeds, or boats must have four or more wheels.
If you are an active duty member or veteran of the Coast Guard, Air Force, Marines, Navy or Army, contact us today to book your military auto transport service.