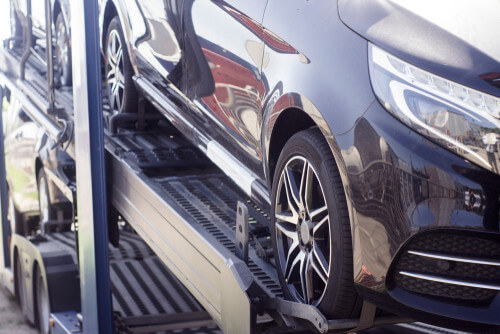 Open Car Transport – Your Questions Answered
Open car transport is the preferred transportation method for most customers, due to the fact that it is fast and economical. Nationwide Auto Transportation offers a range of shipping methods, including open transport, enclosed transport and custom options tailored to your specific needs.
Open Car Transport vs. Enclosed Carrier
Enclosed car transport is more expensive than open car transport. However, despite how safe open car transport is, we recommend enclosed shipping for:
Particularly sentimental cars
While hundreds of thousands of cars are safely shipped using open car transport every year, without incident or damage, enclosed auto transport is the even safer bet for the above types of cars.
But what does open transport mean?
Open transport car shipping means that your car is shipped on a car carrier trailer that typically has two racks on which 4-10 vehicles can be positioned. The truck, which can be anywhere from 16-feet to 24-feet long, has no walls or roof, but it is equipped with safeguards and special equipment to keep your car safely secured to the storage ramps.
Commercial car carrier trailers usually have a double-decker design, and the decks have subdivisions that use hydraulics to enable independent movement. While flatbed tow trucks are equipped with loaders and winches to upload non-operational cars, car carriers are loaded by driving the vehicles onto the hydraulic ramps from ramps. Once loaded, the cars are secured to the ramps using wheel straps, tie-down ratchets, and chains.
Some people seem to think that enclosed auto transport is far superior to open car transport or that open transport car shipping is really cheap car shipping and therefore bad; but it's simply not necessarily true. Open car transport is much safer than what people think, and it is a viable option for almost every car.
The way in which open car transport trailers are built, provides protection for vehicles. While cars on an open carrier will be exposed to the elements, the beams and bars will deflect most objects from your vehicle. Unlike driving your vehicle, it will not sustain wear and tear when it is transported across the country. That means that no miles will be added, and tires will not be worn down and the risk of accidents is reduced dramatically.
The car will be secured to the beams and equipment of the trailer during open car transport, and every precaution will be taken to prevent anyone other than the driver or other authorized employees have access to your vehicle. Every security measure is taken at all times to keep your vehicle safe.
Commercial car carrier drivers are extremely highly trained and Nationwide Auto Transportation only works with drivers who have several years of experience on the road.
If, despite every effort on your part to safeguard your vehicle, it still sustains damage during the the open car transport process, our auto transport insurance should cover the costs of repairs. You can help ensure your claim is paid by taking pictures of your car before and after shipping, including any damage, from all angles before the car is shipped. You may also inquire with one of our logistics experts about the type of insurance we offer, and the specifics about what is and isn't covered.
Before a company is allowed to transport cars, it has to adhere to a number of regulatory and insurance requirements required by the Department of Transport and the FMCSA.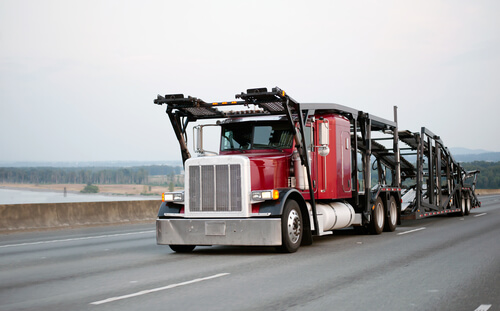 How much does it cost to ship my car with open car transport?
Many people wonder how our online car shipping calculator works. Several factors affect the cost of your vehicle transport, one being the type of auto transport you select – in this case, open car shipping. Other considerations that will impact on the cost of open car  transport include:
distance
car type and size
type of shipping (standard, expedited or same day)
current fuel price
tolls, fees and surcharges.
The best way to find out the price of open car transport for your vehicle, is to complete our online car shipping calculator form or to call our logistics specialists at 1800-311-7073.
What Is the Cheapest Way to Ship a Car?
Open car shipping is the cheapest way to ship a car by far. Our car shipping calculator will confirm this.
The reason why open transport car shipping is cheaper than enclosed auto transport, is because the car haulers can fit more cars at a time. That means that more shippers share the cost of a vehicle at a time, and that's why it is cheaper. Also, most car haulers are open carriers, so there are more of them on the roads, which makes booking so much easier and faster.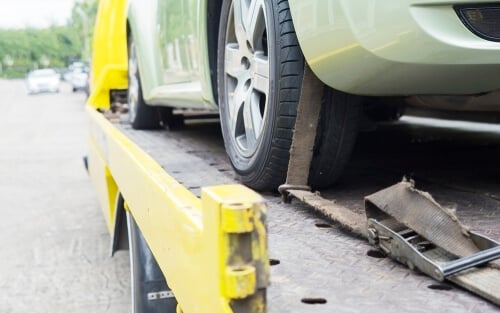 Why Is NAT the #1 Choice in Open Transport Car Shipping?
Since our inception more than 15 years ago, we at Nationwide Auto Transportation have dedicated ourselves to becoming the foremost car shipment company in the US, offering both open transport car shipping and enclosed auto transport. We have earned an A+ rating on the BBB.
After all these years, and many accomplishments along the way, including shipping over 25, 000 vehicles in 2018 and well over a million in total, we're still the preferred auto shipping company.
Some of the things that set us apart, include:
Vast Carrier Network
Most auto transporters in the Nationwide Auto Transportation database (which includes almost every car shipping trucker in the US) offers open transportation. With so many truckers available, there are more options to collect your car. These carriers compete to be the best and to offer you cheap car shipping.
The carriers cover vast road networks as well, ensuring that no matter where you want to send your vehicle, we are able to make it happen, safely and cost-effectively, through our network of open car shipping transporters.
Guaranteed Collection
Our open car transport drivers travel between various locations throughout continental US. If you require a specific collection day, we can arrange that. That means that we can transport your vehicle fast and take it to your destination in no time, thus ensuring a more efficient move.
Timely Updates
We keep tabs on your vehicle as it goes through the transport process, whether you select open transport car shipping or
enclosed auto transport. We communicate with the carrier as well as the designated trucker to provide you with timely updates.
Nationwide Auto Transportation offers both enclosed and open car transport across all routes in continental USA. Our network of drivers do their utmost to ensure that your car is delivered in the same condition in which it was collected.
Need a free open car transport quote? Don't hesitate to get in touch for a free, no obligation quote using our door to door car shipping calculator or by calling our friendly, helpful car shipping logistics consultants at  1800-311-7073.