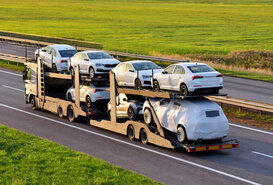 Arlington, TX
Are you still looking for the best way to ship your recently-purchased car online? Did you participate in a recent auction in Arlington, Texas but you are clueless on how you can bring home the prized vintage car that you snapped at a bargain prize? Whatever your motivation for planning to ship car, you can count on our pool of experienced truck drivers and handlers to do the moving job for you. At Nationwide Auto Transportation no job is too complicated or complex since we offer highly scalable vehicle shipping services that can attend to almost all kinds of requirements every time. With years' worth of experience in the field of auto shipping, you can rest assured that we can plan out a great shipping experience for your specific needs. By calling 817-786-3276, you will be properly guided on the appropriate auto shipping service prepared just for you! Call us at 817-786-3276to check out our listing of auto shipping services.
Responsive Auto Moving Solutions Can Be Yours
Consider us as one of the leading providers of auto shipping services in Arlington, Texas. Nationwide Auto Transportation is based in Colorado, but with a nationwide coverage and a pool of ready professionals and truck drivers, you can relax knowing that your prized possession is in good hands! We are in the business of providing vehicle transport service from Arlington to any point in the state and the rest of the country. We are confident to say that our business maintains one of the widest networks and offers different kinds of shipping options to our customers. Aside from our regular service of auto shipping, you can also call us for help when it comes to shipping your motorcycles and even heavy equipment units. We also offer door to door shipping, enclosed and even open shipping services.
Secure and Safe Car Shipping, Guaranteed
Security, safety and reliability- these are our business guarantee. For the last 6 years, we have served thousands of satisfied customers and we plan to do the same to you. Call us at 0000 to sign up for our services and experience what others are raving about. Move your recently-purchased car in Arlington with ease, call us at 817-786-3276!