Nationwide Auto Transportation is the number one choice for students auto transport. When students are moving away from home to college, whether it is within the state or across the country, parents turn to NAT for reliable, safe car shipping services. We have a seasoned team of professional carriers that provide auto transport solutions for all types of vehicles.
Parents don't enjoy seeing their children grow up, and seeing them move off to college is even harder. While you may be proud to see them grow up and furthering their education, it is hard to let them go.
The planning process and packing for campus can be complicated enough. Seeing them throw all their belongings into the back of the car and driving off into the sunset can be one of the most scary things for a parent. Although it may seem like a fine idea initially, and perhaps more cost effective, letting your student drive across vast stretches of land alone – or even with a friend or two – may not be the best idea.
The long road poses many hazards and many safety issues can arise. Most young drivers are not used to driving long distances alone, and may not know when to take a moment to rest. Every year, 100,000 road accidents are caused by driver fatigue. Approximately 1550 result in fatalities. A student may want to stay with the family as long as possible, but also be under time pressure to reach campus on move-in day and unpack before pre-class activities commence.
Don't take chances by allowing your child to drive all the way across several states. Instead, let the experts handle your students auto transport services.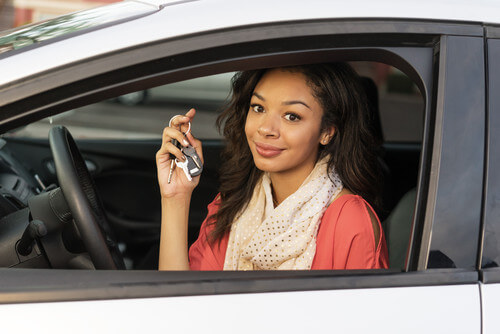 Nationwide Students Auto Transport Services
After 15+ years in the business, we have worked with many parents needing students auto transport for their children who are leaving home, and who want to avoid the risks that go hand in hand with solo travel across vast distances. Apart from protecting your child from the many potential road hazards, you can:
Save on travel expenses, food, and gas;

Prevent additional wear and tear on the vehicle;

Prevent potential damage to the vehicle and resultant inflated insurance premiums.
Our carriers travel these roads every day and they know them off by heart. They understand the weather conditions throughout the year. That's why we're committed to taking the stress out of getting their vehicle to their new home.  
Booking Students Auto Transport Services
It's important to book your students auto transport services around your arrival dates. Unless you opt for the more expensive single car transport option, you will likely opt for open carrier car shipping. That means that other cars are collected and delivered along the way. Most carriers move approximately 500 miles a day in favorable conditions.
Another consideration is the fact that most schools may not want a 50 foot truck to drive up to their campus housing. The same applies to other residential areas. However, our drivers are accommodating and willing to meet you at the nearest safe location.
Nationwide Auto Transportation aims to provide affordable, convenient and safe door-to-door shipping for students attending any colleges in continental USA.
Heading back to school? Get in touch with Nationwide Auto Transportation now to book your students auto transport.