Reading Time: 5 minutes
Is it possible to keep your car clean with kids? Spilled snacks and muddy footprints?
No Problem! Keep Your Car Clean with Kids and get a $25 Starbucks Voucher with Nationwide Auto Transport's Mother's Day Promo!
Keep Your Car Clean with Kids
We're not going to lie, keeping your car clean with kids can feel like an impossible task. From snacks and toys to spilled drinks and muddy footprints, it can seem like there's always something to clean up. But don't worry, we have some helpful tips to make your life a little easier.
Essentials for a Car Cleaning Kit
Wipes (disinfectant or baby wipes)
Hand sanitizer
Trash bags
Small vacuum cleaner or portable car vacuum
Microfiber cloths
Glass cleaner
Stain remover
Air freshener
Multipurpose cleaner
Gloves (disposable or reusable)
Remember, these are just the basics. Customize your car cleaning kit to include any additional items that you find helpful. Keeping your car clean and organized with kids is easier with Nationwide Auto Transportation. Read more about kids and cars on their Blog. As a bonus, learn how to maintain your car records while you're at it.
Use Creative Storage Solutions for a Clutter-Free Car
Let's face it, trying to keep your car clean with kids, and your car organized, can be a daunting task. But fear not, fellow moms! We've got some creative storage solutions that can help keep the clutter at bay.
Consider using a shower caddy or a hanging organizer to store items like snacks, toys, and wipes. These handy storage solutions not only keep things within reach but also prevent them from rolling around the car and causing chaos.
Trust us, it's like a game of Tetris trying to fit everything in the car! Still, with these smart storage hacks, you can make the most out of your space and keep things organized. Go on! Grab your favorite shower caddy or hanging organizer, and let's get to work!
Visit this page for more tips on kids and car safety.
More Creative Hacks for a Clutter-Free Car
With these creative hacks, you can keep your car clutter-free and organized, even with kids in tow!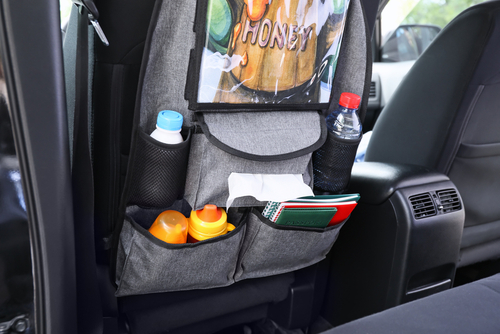 Use a car seat organizer
Car seat organizers are designed to fit snugly against the back of your car seat. They provide pockets and compartments for storing toys, snacks, and other small items. This is a great way to keep your kids' things within reach and prevent them from getting lost in the car.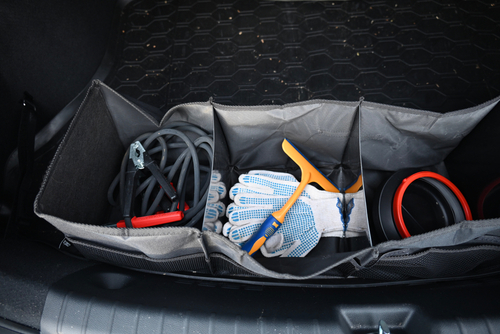 Use a trunk organizer
Trunk organizers come in various sizes and designs. They are perfect for keeping larger items like groceries, sports equipment, or emergency supplies organized in the trunk of your car. They also prevent items from rolling around and making a mess.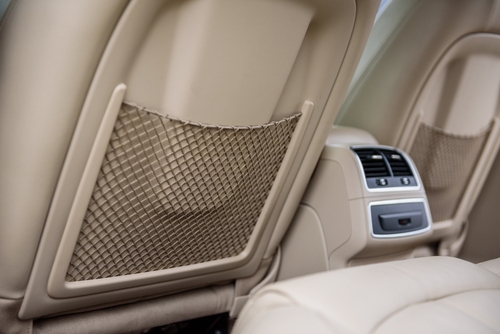 Install a backseat storage net
A backseat storage net attaches to the back of the front seats. It provides a space for storing larger items like jackets, books, and tablets. This is especially useful if you have older kids who need more space to store their things.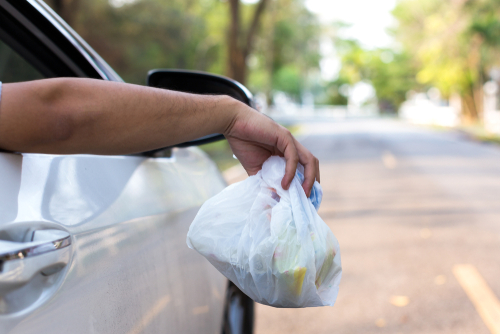 Use a car trash can
A car trash can is a small bin that fits in the backseat or trunk of your car. It provides a designated spot for trash. This helps keep your car clean and prevents trash from accumulating on the floor.
Set Ground Rules for a Cleaner Car
Let's face it, kids are messy. But that doesn't mean your car has to be! By setting some ground rules, you can help keep your car clean and tidy with the little ones.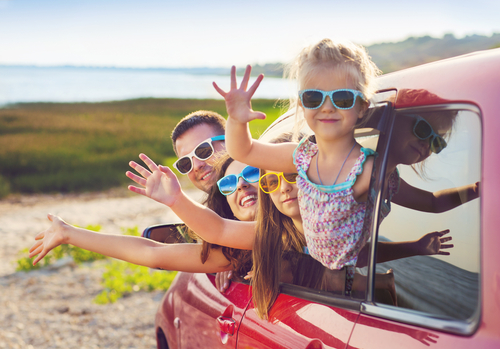 Some suggestions for ground rules include:
No eating in the car
Cleaning up after themselves
Taking their shoes off before getting in the car.
Now, we know what you're thinking – enforcing these rules is easier said than done. But trust us, consistency is key. And sometimes, the kids have better memories than adults when it comes to rules. So, don't be surprised if they remind you to stick to the rules you've set!
In the end, setting ground rules not only helps keep your car clean but also teaches your kids the importance of taking care of their belongings. So, sit down with your little ones and set some ground rules for a cleaner car today!
Schedule Regular Car Cleanings for a Fresh and Clean Ride
We get it, life gets busy and cleaning your car might not always be at the top of your to-do list. But regular car cleanings are important for keeping your ride fresh and clean, both inside and outside.
Regular cleaning helps prevent dirt and grime buildup, which can lead to bad odors and even damage to your car's interior. Plus, it just feels good to drive a clean car!
So, when should you schedule these cleanings? A good rule of thumb is to clean your car after a long road trip or at the change of each season. This ensures that your car stays in top shape and is ready for whatever adventures lie ahead.
And here's a fun fact – cleaning the car can be a form of therapy! Taking the time to clean and organize your car can be a great way to de-stress and unwind. So, grab your cleaning supplies and get ready to feel the Zen.
In the end, scheduling regular car cleanings not only keeps your car in great condition but also makes driving a more enjoyable experience. So, make a date with your car for a cleaning session and enjoy the benefits of a fresh and clean ride.
How to Keep Your Car Clean with Kids | Wrapping it Up!
There you have it, moms! We've shared some helpful tips on how to keep your car clean and organized with kids. Let's do a quick recap: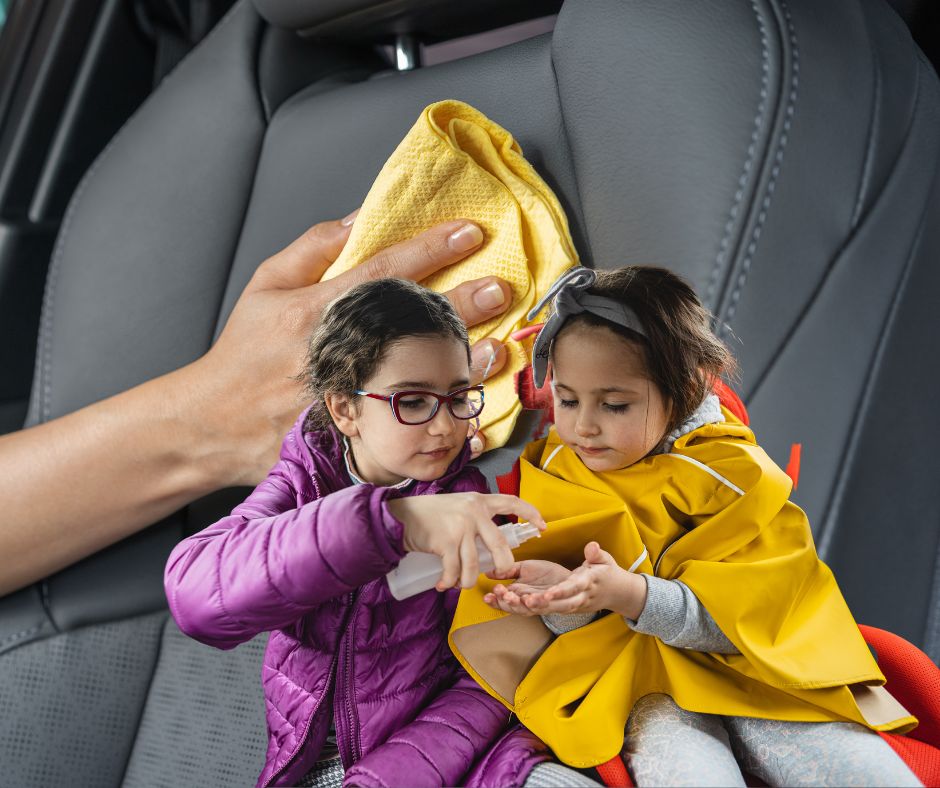 Create a car cleaning kit with essentials.
Use creative storage solutions.
Set ground rules for the kids.
Schedule regular car cleanings.
Remember, a clean car not only looks good but also feels good to drive in. And with these tips, you'll be able to maintain a clean and tidy car with the little ones.
Oh, and don't forget about Nationwide Auto Transport's Mother's Day promotion (details to be confirmed) where you can get a $25 Starbucks coupon when you book car shipping. What's not to love about that?
So, go ahead and put these tips into action and enjoy a cleaner, more organized car. And as always, happy driving, moms!
Hey Mom, Do You Need Auto Shipping?
Need to ship your car, boat, or motorcycle? Contact Nationwide Auto Transport today! With our reliable and affordable shipping services, you can sit back and relax while we take care of the rest. Fully insured and registered with FMCSA. Plus, with our Mother's Day promotion (details to be confirmed), you can get a $25 Starbucks voucher when you book car shipping.
So, what are you waiting for? Contact us today and let us handle your shipping needs!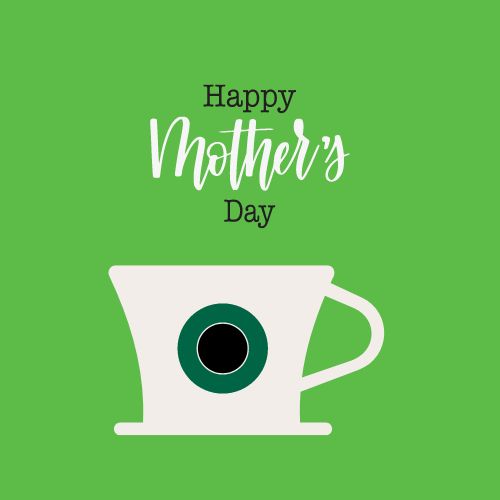 Mom!
Get 20% OFF your first shipment and receive a FREE $25 Starbucks gift car when you ship your car with Nationwide Auto Transportation!