Reading Time: 8 minutes
"Look at my boat," the first time boater says to all around. "Look at her brand new shine. Look, I bought her safe and sound. Look at my boat; she is all mine…"
Buying your first boat can be likened to the enjoyment of your first kiss. The flutterflies of anticipation, that culminates in that sweet, lingering touching of lips, followed by the glorious feeling of accomplishment as you sail away into the sunset.
What if we told you that Nationwide Auto Transportation can deliver your 'Little bit of Nauti' to her new berth, safely and affordably? And did you know that—just like kissing—boating gets better with experience?
In this post we give you all the information you need to know about owning a boat for the first time, so you can have fun boating legally and safely.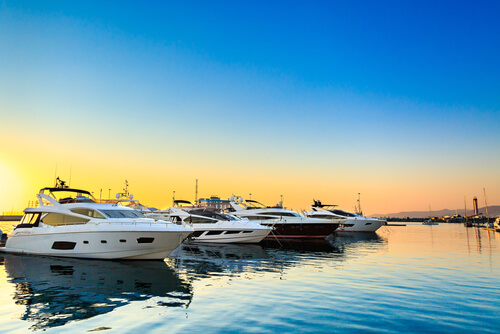 Tips for First Time Boat Owners
Boating is one of the most popular pastimes in the USA that is enjoyed by around 100 million Americans every year. So why would you not want to buy a boat then? It is good to keep in mind that, as a potential first time boater, there are quite a number of things that you should know before committing to your first watercraft purchase.
By learning the right way of doing things at the beginning of your boating career you will save yourself endless hassles, as well as have a boat that is well-maintained. This is not only paramount for your safety as a first time boater, but will also stand you in good stead when you want to sell your investment, and buy a bigger or faster boat!
One thing that is almost a Fishsizzle guarantee, is that as a new boat owner, there will be some point when you need to ship your Fantasea from A to B. When this time comes, get a free quote from Nationwide Auto Transportation.
So, what are these first time boat owner tips that you should know? Read on to learn the most important things you need to know:
Safety is key: Didn't you see that coming? The pleasure of boating is extremely low-risk, but as with anything, the fun ends abruptly if someone is injured. Take your boating safety course seriously, and spend some time getting to know your craft from bow (front) to stern (back), before you launch. Safety always comes first. For your safety as well as that of your guests on your boat, it is very important that you maintain and keep your boat in tip-top shape. In other words, you shouldn't just buy the most expensive accessories, but also know how to keep yourself safe. How many people are allowed on my boat? The quickest method for determining capacity—or the number of passengers allowed—is to multiply the length by width and then divide the sum by 15.
Maintenance and Repair: Know what parts of your boat need maintenance and keep them in the best possible condition (engine, hull, upholstery, plumbing, hinges, and electrical system). You should regularly inspect them for damage, and if necessary, repair right away.

Basic tasks include:

Check electrical and mechanical parts regularly.
Fresh water should be pumped through the boat's motor.
Dry the interior and open compartments, including hatches, to prevent mold growth.
Be sure to thoroughly rinse your boat before storing it.
Use recommended boat products to clean the interior.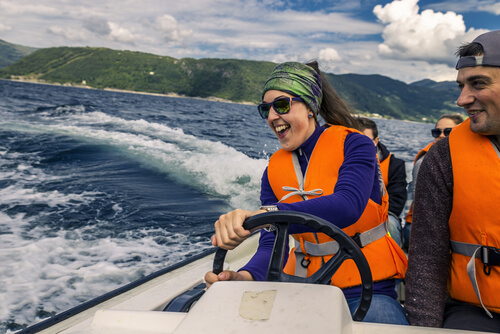 Boat Fueling Tips and Advice for First Time Sailors
It is safer to fuel portable tanks on the ground rather than on the boat.
Before refueling, ground the nuzzle part. Turn off the engine and close windows and doors.
Wipe off any fuel leaks.
Be sure to use a ventilation blower after fueling the engine.
Fuel should be cleaned up if it leaks into the water. Offenders may be fined or jailed for violating the law.
Use products free of chlorine.
Use only biodegradable products whenever possible.
To get more information regarding how to look after your boat and how to prepare it for winter, first time boaters should read our article Winterize your Boat.
Insurance: Many people see insurance as a grudge expense, and yes, it may seem that way – until something goes wrong. Make sure you are as comprehensively insured as you can afford. Accidents can happen at any time so you should always be prepared. Be sure to understand the insurance package's scope and limitations before making a decision. In case you are unsure of the contract's terms, ask relevant questions and always keep the document in a safe and secure place.
Know your local boating laws: Make sure you are familiar with the boating laws in your area before boarding your vessel. States have unique boating education requirements, as do the boating laws, rules, and regulations for obtaining a boat license or safety certification. Read more about Boating Laws & License Requirements by State Laws and Regulations to know what you can, or cannot do on your home waters. It would be a miserable experience to start your boating journey with a fine or even a jail sentence. Make sure the Hull Identification Number (HIN), which is the boat's identification number, is not altered. An altered number may indicate legal problems.
Get to know Basic Boating Terms: I highly recommend that you should also learn some basic boating terms as a first time boater. It is more than just an opportunity to sound cool in front of your friends, being familiar with these words can keep you safe. These words are often found in your boat's owner's manual, as well as Coast Guard instructions and other written guides:

Aft – toward the back of the boat
Ahead – The boat is moving forward
Astern – backward movement (reverse)
Amidships – the middle of a boat or vessel
Bow – the front part of the boat
Forward – forward motion of the boat
Port- The left side of the boat
Port bow – a boat's front left
Port quarter – a boat's rear left
Starboard – The entire right side of the boat as seen from the rear
Starboard bow – the boat's front right
Starboard quarter – the boat's rear right
Stern – the rear of the boat
Topside – transition from the lower deck to an upper deck
Underway – Movement caused by motor or wind

Get a handle on how to control and drive your boat. To be the captain of your own boat is a fantastic experience, but this only really happens once you have fully mastered the control of your vessel, and in practically any type of weather and conditions. Boating is not like driving a car at all and hence a safe way to start is to enroll in a boating course, or courses.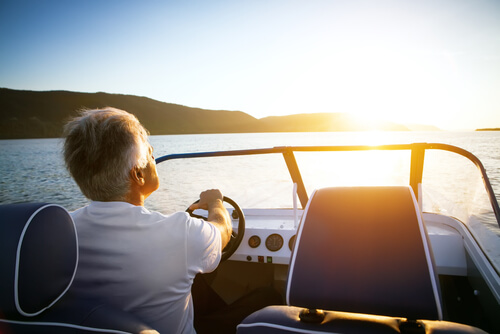 Your first few times on the water should be at quiet, off-peak times where you can find safe, open water to get a feel for your new lady. Be gentle with her and start off real slow. Don't be tempted to go too fast at the outset. The result is a guaranteed way to lose control and lead to disaster. With practice, you'll gain more comfort and gradually increase the speed. Ask friends and fellow boaters (with more experience than you), along for a ride, and learn from them.
Choose an activity you want to try. Prepare to have some serious fun once you've taken care of the safety stuff. And I mean actually prepare—do research and involve the family around the kitchen table to embrace one question; "What do we want out of our first time boater experience and moving forward?" After you decide on a course of action, make sure you have all the boating gear you need to get on the water—so get ready for bags 'o' smiles on tubes, wonderful wave grins on a ski, or your own 'tails' of the one that didn't get away… from your boat. Read our page on Boat Shipping to learn the best way of transporting your vessel.
Plan ahead and use a pre-departure checklist. Give yourself a little extra time both before and after the trip. When you start something new, it's always well advised to take it slow. The last thing you need is to be rushed, because that is when mistakes happen. Take your time to prepare your boat, stow necessary gear, and work through the pre-departure checklist. In order to secure, clean up, and wash your boat when you return to the dock, you'll want to allow extra time. Make sure to factor this in when you decide when to begin and end your trip, so you are not under any time pressure.
Know how to get your boat safely to and from the water. There are some people who are lucky to have space to store their boat where they live. This makes trailering your boat a good option, if it is done correctly and with care. You must ensure that the hitch is heavier than the boat and that the hitch receiver is the same size as the hitch ball. Boat ramp angle, trailer type, and draft of the boat are all factors to take into consideration when towing and trailering a boat. Make sure the chains that attach to the hitch receiver are interlocked so that the boat won't roll even if the receiver fails.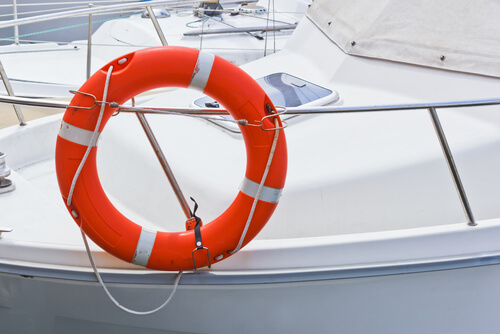 At the end of a great day out on the water, there is a little bit of work to be done to make sure your craft stays shipshape for many years. Do a proper walk around inspection and put everything back in its designated place. Make sure that all the water is drained from the boat before leaving. It is often during boat shipping and storage that boats are damaged due to standing water. Read our blog post Boat Storage to learn more and avoid costly mistakes as a first time boater.
Practice, practice, and then practice some more. Get someone with knowledge of towing and trailering to help you… and practice some more. Knowing how to drive properly with a boat on a trailer will make your life much easier and less embarrassing in the future. Imagine getting to the ramp and everyone has to wait cause you can't reverse straight?
Check Everything Before You Leave—Have a checklist ready for each journey so that everything will be in order. Make a list of the tasks you need to perform and the parts of the boat you need to inspect. Don't forget to include these items as well:
Cell phones, wallets, keys, and similar gadgets can be stored in Ziploc bags
Enough drinkable water
Fire extinguisher
Distress signal equipment/flare gun
Life jackets
Flashlight
Horn or whistle
Change of clothes/towels
Compass/GPS
Portable WiFi
Sunscreen/sunblock
Sunglasses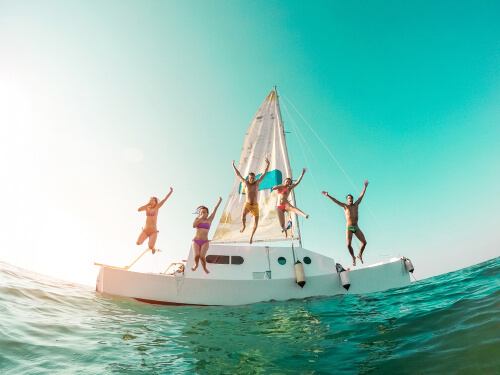 It's Time for First Time Boater Fun
The Ts are crossed, the Is dotted and you are ready for a life filled with boating adventure. Remember why you bought a boat in the first place, for fun and leisure right? Feel the wind in your hair and the sun kissing your skin… You are the captain of your own ship. If your interest is more commercial, all the more reason to enjoy your experience—when you love what you do, you won't work a day in your life.
Get a FREE boat shipping quote and 20% OFF
Nationwide Auto Transportation has trucks traveling on all major routes several times a week. When you need a spot on a truck, we can secure it for you at the right price. Contact a boat shipping broker today to learn more.
Nationwide Auto Transportation offers free boat shipping quotes. And if you're a first time boater booking boat transport for the first time, you get a whopping 20% off! Provide us with the dimensions of your boat, the pick-up and drop-off locations, and the approximate dates, and we will give you a free quote.