Reading Time: 3 minutes
What is freight shipping? A good question for Nationwide Auto Transportation, a leader in the cargo shipping industry. We put together a small explainer to help you understand freight carrier differences.  We explain why you should not always opt for the cheapest freight shipping company.
Freight shipping transport goods, commodities or cargo (also known as freight) by road, air, or water. The most common types of loads freight carriers handle are:
Inter-modal
Less than truckload, or
Full truckload.
As such, the most common types of freight carriers that handle these types of cargo include trucks, cargo planes, ships, or railroad cars that carry containers. How long does freight shipping take? It depends on the distance, the weight of the goods and the type of carrier used. Cross country shipments via cargo plane will naturally take quicker than a truck.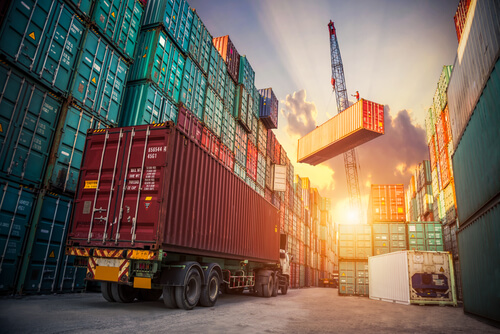 Freight shipping is a safe and cost-effective shipping method for a variety of goods, and the variety of modes available within freight shipping:
Full truckload – If the size of the load is large enough to justify the loading capacity of an entire semi-trailer, a full truckload is the most cost-effective option. This is usually the best option for loads exceeding 15,000 pounds.
Less than truckload – LTL shipping is reserved for shipments that are smaller than a truckload, but bigger than a parcel – typically 150 to 14,999 lbs.
Partial truckload – This option allows several shippers to all split the cost of the truck and the driver for individual loads of around six pallets and more than 5,000 pounds in weight.
Intermodal – This type of shipping combines truck and rail transportation, for example, when methods are combined to reduce costs or streamline shipping.
Specialized Freight Carriers & Equipment
Specialist freight carriers use different trucks and equipment based on the freight they carry. In most cases, they use freight loads based on the commodity. Some of the specialized freight shipping equipment include:
Dry vans – Most freight trailers used in the commercial trucking industry are dry vans. These trucks are made to transport dry goods and have a capacity of up to 45,000 pounds. Dry vans typically measure between 48 to 53 feet.
Flatbeds – When your load is oversized, overweight, bulky, or oddly shaped, a flatbed is the way to go. However, it is unsuitable for weather-sensitive or fragile goods.
Temperature controlled vans – When the goods you have to transport are sensitive to climate changes, opt for temperature controlled vans that will keep your goods fresh and prevent it from spoiling. This is suitable for transporting perishable goods such as fresh produce, dairy, seafood, meat and pharmaceuticals.
How much does freight shipping cost?
People often want to know how much freight shipping costs. As with auto shipping, there are no standard freight shipping rates, as it depends on a number of factors, such as:
Origin and destination – The shipping distance will be a major contributing factor to the cost of shipping. The cost of shipping loads is usually determined by the distance between metro areas.
Shipping method – The transportation mode is an important factor in determining the price of shipping. Expedited shipping will cost more than standard shipping.
Size of load – Naturally, one of the key determining factors of a load would be the weight and dimensions of the load. In order to meet Department of Transport requirements, the width and length of loads must be rounded up to the next inch. However, weight measurements must be accurate.
Specialized services – A shipment that uses special equipment or requires specialized handling will cost more. This includes hazardous materials, fragile items and perishable goods.
Conclusion
When it comes to freight shipping, carriers are able to carry just about anything, using the various modes of freight shipping based on your specific cargo. If you are unsure of the type of freight forwarding service you require, freight carriers and their logistics teams will help you find the ideal solution.
Unlike parcel services, freight carriers transport loads larger than 150 pounds. Freight classification is a method which aims to provide consumers with a uniform pricing structure, while freight class is determined by value, density and weight.
Just as Nationwide Auto Transportation is an auto shipping brokerage, freight service brokers sell freight forwarding services without actually owning transportation equipment. They are able to find reliable contractors who can forward or carry your load.