Reading Time: 4 minutes
You may come across the term RO/RO shipping when you are moving overseas. Then you decide to ship your vehicle to your new country. Roll-On/Roll-Off ships became a popular method for transporting vehicles across the seas. This happened when automobile production became a globalized industry and manufacturers had to ship vehicles overseas. RO/RO shipping is a convenient and affordable method for transporting your vehicle abroad.
In the 19th century, RO/RO ships were built to transport trains that were too wide for bridges across rivers. This type of cargo is measured in a special unit. To calculate Lanes in meters (LIMs), multiply the number of decks by the width in lanes by the number of decks and by cargo length in meters. There are various industry standards and the lane width will differ by vessel.
When you want to ship your car, you can choose one of two options; you can either ship your vehicle in a cargo container or using the RO/RO shipping method. Of course, it is always a good idea to invest in cargo insurance.
The largest ship in the world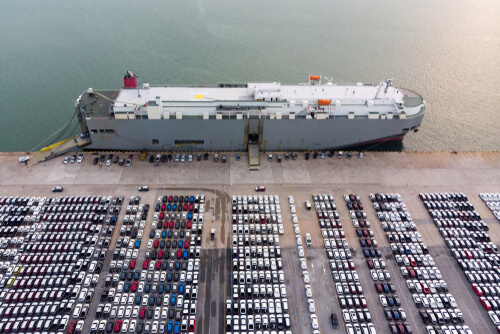 The MV Tønsberg, built by Wilh. Wilhelmsen has been the largest RO/RO ship in the world, as of 2012. It is 869 ft in length and 105.8 ft wide. It has a 36 ft draught and 151 ft air draught with a gross tonnage of 76,500 gt. The ship features six fixed decks and three hoist able decks that are lifted by electric winches.
Today, specialized RO/RO ships are used to ship cars. Ships have adjustable decks that can be used to carry vehicles of different sizes, including trucks and vans. (barges, cargo ships, and ferries)
Each vehicle has to be driven and parked in the correct location, and secured to the deck. Much like a car park, the vessel has a number of decks. The cargo is placed on the most appropriate deck for its size, weight, length and height. The vehicle is secured to the deck using lashings. At the destination, each vehicle must be unloaded and parked at the correct place in the port. 
The International Convention for the Safety of Life at Sea (SOLAS) defined the roll-on/roll-off ship as "a passenger ship with cargo spaces or special category spaces". It is different from the Lo-Lo (lift on – lift off) ship in the sense that the latter uses a crane and built-in ramps to load the cargo.
Why RO/RO Shipping?
A wide stern ramp is used to load and discharge vehicles onto or off of the vessel. This offers an efficient and secure process that involves less lifting. Loading is not weather dependent, which makes it convenient and once inside, the vehicle is protected from water and wind.
Many different companies offer RO/RO shipping services for cars, and it is the most economical and simplest shipping method for individual vehicles. These ships can handle all types of vehicles. The cost efficiency of RO/RO shipping is what made it so popular with importers and exporters of vehicles.
Most companies that offer roll-on roll off shipping also offer container shipping. RO/RO shipping requires that the car is in running condition, as it has to be driven onto and off of the ship. When you use container shipping, the car is placed in an open or closed container by crane, and therefore, it need not be in running condition.
With RO/RO shipping, you benefit from fixed arrival and departure dates. That means that if you meet the necessary criteria, RO/RO shipping is the better option compared to container shipping, and most often, it is least expensive. With container shipping, the shipping cost will depend on whether you need a shared or exclusive container. Most often, it is cheaper to ship the vehicle to the nearest port location that offers RO/RO shipping rather than to the nearest port, which only offers container shipping.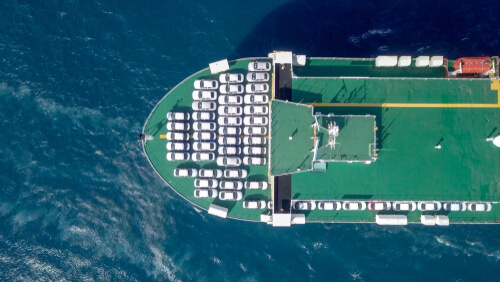 RO/RO Shipping Explained
When you want to make use of RO/RO shipping for your vehicle, it will first have to be brought to the international shipping port. If you are close enough, you can bring it there yourself, otherwise it must be hauled there by auto shipping company.
When you use RO/RO shipping to move your vehicle overseas, or to Alaska or Hawaii, it is important to note that you may not ship any personal effects with your car. You may only ship the vehicle with its factory fitted accessories, such as the spare tire.
Nationwide Auto Transportation has relationships with many RO/RO shipping companies and port authorities across the east and west coast. We offer weekly routes running to and from the ports and can assist with all your auto shipping requirements. Speak to us today about our RO/RO shipping options.