Reading Time: 2 minutes
What are car shipping myths? False rumors are perpetuated about the car shipping industry to discourage people from shipping their cars. Some of these myths include the fact that car shipping companies provide inaccurate quotes, and that open shipping trucks are unsafe.
Although we've all seen auto shipping trucks on the road, the industry remains rife with misconceptions, making it difficult for consumers to trust auto transportation companies to take good care of their vehicles in transit. That's why we've compiled a list of the top car shipping myths we most frequently encounter. We'd like to make it as easy and as pleasant as possible an experience when it comes to shipping your car.
Myth 1: Auto transporters purposefully provide inaccurate quotes
It's true that unscrupulous fly-by-night companies give a very low initial quote, preying on consumers' natural habit of selecting the cheapest quote. However, that's not the case with honest shipping companies. When you ship a car with NAT, we provide an accurate shipping quote based on the specifics of your shipping requirements. There are no hidden fees.
Myth 2: Open car carriers are unsafe
90% of all cars are shipped using this method, and Nationwide Auto Transportation has a 100% scratch free record. Customers who have used this method agree that it is safe. However, if you prefer to hide your luxury or rare car from prying eyes, we can arrange enclosed auto transportation. Even though open carriers don't have sides and a roof, the beams and racks still offer plenty of protection from road debris.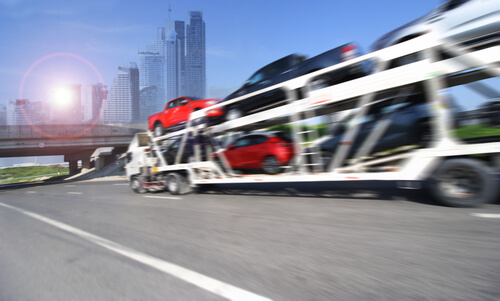 Myth 3: You should select the lowest auto transport quote
Everyone wants to save money, but most often, you get what you pay for. If the safety of your vehicle and the level of service you receive are important factors, be sure to select a company according to the quality of service and the specifics included in the quote rather than basing your decision on price alone.
Myth 4: Auto transport reviews are fake
While this is often true with many online companies, there are places where you can find legitimate customer reviews. You can read verified reviews on Yelp, Better Business Bureau, Facebook, and Google Business. But don't only read the reviews. Also read the way in which the auto shipper responded to the message to see how they interact with unhappy and difficult clients.
Myth 5: It's cheaper to just drive than to ship your car
In some cases, it might be cheaper to drive your car to its destination. But that's not really accurate in general.
An interstate or cross-country drive can be time-consuming, cumbersome and dangerous. You still have to find a place for you and your passengers to overnight, supply meals and snacks throughout the trip, and pay for fuel. That's not considering the dangers of traffic on the interstate highways, the time you have to take off from work, and dealing with bad weather.
Professional truck drivers are trained to handle these issues, as well as distracted drivers and hazardous road conditions. They are experienced in doing just this, as it's their full time job.
Still have questions or misgivings about auto transportation? Get in touch with our friendly representatives now to learn more.