Reading Time: 8 minutes
Shipping your car by train is just one of the car relocation options you could consider when you need to relocate. However we know that it is a daunting prospect. If you have two cars it may be more practical for the family to drive in one car. Meanwhile shipping the second car by train with the help of auto shippers. This is often the preferred (and more economical) option when you need to move a car across a long distance. It is great when going on a holiday, or extended business trip. Individuals and auto dealers often ship cars by train when they buy or sell cars from other cities.
It's becoming more popular to ship cars by train (intermodal railway freight shipping). Pricing is quite competitive due to the large volume of vehicles that are being shipped on a regular basis. Nationwide Auto Shipping offers first class services for those wishing to ship cars by train. This service can help you save time. Along with this there is money on car hire, fuel costs and toll fees.  At the same time while minimizing the risk of accidents, hijacking, and potential damages. Moreover while reducing those costs and dangers. You also have the convenience of access to your own vehicle when you reach your destination.
Shipping Your Car by Train | It takes Longer
Shipping a car by train takes longer than shipping the car by road or air freight. However, shipping a car by rail is also more energy efficient and fuel efficient. Unlike shipping by road, the rates of shipping a car by train don't fluctuate in relation to gas prices. This is one of the most attractive aspects of this car relocation service.
There are many factors to consider when it comes to pricing shipping a car by train. The average rate to ship your car by train is about $1,000. This is depending on the destination and size of your car. This may or may not include the price of hauling the car to and from the train depot. It's often cheaper to ship your car by train than by truck across distances that exceed 750 miles. It's always a good idea to look for several quotes with different options. This helps you compare and choose the right option for your needs.
If car relocation by train is an option, it may just be the way to go for long distance moving. In the past, shipping cars by train mainly covered Northeast-to-Southwest routes. More auto transportation companies are making this service available to their clients. Therefore it covers most main routes in Illinois, Louisiana and Florida. Many of the major cities still have working train stations. Which makes it easy to bring your car to or from the station.
What can I ship by Train?
You can ship all types of vehicles by train, including cars, motorcycles, boats, trucks and more. So when you're going on an extended vacation down south, consider putting your car or RV and boat on the train while you fly down. You'll get there faster than you would if you had to drive all the way. You could even send your goods ahead of time, and you could fly out on the day your vacation starts. This will give you more time to enjoy fun in the sun.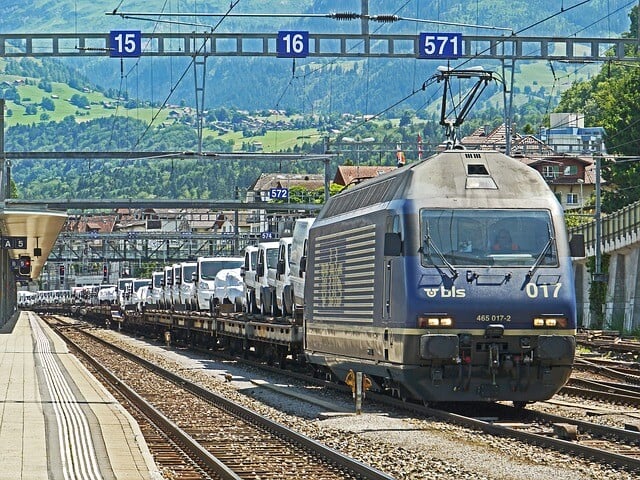 Shipping Your Car By Train: Weighing Up the Options
When you decide to ship car by train, there are some options available, but not many. One of the drawbacks is that major rail routes such as Santa Fe, The Burlington Northern, Union Pacific, CSX and Amtrak don't usually deal with customers wishing to ship one car by train. They usually partner with auto shipping companies when it comes to filling the available spaces on their carrier cars.
Ship a Car by Train: Cost Effective and Green
Although many auto transportation companies offer overland or road freight auto transportation, it can be quite cost-effective to ship a car by train. In most cases, this type of auto shippers will still make use of a car carrier truck along the way – this is known as door-to-door transport. For instance, the truck may collect your car from its current location and transport it to the train terminal. It may also take it from the end terminal to its destination. If your auto transportation company offers rail transport services, it should also accommodate your overland transportation and short term storage, if that's required.
Shipping by train is not only more fuel efficient, but trains also have a good MPG rating. They stop less and use less fuel, which in turn result in fewer greenhouse gas emissions.
Shipping Your Car by Train: Enclosed or Open
Shipping a car by rail – similar to road freight car transportation – offers enclosed and open vehicle carriers. In principle, it's exactly the same thing – only the mode of transportation differs. Just like open carry vehicle carriers on the road, open rail vehicle carriers leave cars visible while it rolls across the tracks. This will expose your car to the elements if the train carries your car through bad weather, and you may notice some dirt or squashed bugs on the windshield. However, it's really a safe and secure method of car relocation. Car transport insurance will cover any small scratches or dings, in the highly unlikely case that your car is damaged while it is being transported.
Shipping your car by train in an enclosed car carrier offers more protections, but it will naturally be slightly more costly. However, it offers your vehicle more protection against the elements as well as flying debris. Also, there's the added benefit of shipping other items in the container along with your car. If your vehicle has a high financial or sentimental value, is a classic, collectible or super car, you should opt for an enclosed carrier. This is also a better option for motorcycles.
Extra Benefits when Shipping Your car by Train?
An additional benefit of car relocation in a container, is that you might have the option to use up all the remaining available space in your designated container for other goods you wish to transport. You'll be charged for the entire container, so you might as well maximize your shipping costs.
In some cases, there are limitations for shipping cars by train. They may limit space on the cars to some extend. Therefore, they may not ship vehicles that are too tall. Also, they may have limitations on low ground clearance. Most rail companies that offer car shipping by train limit cars to lengths of 65 inches, and vans, SUVs, and trucks to 90 inches. In many cases, it is possible for your auto transport company to negotiate these
Shipping Your Car by Train: Travel With Your Car
The market offers both large and small auto train companies. It's up to you to find the right one. Something you might want to look into, is to see whether your car will be shipped on a cargo-only train, or on a mixed-use train. This means that you might be able to travel alongside your car in the train. You might have to check your car in sooner than yourself, so it's important to find out all the details when you request quotes for shipping your car by train.
Amtrak offers a daily service between Orlando, Florida and Washington, DC daily whereby you can transport your household goods and ship your car via train while you are a passenger on the same train.
It is faster to ship a car by road if you're in a hurry. Shipping a car by train can add a good two to five days to the standard time it would take to ship your car by truck. However, shipping a car by rail can be cheaper, so it's all about considering your priorities. You can ask us for a quote on shipping your car and shipping your car by rail anytime.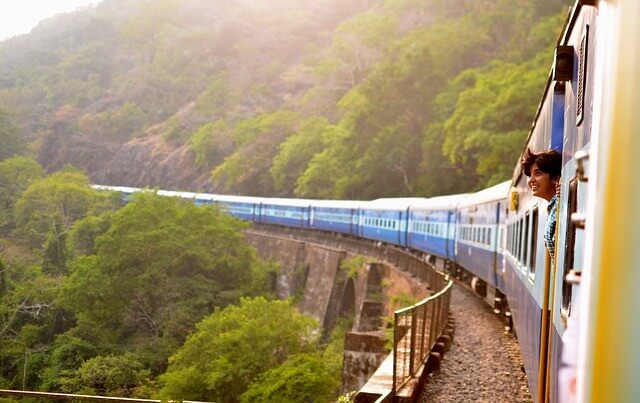 How to Ship Your Car by Train
When you make the decision to transport your car by train, it's advisable to contact a company that specialize in this type of service. It's important to choose the right company – one that is experienced and offers a professional service in a timely manner. Your auto transportation broker will supply you with a quote based on the type of car you wish to ship by train, as well as the size and destination, and the available space on the train. Weather conditions may sometimes also influence the price. They may recommend a different type of shipping if your vehicle size exceeds the limitations of shipping a car by train.
The auto transportation broker will typically request that you book the service of shipping your car by train a week or two before the shipping date.
A company that offers door-to-door transportation will arrange for your car to be collected from your home to the closest rail terminal or hub from where shipping your car by train will take place. As with other types of car transportation, it is important that you remove any personal belongings and valuables from the care when shipping your car by train. The same preparations should be taken to ensure the car is clean and in safe condition for transportation. It must have approximately a quarter tank or less of fuel, and all anti-theft devices must be deactivated, or it may not be loaded onto the train.
Follow these steps
If you decide to opt to ship your car by train, it is important to follow these steps:
After shopping around, select the most reputable and reliable auto shippers company you can find to collect your car from your home and take it to the train depot. Make sure they are insured and have a good track record in the industry.
Select your preferred option – open or enclosed rail car.
Arrange your car relocation by rail a week or two in advance and allow up to one month for delivery. You could always ask the company how long shipment usually takes along your chosen line.
Remove any personal items or valuables from the car, including removable stereo systems and accessories.
Auto train transportation companies are regulated by several different commissions which can make it difficult for individuals and transporters to ship cars by train. Overland transporters, on the other hand, are overseen by the FMCSA and the Department of Transportation. However, fewer regulations makes it faster and more flexible for clients who want to spend as little time away from their cars as possible. It also makes it easier for overland car carriers to keep their rates lower.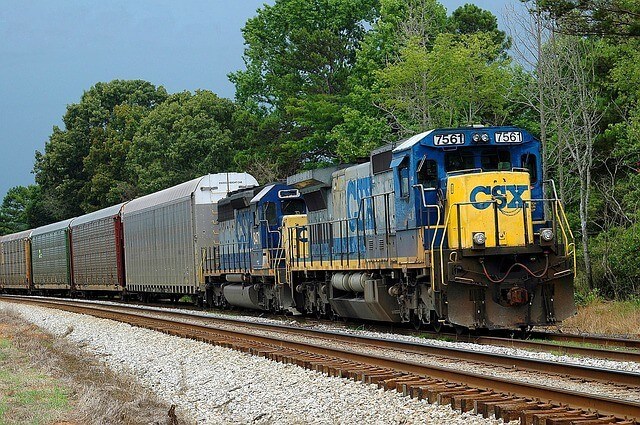 So, to summarize:
You can ship your can by train.
Shipping your car by train can be cheaper than auto transportation by truck.
The advantages of shipping a car by train include increased safety and the fact that it is a more environmentally friendly option.
Shipping a car by car carrier truck overland is still very safe (and you're insured!) and more environmentally friendly than driving it all the way. (It also saves time, fuel, toll fees and wear and tear!)
Shipping a car by train takes much longer than it does by car carrier truck, even though trucks make more stops.
Auto transportation trucks cover all routes across the U.S., but trains mainly visit major cities only. Most routes cover the eastern seaboard and from New England to California.
Space on auto carrier trains can be limited, whereas thousands of trucks cover the many routes across the continental U.S.
It's up to you to weigh up the different options with your specific needs, and to choose a company you can trust for shipping your car by train. When you ship car by train, you will have to work through an auto transportation company such as Nationwide Auto Transportation, because the major rail companies don't deal directly with customers wishing to ship a single car. Want to ship car by train? Get in touch today and let us make the arrangements for you! We're the preferred auto shippers for all your needs.