Reading Time: 9 minutes
So you've reached a new milestone in your life – you're ready to buy your first car. This opens you up to a level of freedom you've never experienced before. However, there are some things you should be aware of before you start browsing through the cheapest new cars available. Buying a car for the first time can be a rather daunting experience, which is why it's important to know what to look for.
Firstly, it is important to understand that buying and running a new car can be expensive. You must do a budget first and find out exactly how much money you have available to pay towards a new car, services, gas and insurance you have available. The best way to make your money stretch is to get an affordable car that is economical and has cheap insurance.
Most first time car buyers are attracted to the low price tags of used cars, but remember that second hand cars don't come with warranties. Brand new cars come with a warranty, which means that repairs are covered by the manufacturer. However, the chances of mechanical problems are significantly reduced in the first place.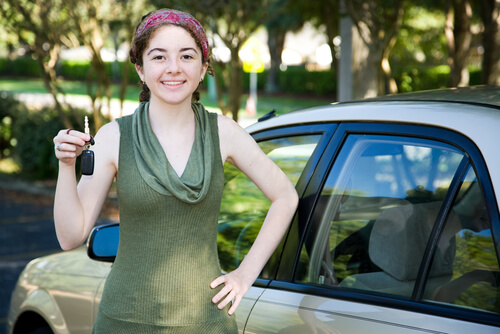 What to Look for in a First Car
New drivers have a huge disadvantage when it comes to buying a new car, and that is the sky-high insurance costs. Insurers charge new drivers and people under the age of 25 exorbitant premiums as insurers view you as a risk. However, if you can avoid claiming for a year, you should accrue some future savings. This will grow as you continue not to claim. Some vehicle financing deals include free insurance, but it typically inflates your monthly repayments significantly.
Installing an insurer-approved black-box in your car can help boost your driving reputation in the eyes of the insurer. This device monitors your driving, which allows you and the insurer to monitor your driving. Upon reviewing your performance, you and the insurer can find ways to improve your driving. They may even reduce your insurance premium if you return a good score.
Parents Buying New Cars for Their Kids
If you're a parent looking to buy your kid a car, you might want to look for the safest car you can afford. You want a car with the highest possible safety rating. Of course, not all parents can afford buying a new, expensive car. But buying a small new car instead of a second-hand car will still mean that it is safer. New safety technology continues to evolve, and new cars are fitted with the latest gear, such as electronic stability control and anti-lock brakes.
Tips for Buying a New Car
Use these tips when deciding which car to buy.
Narrow down the type of car you need
Everyone wants to own a sports car, but it is not practical for first time car owners. Sports cars are powerful, and without the required driving experience, it is literally an accident waiting to happen. Gain some experience in a practical car and exceed the 25-year age limit with insurance companies, then you can revisit this option. Meanwhile, you have a variety of body types to choose from, including hatchbacks, sedan, crossover, SUV, and pickup truck, to name a few.
Consider your needs before deciding on a car to buy. If you need to carry cargo, you want a car with a spacious trunk. If you're running a lift-club with your colleagues, make sure the car has enough space for everyone.
Fuel economy is another important factor, especially if you're buying a car for your kids.
Other costs to consider include insurance, maintenance, servicing, and wear and tear.
The projected resale value of the car is another important factor to bear in mind. For this reason, you want to narrow your search for your first car down to brands that hold their value best.
Do your homework
Draw up a shortlist of potential cars to look into. We're in a buyer's market where manufacturers and dealerships are falling over themselves trying to offer the best incentive. Be careful not to let advertised discounts sway your decision. You should only buy the car you want, not necessarily the cheapest one on the floor.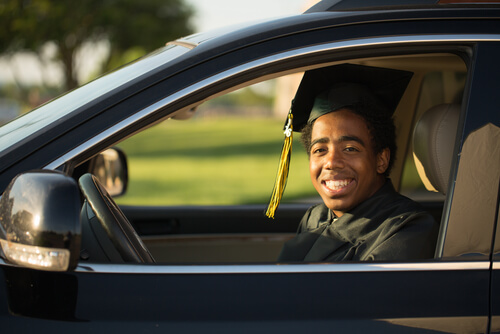 Do your homework at home before you visit the dealer. Learn as much as possible about the model you want to buy before you head to the showroom.
Do not disregard safety considerations, as this is the most important factor. Some of the factors to consider include:
Number of airbags
Antilock Braking System (ABS)
Electronic Brakeforce Distribution (EBD)
Brake Assist (BA)
Central locking
Auto locking doors
Immobilizer
Alarm system
If your vehicle doesn't come standard with these features, you may want to have it installed for insurance purposes.
Also consider whether the car comes with GPS and Bluetooth and how important that is to you. Perhaps you can make do with an after-market device rather than a factory installed system – that's a choice you will have to make based on your budget..
Financing
Most dealerships have finance and insurance representatives who work at the dealership and will guide you through the process. You might get better value for money when you buy a second-hand vehicle rather than going about it on your own. Pre-owned cars are cheaper since they have already deteriorated in value. However, it is important to remember that new vehicle costs include a manufacturer's warranty as well as other benefits such as roadside assistance and scratch and dent repairs that will not affect your main auto insurance package.
When it comes to financing your new car, it is important to ensure that you can afford it. Unforeseen expenses may pop up, such as increased interest rates. When you budget for a new car, be sure to consider insurance, fuel, maintenance, and security.
You may have the option to decide on a repayment period. You might be tempted to choose the longest option to reduce your monthly installments. However, this option tends to accrue more interest. The longer the repayment period, the longer it will take to reach break even.
Another way to reduce your monthly repayments is to put up the maximum cash deposit in order to cover the bulk of the purchase price. This will also shorten the financing period.
When you buy a vehicle from an approved dealer, you have the right to receive a car that is free of hidden defects. However, you have to abide by your part of the deal by paying your deposit and remaining instalments, take good care of the car until you have settled your agreement, ensure that insurance instalments are up to date for the duration of the contract, and to service the vehicle at prescribed intervals.

If you fail to abide by the rules and to make your repayments, the bank through which you have obtained financing, may cancel the sale agreement and sue you for the arrears. They may repossess the vehicle and claim damages from you.
Visiting the Showroom
The internet is a great first port of call for researching various models online. You can view all the important specifications without a salesman pressuring you into buying a car. But eventually, you need to visit a showroom to touch and feel the vehicle before you make your final decision. This is also a great opportunity to find out if there are any special deals on the vehicle.
This is your chance to test drive the car . Use a route that emulates your daily driving routes, and see how the car operates. Here are a few tips for assessing your future car:
Walk around to see if there's any visible damage;
Assess the engine noise levels from inside and outside the cabin;
Sit in each seat to assess the comfort levels, as well as head, leg-, and elbow room;
Open the trunk to see how much space it has;
Open all the doors, the hood, tailgates anything else to ensure it opens and closes easily.
5. Seal the Deal
Once you have decided that you love a particular car, be sure to ask the dealer to show you anything that might be unfamiliar to you. Only agree to the purchase when you are satisfied that all your questions have been answered and that the deal fits into your budget.
At this point the dealer will take you to the financial officer to apply for financing. They may ask you to provide certain documents, such as your Identity Document, drivers' license, bank statements and proof of residence.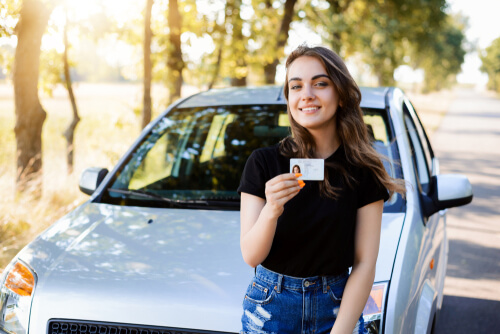 Choosing the Best First Car
Now that you understand the process of buying a car, it is a good time to look into the different options for a first car. Years from now you will look back on your first car, hopefully with fond memories.
Most people did not have a brand new vehicle as their first car. It's really a dream for many. But over the years, it has become easier for first time motorists to afford new cars. And when their parents purchase new cars, it comes with the added reassurance that their kids are driving cars with the strictest safety equipment and standards. New cars are also more reliable, thanks to modern engineering.
Let's take a look at some fantastic options for the best first car.
2019 Ford Fiesta
The Ford Fiesta has been a popular choice when it comes to buying a first car. Its small size makes it easy to drive, which is an important consideration for inexperienced drivers. New models come with MyKey, which is a form of "parental control", which allows you to set or control various factors, including:
Speed limits
Seat-belt reminders
Radio volume limit
There is a key for the parents and a key for the kids. However, the limits are only enforced on the coded key.
The Ford Fiesta is a bit more pricey than other first cars, but it offers a good return on investment. It has ample space and is practical for long drives.
2018 Honda Civic
This small car is a great first car option. Engine options include a 1.5 liter and 2.0 liter version and excellent fuel economy, while the turbo has much more power. The spacious interior offers a comfortable ride for all occupants.
2019 Subaru Impreza
First time buyers love the fuel efficiency and functionality of the Impreza. Although most teens want an SUV, the Subaru Impreza handles quite similarly. As one of the most dependable cars, parents can rely on the all wheel drive to keep their teens safe.
The Impreza offers a quiet drive and a spacious trunk with excellent fuel economy for an all wheel drive.
2019 Hyundai Elantra
It may not be the cheapest of good cars, but it is well worth considering because of the excellent fuel economy and spacious interior it boasts. It comes standard with a four-cylinder engine. You can get up to 33 miles per gallon on the 2.0 version.
The eco version is a bit more expensive, but it is also the most responsive. There is the drawback of road and engine noise
2018 Kia Rio
The Kia Rio is a basic car, but it is one of the best cheap first cars, if you can overlook its noisy interior and sluggish acceleration. The four-cylinder, 1.6-liter engine will take you places, no problem.
The EX trim comes with Apple CarPlay and Android Auto compatibility and has a front crash prevention system.
2019 Toyota Corolla
One of the all-time most popular cars, the Toyota Corolla is an excellent first car choice. It offers a comfortable, smooth journey and is quiet inside. The SE version is considered to offer slightly improved handling over the standard model.
You can achieve between 32-43 miles per gallon fuel efficiency, which is fantastic for broke teens. Depending on customization, other features could include a touch screen radio, climate control, and Bluetooth connectivity. Automatic emergency braking systems and forward-collision warning will put parents' minds at ease.
2019 Nissan Sentra SR Turbo
Experts have touted the Nissan Sentra as a great car for both girls and teens in general. It is secure and responsive, but driving enthusiasts may be disappointed by the stiff feel of the drive compared to the sporty turbo and NISMO versions.
One thing that makes the Sentra stand out is the fact that it is a bit higher, which provides great sight of the road. The rear seat offers plenty of room for passengers as well.
The Nissan Sentra SR Turbo also boasts a number of safety features, such as the rear cross traffic alerts and blind spot warning systems. It comes standard with automatic emergency braking and forward collision warning.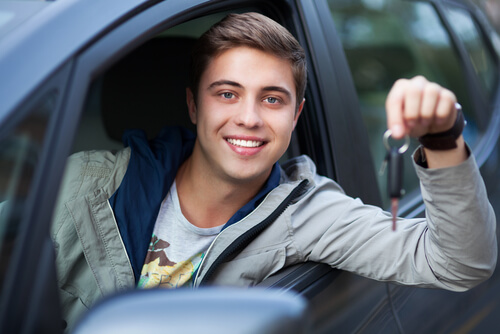 New Cars for First Time Drivers – Takeaways
It can be tricky to balance cost, safety and aesthetics when you're buying a new car for a first time driver. However, it is good to remember that a car is one of your household's most expensive assets and it pays to choose well. You don't necessarily have to buy the most expensive car, but it is worth looking at new options,
If you're a savvy motorist, you can buy your kid a decent car from auto auctions and have it shipped to your kid at college. Request a free auto shipping quote from Nationwide Auto Transportation today.