Reading Time: 5 minutes
Oregon scored three of the top 50 places to live in the 2018 Top 100 Places to Live, and in 2017, the state had the second-highest percentage of inbound moves on the 2017 National Movers Survey. But what makes moving to Oregon such a good idea?
Is it the vast options for outdoor recreation, the rugged coastline or the scenic mountains? Is it the micro-breweries or the coffee roasters? It's probably a combination of all these factors, combined with the mild marine climate and the burgeoning technology industry, and the leading college towns. Let's look a little deeper into the factors that make Oregon such a great state.
As one of the most diverse and lovely states, Oregon offers fantastic outdoor living. Additionally, it is one of the few states that don't have a state tax. It has a fantastic infrastructure for bikers in the bigger cities, and seafood aplenty.
Environmentalists move to Oregon in droves, especially to the quaint towns that offer them opportunities to live in green homes and to enjoy natural lifestyles.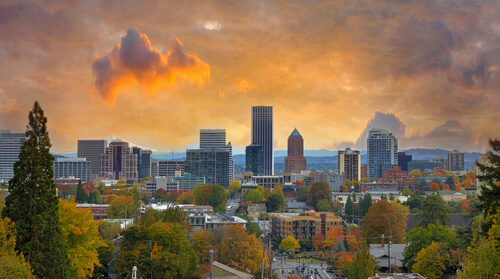 Reasons for Moving to Oregon
If you've been thinking about moving to Oregon, here are some of the things you should know first.
Primarily Mild Climate
Located in a high desert region, Oregon has a diverse landscape that includes the Pacific Ocean as its western border, dense forests, the Willamette Valley, Columbia River and the Cascade Mountains. Each region features a distinct climate, and temperatures range throughout the state. The Cascade Mountain Range sees snow during the winter months, while the Coastal Region receives the most rain.
It's important to note that Oregon is known for its gray skies. The state sees on average only 68 clear days per year. That's not ideal for people who suffer from Seasonal Affective Disorder.
Jobs and Education
Job Market
Moving to Oregon for business or employment is a great idea. The state has made the ranks in many surveys as one of the best states for business. It is home to Nike, which is located in Beaverton, and Intel in Hillsboro. Facebook has a cutting-edge data center campus located in Prineville.
Another industry that is huge in Oregon is tourism, which generates over 109,000 jobs and further impacts other industries.
The state of Oregon has a very low unemployment rate, with the average salary sitting at around $45,000.
Education
Every year, thousands of students move to Oregon to attend prestigious schools, such as the University of Oregon and Oregon State University, George Fox University, Pacific University, Pacific College, Warner Pacific College, University of Portland, or the Oregon Institute of Technology. The state is home to seventeen community colleges.
Public schools offer a mixed bag, so if you're moving to Oregon with school-aged children, be sure to do your research as to the best schools to enroll your kids. Rural districts have been struggling with limited resources.
Major junior hockey and Class A baseball is big in Oregon, but there's no MLB or NFL team in the state.
More Reason to Move to Oregon
Cost of Living
Cost of living is a big consideration when you're moving to Oregon. The good news is that it is only slightly higher in Oregon than the national average. However, the median household income was recently increased by 5.1%, which offsets the slightly higher cost of living.
Housing, Traffic and Politics
Housing Market
With the high cost of living, you can expect to pay on average $1,500 a month in rent when you move to Portland, Oregon. That's not much higher than in other cities, but worth keeping in mind.
Traffic
If you don't enjoy commuting, it's a good idea to move to a city other than Portland. The drivers of Portland have been rated as some of the most collision-prone in which is one of the most congested cities in the country.
On the upside, most cities in Oregon have an excellent infrastructure for bikes. So saddle up and hit the pedals. You'll get a workout on the way to work and back again.
Politics
While there are some pockets of conservatism in Oregon, the state mainly leans left. As a leader in renewable energy implementation, the state has been implementing a variety of progressive programs, such as automatic voter registration, and helping small business employees save for retirement.
What Grows on in Oregon?
Agriculture
If you're a keen gardener, you will be happy to know that another benefit of moving to Oregon is that food grows well in the state. Don't have green fingers? No problem! You can get your fresh produce at a local farmers market or a roadside farm stall. Some of the produce that grows best in the state includes cherries, apples, green peas, hazelnuts, beets, potatoes and berries.
Entertainment
The state hosts the Oregon Shakespeare Festival, which features a variety of shows from various eras.
If you prefer outdoor recreation, the National Parks and State Parks in Oregon are worth a visit. Oregon's mild climate is optimal for gardeners, which means that there are many gardens that you can visit, including the famous Rose Test Garden. Additionally, there are Japanese and Chinese gardens as well.
Two popular pastimes in Oregon include brewing beer and roasting coffee, so be sure to schedule visits to your local microbreweries and coffee roasting facilities for incredible insights into these arts.
In recent years, Oregon's vineyards have led to the establishment of wine towns where locals and visitors alike can learn more about this craft. The state's flagship wine is pinot noir, and you will find many businesses offering wine tastings and wine pairing dinners, and other wine infused activities.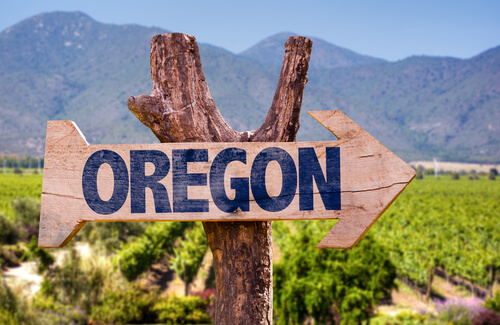 Moving to Oregon: Top Cities to Consider
With countless options to choose from, it can be difficult to decide where to put your roots down. If you want the Oregon vibe, but you don't have the budget to support it, you may look into these cities.
Salem – Oregon's state capital is Salem, or the Cherry City in Marion County. The city has a great buzz, and was ranked as one of the 100 best places to live thanks to the many educational opportunities, educational- and healthcare opportunities it offers.
Oregon City – With its flagship name, Oregon City just south of Portland is a bedroom community with a median household income of just below $60,000 and affordable median house prices. The city is steeped in history.
Gresham – Just east of Portland is Gresham. The residents of Gresham are active outdoors enthusiasts who enjoy the forty-mile biking and walking path that links Metropolitan Portland, cutting through the middle of Gresham.
Hillsboro – The Hub City, also known as the Silicon Forest, is home to high-tech industries, such as Intel Corporation, Epson, Yahoo! And others.
Albany – The city of Albany has a thriving arts and culture scene and is known as a producer of rare metals and grass seeds. The city has many historic homes, scenic river views, and a thriving arts and culture environment.
Moving to Oregon: Where to start?
If you decided that you are moving to Oregon, it's time to start looking around at some of the biggest things on your moving list:
Plan your finances. Speak to a financial adviser about how to plan for your move, and to estimate what your finances will look like when you work at your new job.
Find your new home. A good idea would be to try before you buy.
Print out a moving home checklist and follow the steps.
Schedule your car transportation to Oregon at least two weeks before moving to Oregon. Request a FREE quote now!