Reading Time: 2 minutes
Self-driving-cars are here! However, thirty years ago nobody expected that we'd be transported by flying cars in 2000.
Technology sure has advanced drastically since then. After all, Nissan Leaf has broken the UK record for the longest journey for self-driving-cars. It logged a complex 230 mile road trip between Bedfordshire and Sunderland. This specific vehicle is fitted with a range of gadgets, including cameras, Lidar laser measurement technology, radar and GPS which allows it to assess its surroundings. This enables the Leaf to make smart decisions when it comes to navigating roads and obstacles alike. But what does the future of self-driving cars really look like from where we stand right now?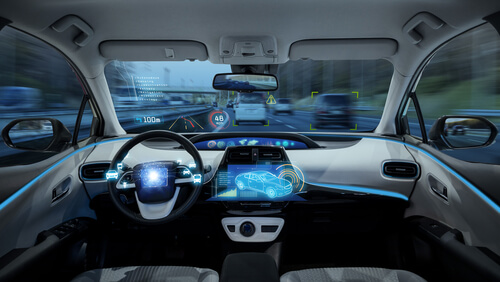 Measuring the autonomous vehicle industry's progress
The California Department of Motor Vehicles released their reports on self-driving cars. These reports detail the amount of testing self-driving-cars makers are permitted to test their creations. It includes the amount of times human operators needed to take control of the vehicle from the computer. Disengagement reports provide a glimpse into the industry. Unfortunately it doesn't provide much knowledge that allows us to gauge how far we are from the dawn of true autonomy.
Disengagements don't really provide an accurate means for measuring progress or how companies measure up against one another. After all, these rivals test in different parts of cities and they use different protocols for disengagement. As such, companies test their progress by analyzing their metrics and adjusting algorithms accordingly.
Industries that will benefit from autonomous cars
One industry that will certainly benefit from self-driving cars is the human transportation business, namely Uber. Back in 2018, an autonomous vehicle owned by Uber struck a woman on a street in California, and the company temporarily suspended their operations involving self-driving cars. However, the company is set to relaunch their autonomous vehicle testing in San Francisco soon.
Imagine being picked up in a self-driving Uber… It will provide passengers with much more privacy and it is likely to improve their safety too, especially in light of reports of assaults by drivers and more.
Online shipping should also benefit greatly from self-driving cars. We imagine the e-commerce store of the future to be much like a drive through operation. You'd place your order online, and the car would then drive to the warehouse, collect your parcel, and bring it to you. It would probably be similar when you actually buy your own autonomous vehicle. After completing the paperwork – maybe online! – the car will drive from the dealership to your front door. It would be interesting to find out if people will go on more drives or spend more time at home or at work when tasks such as filling up gas, going for services, and collecting kids from school don't really require a driver anymore thanks to autonomous driving technology.
One of the coolest features we at NAT expect to see in self-driving cars is of course the one whereby, when the car needs to charge or to fill up fuel, it would just drive itself to the charger or service station and connect itself to the pump or charger. Imagine all the time we would save!
Will you buy a self-driving car? What are you looking forward to most?