Reading Time: 5 minutes
Here at Nationwide Auto Transportation we always want to know if your car is in operable condition when you ask for an auto transport quote. So, why are we prepared to transport large auto parts when they clearly don't constitute an operable car?
Well, NAT works with all kinds of auto carriers, ranging from auto shipping carriers to boat shippers, RV carriers and even LTL freight forwarders. What is LTL freight shipping? Let us explain…
Less-than-truckload (LTL) freight shipping is a type of shared shipping for smaller loads. Instead of renting an entire truck to ship a small shipment, you can opt for LTL freight shipping. You will share the space on the truck with other shippers who have similar shipping requirements. Like all other shipments, there are limitations when you transport large car parts on LTL freight carriers. While parcel carriers (also known as couriers) handle small packages of up to 150 pounds, LTL carriers usually handle different sized loads bigger than 150 pounds, but smaller than the entire capacity of the truck. These companies will typically categorize your shipment as such:
Truckload – If your shipment makes up 100% of the available space on the truck load. The typical full truckload fills a standard 48-foot or 53-foot trailer.
LTL – If your shipment leaves sufficient space for multiple customers, that is considered less than truckload. This would also work if you're sending multiple parcels in one shipment to many individual destinations.
Parcel carrier – Best suited to small, light parcels, such as car keys, steering wheel covers, or similar items.
Truck rental – If you wish to do the shipment yourself using a rental truck from Hertz or Enterprise, that's also an option. However, you still should follow the guidelines below. Factor in the fuel costs, as well as overnight stops, food, and time (time is money!) it will take you to drive to your destination and back, and the risks of not doing it correctly.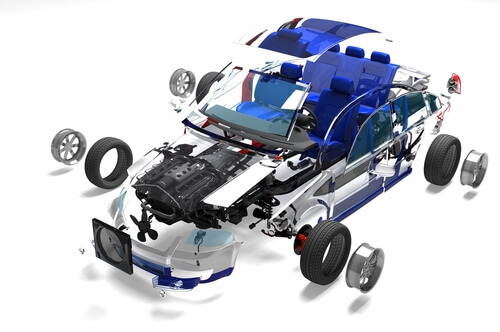 Less than truckload freight shipment is the preferred option when you need to transport large car parts or even an entire engine block. LTL freight shipping may take longer than other transport options, because there may be multiple stops on the way to your delivery address. However, it is also the most affordable shipping option. Since a variety of freight from multiple shippers is combined, you don't pay for the rental of empty space on the truck.
How much is LTL to transport engines and large car parts ?
The price to transport large auto parts will depend on a variety of factors, such as:
The weight of the shipment
Distance from collection to delivery point and also the distance to shipping terminals)
Crating, if you will be asking the carrier to crate the item for you. This is usually approximately $100.
As with all professional services, you should never base your decision about which company you use to transport large car parts on price alone. Quote comparison involves much more than just finding a price. You should also clarify what the quote includes and excludes. Some companies will not do residential delivery, or they will charge more. If the company doesn't offer on / off loading, you will have to find people to help you with that. Better yet, find a company that has a lift gate service.
Professional companies that transport large car parts usually crate it on your behalf and secure it to a standard pallet. There are different crating preferences to meet your needs, including preventing dents or scratches in vehicle body parts. In most cases, this type of item – fenders, windscreens – should be uncrushable and enclosed, and remember to check it immediately upon delivery for any signs of damage.
How to Prepare Large Auto Parts for Safe Transportation
It can be tricky to transport large car parts, as they are usually heavy and irregularly shaped.
Whether you're fixing up your wife's little run-around, or whether you finally purchased that fixer upper from the auto auctions, you're likely to have to shop a bit further afield to find all the parts to put it into running condition again. Perhaps you need to transport large car parts to a specialist service center for repair. Either way, these tips should make shipping auto parts a bit easier and much safer – both for the shipping team, yourself, and the parts.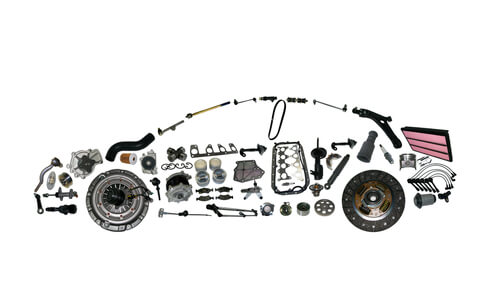 If you're packing your own engine components, please follow these procedures:
Consider whether your shipment is best suited to a courier service or LTL freight. You may want to check with the actual company. For instance, a UPS parcel may only weigh up to 150 pounds. It must also be no longer than 108 inches, and less than 165 inches combined If your parcel is bigger or heavier, you should call an LTL company. 
Find a suitable shipping container, rather than a flimsy box. Also consider what filler or padding you will use to protect the items while you transport large car parts.
Drain all fluids from the engine or part thereof, but leave the dipstick accessible. If the driver checks for oil and the dipstick does not come out clean, the pallet will not be loaded. 
Disassemble small, delicate components when you wish to transport large auto parts and wrap them individually.
Use a clean dust cloth to wipe down the large car parts of any residue or grease. 
Place oil absorbent mats or rags on top of the pallet before loading the engine on the pallet. Contain any drips. 
Stabilize the sump using a car tire. 
Use professional steel or plastic banding or a ratchet strap to secure the large car parts to the pallet. 
Place cardboard, packing reinforcements, or rags at places where the straps touch the engine to prevent sliding or chafing.
If you wrap a car engine in bubble wrap or shrink wrap, be sure the dipstick is accessible.
Seal the package properly using a pressure-sensitive plastic tape or nylon-reinforced filament tape that measures at least three inches in width. 
How much does it cost to transport large car parts?
As with other types of shipping, the cost to transport large auto parts or a non-running car will depend on the type of service you hire, the distance, the weight and volume of your parcel. 
Based on our research, the base rates to transport large car parts across the country are approximately as follows:
Up to 499 lbs. – $80 / mile
500-999 lbs. – $40 / mile
1,000 – 1,999 lbs – $30 / mile
2,000 – 4,999 lbs – $24 / mile
5,000 – 9,999 lbs – $22 / mile
However, different companies will have different rates, based on their unique offers and the size of the trucks and the availability of routes and resources. Some companies charge on a per pallet rate, and based on the number of skids they are shipping. Their prices per skid may also differ by city. For instance, shipping one skid (with up to 2100 lbs in weight) for less than 30 miles from Los Angeles might be $150. You might also pay $320 per pallet to transport large car parts on five skids across thirty miles from Seattle.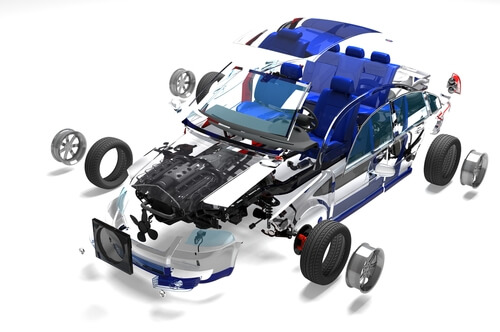 A very important factor to consider when you need to transport large car parts, is whether you have the experience and time to do it yourself before hiring a rental truck. So many things can go wrong when you take on a project that you are inexperienced with. Instead, speak to one of the friendly representatives at Nationwide Auto Transportation about your options and to request a free quote. With more than 16 years of experience in the market, we can answer all your questions; and if we don't know, we will speak to one of our most knowledgeable truckers on your behalf. It's our passion to help you find the best solutions for your needs.