Reading Time: 4 minutes
What Types of Car Transport Options do I Have?
Car shipping and different types of car transport is not an everyday subject. But when you need to ship your car, it's good to know the facts.
There are a limited number of ways that you can get your car from A-B:
Drive it yourself
You can hire someone to drive it
Use a car shipping company
You can use a freight train or Roll-on Roll-off transport
Your car can fly in a cargo plane
It is fair to say that when someone asks the question, "What types of car transport options do I have?", the first image that pops into your mind's eye is that of a large multi-level car carrier hauling cars down the freeway!
An Open and Shut Case
A company like Nationwide Auto Transportation will usually suggest two types of car carrier options when shipping your car – open and enclosed.
These options refer to the kind of shipping truck your vehicle will be transported in. We imagine an open trailer when we think 'car carrier,'. However enclosed auto transport is actually more like a shipping container on wheels. It keeps cars and trucks enclosed and protected from the elements and is usually hauled by a big rig. Let's examine both options in greater detail:
Open Car Transport: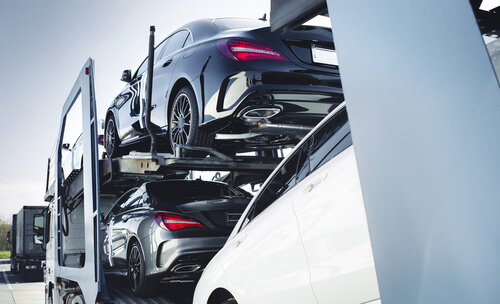 The Best Way to Ship Your Vehicle – Open car transport entails shipping your car on a trailer with racks for either 4-10 vehicles. Although these carriers, that range in size from 16 to 24 feet long, have no walls or roof, they come equipped with safeguards and equipment that keeps your car secured to the storage ramps safely. Follow the link for a detailed explanation of how open car transport works
Enclosed Auto Transport:
The enclosed car transporter is the preferred option among owners of classic and custom cars because of their safety. This method only allows carriers to carry four or five vehicles at once.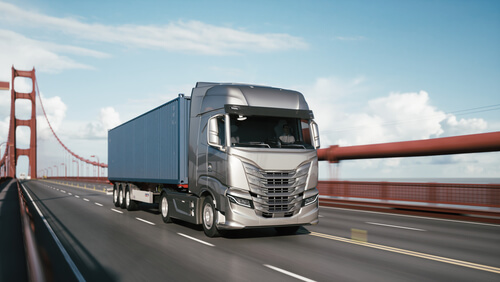 Usually, classic, antique, rare, luxury, and custom cars are transported on enclosed carriers that can hold from one to five vehicles. An enclosed carrier provides the most protection and coverage for vehicles while they are being transported.
Our blogpost Enclosed Auto Transport or Open Carriage? goes into greater detail so you can make up your own mind in this open and shut situation. Are you ready for Nationwide to transport your car? For all of your car shipping questions, call 800-311-7073 to speak with an advisor, or get an immediate, free, no-obligation quotation.
Great, so we have established that there are two ways to ship your vehicle, open or enclosed. But, each of these options can be broken down a bit more to show you more purpose designed auto transport carriers.
You may find your car riding on one of the following carriers when shipping it on an open transport trailer:
Single vehicle gooseneck trailer (hotshot trailer) – mostly used for short distances, not to be confused with a flatbed tow truck that usually have a hydraulic operated bed.
Single–level multi-car trailers – They are easier to manoeuvre in narrow city streets and tight spaces and can take 2 to 6 cars and smaller RVS.
Multi-level, multi-vehicle trailers – these are the ones we mostly see on our road, the standard image of car shipping. When you make a booking for an ordinary vehicle, with no specific requirements, you car will most likely be on the back of one of these.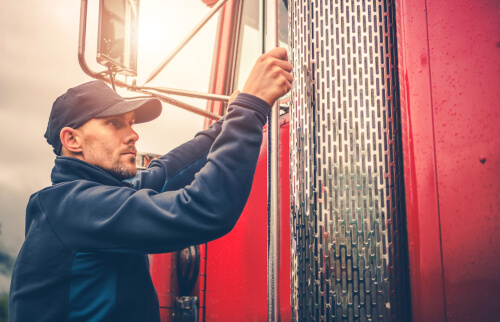 What to expect from various types of car transport
If you ship a car in an enclosed trailer, you will use one of the following:
Single-level, single-vehicle enclosed trailer – Purpose built to keep vehicles safe from road hazards and the elements. Perfect for the above average car.
Single-level, multi-vehicle enclosed trailers – transport up to 3 cars in a single file, elevated from the road surface.
Multi-level, multi-vehicle enclosed trailer – Since it can fit two rows of vehicles (usually six to eight at a time), it is tall and sits in closer proximity to the roadbed. Hauled by powerful semi-trucks, these trailers are loaded and unloaded just like an open carrier with ramps on the deck.
It is also important to note that the different types of enclosed carriers consist of soft-sided trailers (sometimes called curtain-sided trailers) and hard-sided trailers. The side curtains on soft-sided trailers are usually made of PVC instead of metal sheets, which make strapping and untying vehicles easier when the side curtains are down… Soft-sided trailers are less common, however.
Nationwide Also Offer These Services
As you have seen, that no matter what kind of vehicles you need to have shipped, there are more than likely purpose-built types of car transport carriers and trailers that serves your needs. Here is a short list of some of our more specialized services:
Final Thoughts on the Types of Car Transport
Be sure to get quotes from at least three auto transport companies regardless of what types of car transport method you choose. This will help you to find out approximately how much it typically costs to ship a car from your location to your destination… and you will get an idea to help you determine which company will do the best job for you.
Having trouble deciding which transporter to use? Check our list of questions you should ask before booking. Getting in touch with a company's representative is one of the best ways to see how they treat customers-and how they will treat your car.