Reading Time: 4 minutes
As your number one company for domestic auto shipping, Nationwide Auto Transportation brings you this guide to international shipping, facilitated by some of the biggest USA seaport for cars.
For many people, the first time shipping a car is also the first time they ship a car overseas. Naturally, that can be quite a scary experience. After all, your car is going to be somewhere on the open seas for an extended period of time. However, provided you secure the right international auto shipping company, you have nothing to fear.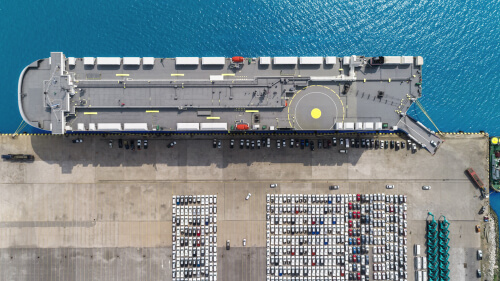 The US contributes approximately 26% of the world's consumption and the ocean freight industry is crucial to our economy. The coastal regions of the US are home to some of the biggest US seaports for cars. So if you want to import or export cars to or from America, it's a good idea to research the ports, international shipping companies and their different shipping options, such as container shipping or ro-ro auto transport.
The Port of Los Angeles in San Pedro Bay in California is responsible for most of the Transpacific trade in the country, handling 13.5% of the North American market share. Other main USA seaports for cars import and export include:
Long Beach
Port of New York and New Jersey
Savannah
Port of Seattle and Tacoma
Houston
Charleston, and
Port of Miami
Types of USA Seaport Shipping
When you consider shipping your car overseas, or when you want to bring a car into the US for whatever reason, it is important to do your research and compare a number of quotes. You can simply drop your car off at your chosen USA seaport for cars and the company will then load it onto the ship. Because the car will be rolled (driven) onto the ship, it must be in running condition to get onto the truck unaided by any mechanical equipment. This method is known as ro-ro car shipping, and it means that an employee of the shipping company will drive the car onto the ship and park it safely, and secure it on the ship.
Ships that are used for ro-ro car shipping are specifically designed for the purpose of shipping cars, motorcycles, ATVs, heavy construction vehicles and motor homes.
If your vehicle is not in running condition, you must opt for container car shipping. This service is also facilitated by the USA seaport for cars, but it is a bit more costly. It's usually used to ship two cars, or one car and household belongings together at the same time.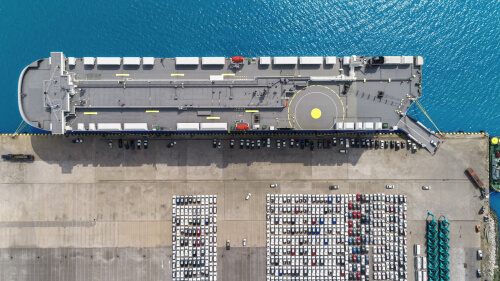 How much does it cost to ship your car overseas?
As with domestic auto transportation, distance and shipping method play a crucial role in the cost of international car shipping.
Looking at shipping a car from California to Florida, it would cost less to transport the car via semi truck using a domestic car transporter. Trips of over 2,500 miles usually cost $.40-50 per mile on a major route. Since the roadways are clogged with snowbirds during winter, summer is a better time to ship your vehicle.
Transporting a car to Hawaii by ship will be between $1,000 to $1,500.
Shipping a car to Alaska can cost around $1,500.
Sending a car to Canada can cost as little as $700 and as much as $2,500.
Sending a car to the United Kingdom can cost around $1,300.
Shipping a car to Australia can be up to $6,000.
Another factor that influences the price of this kind of shipment is customs and duties.
Companies that Offer Shipping via USA seaport for Cars Shipping
There are several companies that offer international car shipping to or from the US. When you do your research, ensure that the company you decide to deal with is a registered non-vessel operating common carrier (NVOCC) with the US Federal Maritime Commission (FMC) and that it is licensed and bonded.
When you find companies operating out of a USA seaport for cars and specializes in international auto shipping, ask them the following:
What types of car shipping options (ro-ro, container shipping) do they offer?
Do they handle customs clearance in the USA?
Can they recommend customs brokers at your destination?
How often do they offer sailings?
Are the AES filing fees included in the shipping rate?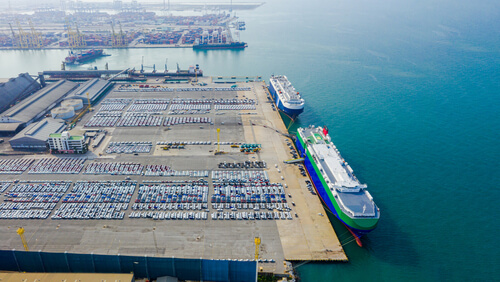 International Car Shipping from USA Seaport for Cars
Your international car shipping company will be responsible for the ocean transportation portion of your auto shipping. You still have to deliver your car to the port and transport it from the destination port to your new address. Nationwide Auto Transportation can bring your car to or from any destination in the country to the appropriate USA seaport for cars. Get in touch with us today for a free quote. Moving to Hawaii? Call us for the best deals on auto shipping.