Nationwide Auto Transportation provides a reliable vehicle logistics solution for customers who want to ship their vehicles overseas. International car shipping usually involves placing vehicles in shipping containers and onto ocean vessels or freight transport planes.
When you book your international car shipping service through Nationwide Auto Transportation, your car will be collected from your home or designated collection point. It will be loaded onto an open or enclosed car carrier and safely transported to the international port loading facility.
International Car Shipping Options
Two main options are available when you book an international car shipping service:
Container shipping involves placing your vehicle inside a container, often along with household goods. This option is suitable to people who are emigrating.
Roll On / Roll Off (RORO) auto shipping is best for individuals who are only shipping vehicles for whatever purpose. This is the cheaper method, which offers a range of benefits.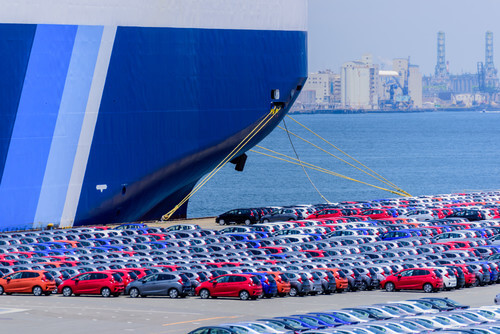 What is RO/RO International Car Shipping?
The simplest and most popular international car shipping method, your car will be driven onto the RO/RO vessel and properly secured to the car decks, where they are secured against wind and water damage. Japanese car manufacturers developed this method to ship their vehicles to Europe and the USA as fast and efficiently as possible. They used dedicated vehicle carriers, but these days other ships also offer this option.
RO/RO international car shipping does not allow you to ship personal effects, except for factory fitted accessories and a spare tire. There are many benefits to RO/RO car shipping, including:
Port workers handle all the work. They roll the vehicle onto the vessel and off again when it reaches its destination.

You do not have to hire or pay an export warehouse to crate or pack your vehicle in a container or flat rack, or for port delivery, which helps reduces international shipping costs.

Nationwide Auto Transportation can deliver your vehicle to any or the major ocean ports, including Los Angeles, Galveston, Houston, New Orleans, Miami, Jacksonville, Charleston, Baltimore or New York.
International Car Shipping With Nationwide Auto Transportation
When you book your RO/RO international car shipping with NAT, we will send a fully licensed, insured and registered (Federal Motor Carrier Safety Association and Department of Transport) car carrier will be sent to collect it from your specified address. It will be loaded and secured onto a regularly serviced and roadworthy carrier by a team of professional, experienced truckers who will ship it to its destination.
International car shipping transit times vary from seven to sixty days, depending on where it is being shipped. The price can range from approximately $900 to around $2,000 depending on where the car is being shipped. Excluded from the local shipping cost, is the destination charges for shipping your car from the international port to your final destination. Note that shipping insurance is always optional, but highly recommended.
Our free online shipping quote calculator can help you estimate a rate on the collection, loading, shipping, and transit times for your international car shipping service.
Help With International Car Shipping
Need international car shipping? Speak to the logistics experts at Nationwide Auto Transportation about the various options available to you.