Reading Time: 5 minutes
Sometimes, life changes can lead to the decision to move to another country. It may be temporary or permanent; either way, you may decide to take your car with you to your new home. Shipping a car overseas is a big decision, and you should carefully weigh up your options. If the car is sentimental or it's a luxury car and it is not practical to place it in storage, you should consider international car shipping. If the car has a high value and you want to take it with you, first assess whether it would be better to buy a new car overseas.
Then of course, you might be selling your car to someone in a different country. Be sure to include the shipping costs in the sales amount so that you're not out of pocket.
How can I get my car shipped overseas?
An international car shipping company will take care of most of the aspects of the process, you should know what you're responsible for and what's needed when it comes to shipping a car overseas requirements. Yes, it is a complex process if you are inexperienced, and you need to carefully plan and prepare yourself and your vehicle according to the international shipping company's instructions. However, if you're working with the right company, they should make it easier for you.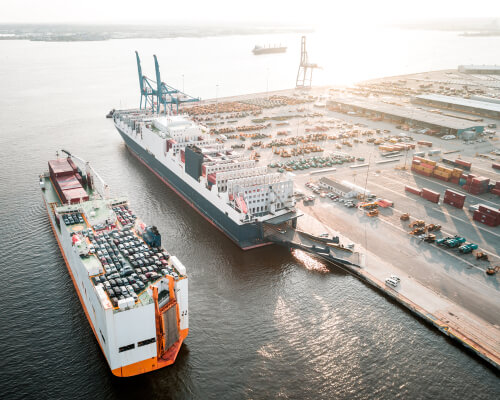 For instance, there are times when you can ship personal belongings inside the car, and times when it's not allowed. If you use a shared container, you may pack up to a certain amount of personal belongings in the car. Since these items cannot be insured, they should not be valuables, but rather light and bulky items, such as linens or clothing. However, regulations differ by international car shipping, so always verify those details first.
Once you've made the decision to ship your car overseas, you will want to find the right company to facilitate the process. This is not something you can do by yourself. However, there are many excellent international auto shippers who can help you. A quick Google search for international car shipping companies will give you access to a list of potential shippers. If you're making use of ro-ro auto shipping, be sure the company has good ratings across many review sites, and that it carries Federal Maritime Commission (FMC) licensing.
Once you have obtained quotes, compare the estimates not only in terms of price, but also in terms of types of shipping, duration, quality of service, and the conditions of international car shipping. The cost of shipping a car overseas will depend on the distance from your home to a major seaport for cars that facilitates international car shipping via Ro/Ro auto transport. You will have to hire a local terminal-to-terminal auto transportation company to collect your car from home and deliver it to the nearest seaport. You could get a price for that here. The ports of origin in the U.S. include:
Baltimore (Maryland)
Wilmington (Delaware)
Charleston (South Carolina)
Norfolk (Virginia)
New York City (New York)
Miami and Jacksonville (Florida)
Los Angeles and San Francisco (California)
Other costs will include the ro/ro shipping distance across which you want to ship your car overseas. This can vary from a few hundred dollars to a few thousand. Then there are overseas destination charges and taxes that are around $550 on average, and international car shipping insurance that is typically 1.5% to 2.5% of the estimated value of the vehicle. 
Taxes and import duties may be charged in the destination country. The charges differ by country, however, the international car shipping company will provide you with all the information you need regarding charges and they should also be able to provide you with a firm estimate.
The condition, size and weight of your car will also influence the cost of shipping your car overseas.
What documents do I need to ship a car overseas?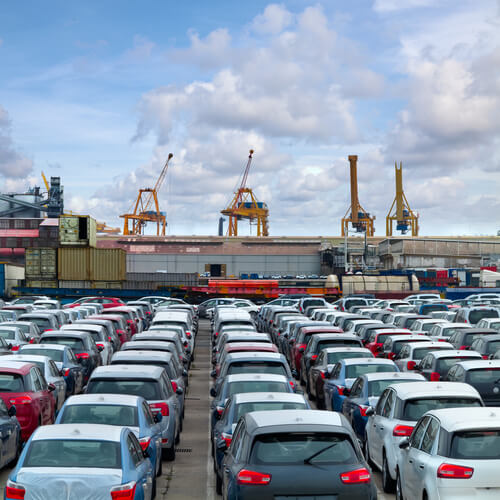 As you can imagine, a lot of paperwork goes into the process of shipping your car overseas. Your international car shipping company should take care of most of it, but you will have to provide them with the following documents:
Certificate of Title – You will need two copies of the original, notarized title.
Bill of Sales – In most cases a bill of sale, but some ports of origin require a notarized bill of sale.
Certificate of Origin – If you purchased the car brand new, you will need the original document.
Sales Tax documents – The car shipping company will use this to verify that you have paid all the required taxes when you purchased the car.
Lien Holder – If a third party owns the car, you must present a document which allows you to ship the car overseas.
Junk or Scrap Certificate – when your vehicle has been declared scrap or junk, you will have to provide documentation to that effect. The scrap or junk title remains in force.
Vehicle insurance papers
Power of Attorney document – needed if you export or import a car for another person
Shipper Export Declaration
Declaration of Dangerous Goods
U.S. Passport – a copy
The Administration Part
Certain destination countries and maritime ports may require additional forms and documentation for international car shipping. Notarized copies will typically cost around $10 per document. You can speed up the entire process by contacting your chosen international car shipping company and asking them about their requirements for shipping a car overseas.
Depending on where you are shipping the car to, you may have to provide translated documents. If the original text is in a language other than English, you should provide an English copy.
While it might be tricky to get all the documentation in place, it is crucial. Without these important shipping a car overseas documents, the car will not be accepted in the destination port.
International Car Shipping – Maritime Insurance
Maritime insurance covers your car while it is being transported from the U.S. seaport for cars to the destination port. While this is not compulsory, it is a good idea to obtain it just in case. This insurance covers you against damage to or loss of your car from the moment it is loaded onto the ship until it is unloaded at the international port, however, it does not cover damages that occur while it is waiting in the shipping lines.
Three types of Maritime insurance policies are available, namely Cargo Clause A, Cargo Clause B and Cargo Clause C. Cargo Clause A offers the broadest protection against all types of loss or damage.
How much does it cost to ship a car internationally?
Moving to say, Hawaii, and need a quote on nationwide auto transportation to an international port? Get in touch with us today for more information. You can speak to an international freight forwarder about the overseas portion of the shipment.