Reading Time: 8 minutes
One of the most valuable assets you own is your vehicle and you shouldn't just trust anyone with it. The trucking company or auto shipping broker that you choose should be one that you can trust to transport your car safely and smoothly with no issues. The global carrier market is projected to reach $ 1,059.0 Mn by 2029, and will grow at a CAGR of 2.7%.
For many reasons, people use Nationwide Auto Transportation to ship their cars. You may be relocating for your job and would like your vehicle delivered. Or you might have found your dream vehicle from an out-of-state seller and need the car shipped.
In this case, to your benefit, you should consider Nationwide Auto Transportation to get the job done. The difference between an auto shipping broker and auto transport carriers often surprises people.
Essentially, carriers operate the trucks that will transport your vehicle, whereas brokers arrange shipments through a network of carriers. When you use an auto shipping broker to book your auto transport online, they will arrange everything with a carrier.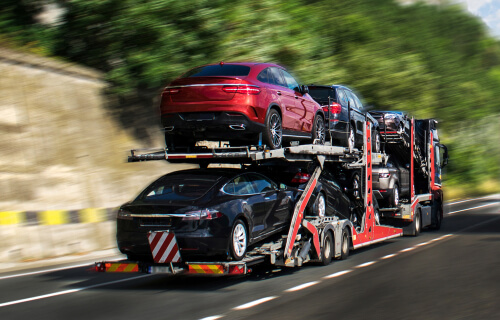 How Auto Transport Carriers Differ from Auto Shipping Brokers
Auto brokers coordinate service providers to ship cars through a wide network of car carriers. Car carriers can be individuals with trucks. Auto shipping brokers track and organize the shipping logistics for a group of carriers. That is to ensure a smooth process.
What does an auto transport broker do? Auto transport brokers are far more than just "middlemen". Brokers simply provide faster service. Auto brokers offer you many quotes, but you never get charged the exact amount you predicted. Through them, you can take advantage of benefits that are unavailable through a traditional carrier.
Auto carriers simply drive the truck 'carrying' your vehicle. Auto transport carriers usually only have one or two trucks which may cause them to be slower. Although carriers know the routes well and offer immediate communication.
What separates brokers from carriers? Auto carriers have expertise in loading and unloading vehicles on their auto hauler carriers and trucks. Auto carriers also drive giant trucks to shipping destinations efficiently and safely. An auto shipping broker is the brains of the whole transportation process while carriers are its muscles.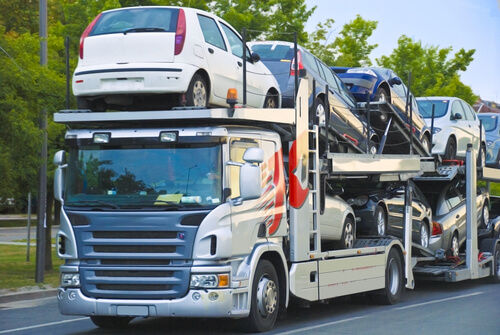 Using auto shipping broker versus an auto transport carrier, we can examine their differences:
Auto shipping broker transport includes:
Deliveries that are faster
Quotations from different sources
Service that is limited
Auto transport carriers include:
Familiarity with routes
Direct communication
Deliveries that may take longer
By combining the two, you get to enjoy all these benefits.
The Pricing Difference Between an Auto Shipping Broker and Auto Transport Carriers
An auto shipping broker will offer lower prices than carriers and offer many quotes. But, you may end up paying more than you initially thought if you booked directly with a carrier. Getting a quote reduces extra costs. Understanding how your final price works are all steps along the way and you'll learn which auto transport companies to avoid.
Car shipping quote process.
Since an auto shipping broker has access to multiple carriers, they are able to compare quotes quickly. Carrier-provided quotes are usually the only ones that you will receive since the carriers themselves handle your shipment.
You have the option to call one broker, or you can call five different carriers. Auto shipping brokers gain a big time advantage because of this.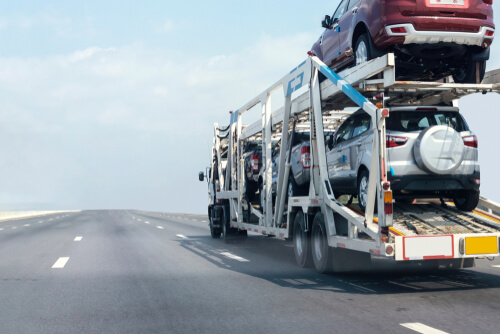 What to look for in auto shipping quotes
When an auto shipping broker is trying to win your business, they usually give you a low estimate, then increase the price on the final bill. Keep in mind that if you've got your foot in the door, it's a pain to change companies. Although carriers are theoretically able to offer you a more accurate quote since they know the routes well, customer reviews seem to contradict this theory.
Before you decide on which company you want to use, you should look at each company's review first. This way you can see clearly what auto transport companies to avoid. It's probably safe to pull the trigger if no angry customers complain about how shocked they were by their final bill.
You can lock in a quote for auto shipping. An auto shipping broker keeps the price between the initial estimate and the final invoice as low as possible. A price lock promise makes sure your original quote is within a certain amount. This means that any additional charges will be covered by the auto transport service up to a specific amount.
Carrier vs. broker – Availability
The number of carriers is higher than the number of auto shipping brokers. However, it is easier to locate brokers, you can simply google for a list of auto shipping brokers. It is uncommon that you will easily find auto carriers, they don't always have websites.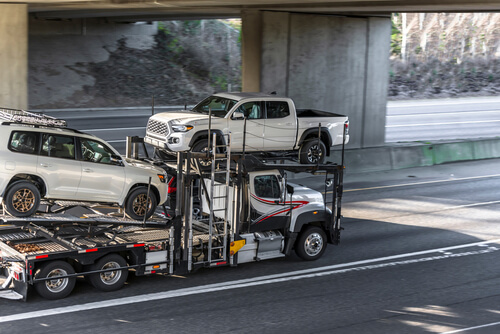 Customer Experience: Who's best?
Hundreds of customer reviews are analyzed daily for several car shipping companies. Here are a few results.
How they keep customers informed:
Communicating with auto shipping brokers
You need to choose to work with auto shipping brokers that pride themselves in excellent customer communication throughout the delivery process. If you get a quote from a broker, be sure that they will update you on the delivery of your car.
Communicating with transport brokers
At first, auto carrier representatives can be difficult to reach, but when you do you're much more likely to keep in touch. If you need to ask something about your car while it's in transit, you should be able to contact them easily.
Auto shipping brokers communication includes:
Customers can speak to multiple representatives
Once a carrier is assigned, communication can be limited
Transport carriers' communication includes:
One on one communication
Communication during the whole process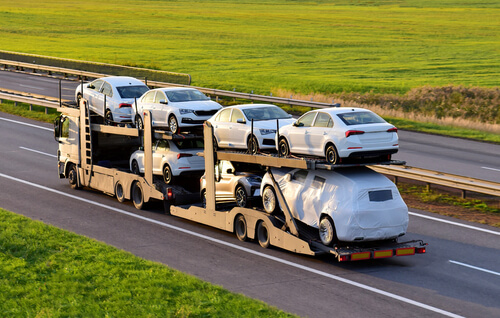 Auto Shipping Brokers Have More Resources and Reach
You would not be able to utilize the myriad of resources available to auto shipping brokers. Since auto shipping brokers want you to receive the absolute best service, they choose carriers with the best reputations.
Typically, an auto shipping broker has access to customer reviews as well as information about the reputation of the carrier in their internal databases. Furthermore, an auto shipping broker is able to provide you with affordable prices and a quicker delivery time because they have access to all of the most common routes.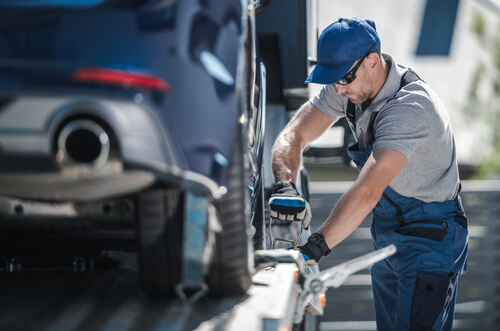 Local and Small Businesses Can Also Benefit From Using a Broker
Usually, an car shipping broker has relationships with small, local carriers. As a result, the husband-and-wife lead carrier will likely see an increase in business. Through this, not only do they benefit themselves, but their small communities as well.
As small businesses contribute to a thriving economy the more that they benefit, and the better it is for everyone involved. Carriers who have proven to offer effective service will receive repeat business from an auto shipping broker. When you work with an auto shipping broker, you know that your car is being transported by a reliable and small, local company.
An Auto Shipping Broker Ensures Fast Delivery of Vehicles
Transport delays can be caused by a number of factors, a driver may get sick or a truck could break down. Regardless, customers often complain about delays. As well as the fact that their prices may be affected by factors beyond their control.
The auto shipping broker offers you backup plans where auto carriers can't. Everything comes to a halt when you hire a carrier and the truck breaks down. Since many carriers have a limited number of vehicles, if one goes down, you have no choice but to wait.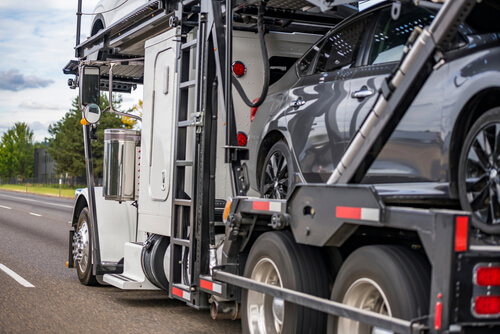 Unlike with an auto shipping broker, who works with a network of carriers, they don't have the same problem. In the event that a carrier has a mechanical problem, there are many others who are willing to replace it. The same is true when delays are caused by inclement weather or accidents on the road.
An auto shipping broker has the potential to solve problems in a day that can take carriers a week to resolve. Which means your car will not only arrive at its destination safely but it will arrive on time.
Brokers Allow for Better Efficiency and Security
Auto shipping brokers will do their best to only work with experienced carrier companies. This includes carriers who have a good reputation and are insured if something goes wrong.
What does an auto transport broker do that is of benefit to you? An auto shipping broker can choose the best carriers. These carriers will guarantee the fastest possible delivery of your vehicle and work out a customized route tailored to your specific needs.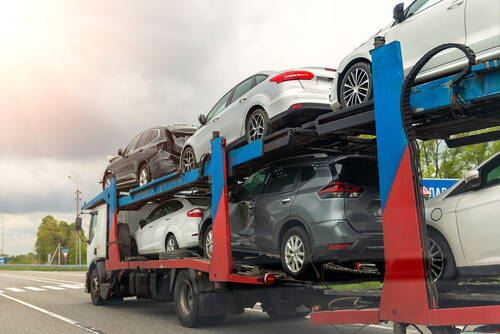 An auto shipping broker has access to a list of carriers. He can then select the one that is most convenient for you, and that can pick up the vehicle the quickest. You might find it frustrating to deal with a carrier that offers a low price, but is in a faraway location or cannot pick up your car right away.
NAT is an auto shipping broker that can ensure all carriers have the credentials and requirements that the Federal Motor Carrier Safety Administration requires!
What's their reputation?
Carrier reputations are harder to locate, while auto transport brokers frequently have a tarnished reputation. Access to the vehicle transportation industry has traditionally been easy and without much regulation.
If you need to transport your vehicle safely, you may have difficulties finding an vehicle transport brokerage. Poor service may lead to an auto shipping broker going out of business, but sooner or later they will open under a new name.
Carriers operate more transparently, because they deal directly with the customer (rather than using brokers as intermediaries). A carrier knows that if your car gets damaged, doesn't arrive in time, or costs more than you expected to ship, you may not go back to them again.
All carriers have different names. You may hear them referred to as car haulers, auto carriers, or auto transporters. All these terms refer to the same thing: carriers with their own trucks or fleet of trucks.
Should I use an auto shipping broker for auto transport? By checking the customer reviews, you can identify an auto shipping broker that takes their reputations seriously. Consequently, you can easily decide whether your transportation should be handled by an auto shipping broker or by a non-auto broker.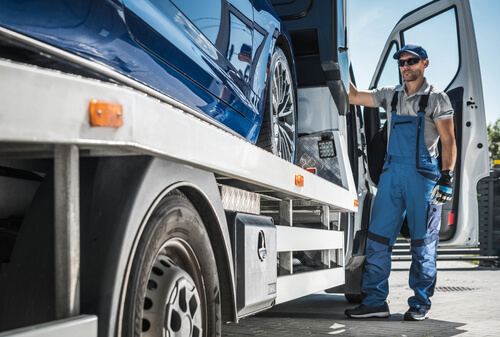 The Benefits of Working With an Auto Shipping Broker
What's the cheapest way to ship my car? Using an auto shipping broker to ship your car benefits you because they offer low competitive prices to their customers. Here are some benefits that may help you in making the right decision.
One of the main perks of using an logistics company is that you receive better rates than working directly with auto carriers. It is because an auto shipping broker is able to ship large volumes to carriers and that allows them to negotiate more effectively. This allows an auto shipping broker the ability to maintain their commission while also offering you a good price.
A fast car shipping process
An auto shipping broker has a network of car carriers to work with. Thus, they can make the most convenient connection with the nearest provider. By doing so, an auto shipping broker will make sure that your vehicle is picked up and delivered quickly.
Having a reliable car carrier
Getting in touch with an vehicle shipping broker who has an impeccable record of service will assure you of high-quality service and peace of mind.
If you choose an individual carrier, it is highly likely that they may not insure your vehicle. If you deal with an auto shipping broker, your car will be insured since they have the resources available to do so.
Nationwide Auto Transportation will ensure that both you and your vehicle are secure. An auto shipping broker will get you better rates as they have a greater bargaining power since they bring bulk orders to the carriers.