Reading Time: 4 minutes
Whenever we speak to a brand new customer shipping a car for the first time and we ask what type of carrier they prefer, they ask "… but what's the difference?" See, there are many different types of car carriers, each of which comes in a different size and shape, with different equipment and carrying specifications. Some tow dollies are small, and suitable for moving a single car to a location that may not be easy for an eighteen-wheeler to reach. But there are all types of car carriers. So, we thought we'd devote a post to all the different types of auto transport carrier.
Open Car Carrier
The open car carrier is the standard option we see on the roads every day. Also known as multi-car carriers, these eighteen-wheeler carriers can carry anywhere from two to ten cars at a time. There are two types within that, namely double or single decker trailers. Open car carriers are flatbed trailers equipped with fasteners to attach the car to the flatbed (hotshot car hauling), or low-boy semi-trailers with drop decks. Typically, the first drop is right behind the goose-neck, and the next just before the wheels. 
It is important to note that many double-decker trailers are unable to clear overpasses, that are 11.6 feet high. That means that they have to use alternative routes.
Because they're the most affordable, they are also the most commonly used. Open car carriers can carry just about any type of car, including brand new cars, salvage cars, classic cars, project cars and everything in between.
The benefit of an open car carrier is that the car can be driven onto the trailer if it is running. Non-running cars can be pulled onto the trailer using a winch. Particularly narrow cars sometimes have difficulty getting onto open car carriers, because of the narrow tire tracks.
Extendable double drop trailers haul loads that cannot be transported via regular double drop trailers. There is a section of the stepped deck that can be extended to accommodate the unusually lengthy cargo, such as an RV or boat.
Enclosed Trailers for Covered Car Transport
If you need to move a high-value car discreetly and safely, or if you want to protect the original paint on your classic or exotic car, enclosed car carriers are the way to go. They are ideal for cars with low clearance. Most enclosed carriers have a roll-back option if your car is very low. This option is also suitable for cars that don't run, motorcycles, pallets, spare parts and motorcycles.
Goose-neck car carrier trailers (hotshot car hauling) can be used for open or covered car transport. The loads are held closer to the ground, which means they can carry heavier, taller objects. They may be enclosed three car haulers and five car haulers.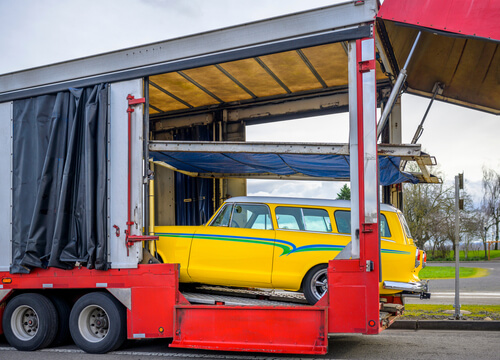 Another type of open car carrier is the step deck trailer, which has a step close to the cabin. This type of car carrier is often used in auto transportation.
Extended flatbed trailers can be extended to carry longer shipments.
Enclosed Multilevel Car Carriers
Like open car carriers, enclosed multilevel car carriers can carry multiple cars at a time – usually two to four, on two levels. However, they offer a benefit over the open variety in that they have hard or soft sides to provide more protection against the elements outside. This is especially helpful if you're shipping the car long distance.
Single Car Haulers
Commonly known as tow trucks, single car carriers are best suited to transporting a single car across a short distance at short notice. They can easily navigate narrow roadways and awkward driveways. Again, single car haulers can transport any type of car. It's quite similar to using a tow dolly to move your car.
Stretch RGN Trailers (stretch removable gooseneck)
Suitable for excessively tall or heavy loads, the stretch removable goose-neck trailer is the way to go. These trailers are ideal when the standard RGN option is not enough. A stretch RGN trailer can carry more than three times the weight of a regular RGN, as it is extendable from 29 to 65 feet. Additional axels can be added to balance the heaviness of the load. They also make loading and unloading easier. These car carrier vehicles are often used as boat carriers.
When it comes to international shipping, we take vehicles to the ports, where they load the cars onto roll on roll off car carriers – ships with a ramp onto the roadway.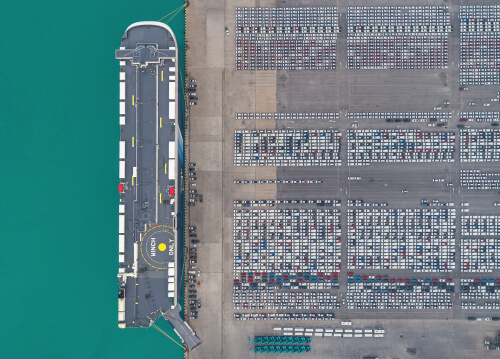 Chances are this post caused more confusion. There are just so many options to choose from, other than just tow dolly vs auto transport. Thankfully, you don't have to choose, unless you know exactly what you want. Your logistics experts at Nationwide Auto Transportation know exactly what to recommend when you don't know what you need. Speak to us today and request a free auto shipping quote.