Reading Time: 2 minutes
When it comes to car shipping, you might be faced with the choice of auto transport broker vs. carrier. Which to choose?
While both of these two professionals fulfill a very important role in your car shipping project, they actually have a close relationship. A carrier is the truck that transports your vehicle, and without whom an auto transport broker can't function all that well. Auto carriers are typically small, owner-run companies in which the truck owner operates the truck which collects cars from clients and delivers it to their destinations. Most small auto transport carriers in the US own one or two freight carriers, and only cover a limited number of routes.
The problem with dealing directly with auto carriers is that these hard-working individuals are constantly on the road. They drive for as many hours a day as the law allows to consistently deliver vehicles safely and on time to clients. Such long working hours leave very little time for marketing, administrative duties, customer service, and everything else that goes into the process of providing 100% customer satisfaction.
Additionally, from the customer's point of view, an auto transport broker simplifies the process of:
Tracking down an auto transport carrier who covers your route
Getting hold of a carrier in a timely manner
Knowing exactly when the car will be collected and delivered
Obtaining regular updates of progress throughout the process
Truck drivers typically bid for projects on job boards. If they are desperate for business, they may take any work they can get, which often means transporting just a few vehicles at a time on a route, barely cutting it even with the costs.
That's where the auto transport broker – in this case Nationwide Auto Transportation – comes in. We bridge the customer-care and administration gap while doing our best to help transporters fill up their trucks on popular routes, thus saving them (and our clients, in turn) money and time.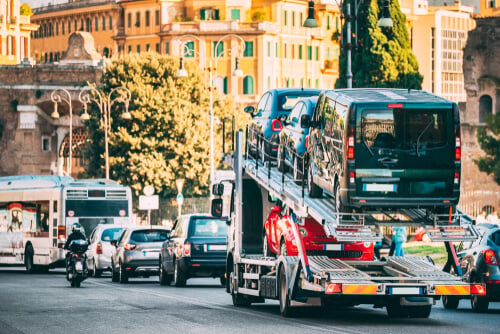 How Auto Transport Brokers Work
At Nationwide Auto Transportation, we negotiate a fair car shipping quote on our customers' behalf, ensuring that both client and carrier are on the same page. We work with all the parties involved, keeping in contact with both, and ensure a fair price.
We facilitate this process through our vast database of reliable, professionally vetted carriers who comply with all the industry regulations. As an auto transport broker, we also have to comply with a variety of regulations, including liability insurance. However, since we do not provide the cover for your vehicle, we work hard to ensure that all the carriers on our list comply with insurance regulations. We do not ship your vehicle, but work with carriers who perform the actual shipment. We can provide you with the carrier's certificate of insurance.
Furthermore, we help carriers to manage their loads. Once we have contracted with a client, we arrange for the carriers to load your car, drive it to its destination, and deliver it in a timely, damage-free manner.
For more than 16 years, Nationwide Auto Transportation has been the chosen auto transport broker for many individuals, car dealers and manufacturers across the US. Request a free car shipping quote today.