Reading Time: 4 minutes
Did you reach this page because you were looking for information on how to transport your exotic car personally?
When you purchase a new exotic car, or when you ship it to a show, the last thing you want is for it to arrive at its destination with scuff marks, dents, or scratches. That's why it is so important to hire a reputable auto transport company that prides itself on treating your car with respect.
Harsh handling can undo all the time and effort you put into purchasing and maintaining your vehicle. Exotic car transport companies that offer enclosed auto transport must understand the importance of treating your vehicle with respect.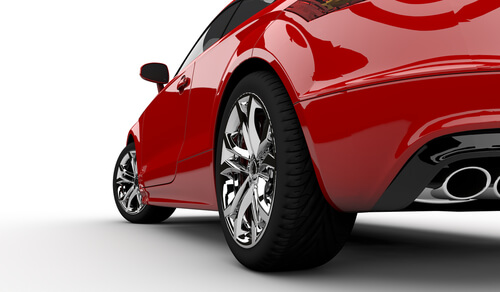 Also read: How to care for your car – top car cleaning hacks from the professionals.
Standard car shipping or open car shipping differs from exotic car transport, which uses enclosed trucks. With open carriers, the vehicles are loaded on to an open flat back trailer. While this is the cheaper option, enclosed auto transport is the best choice for high-end vehicles, vintage cars and exotic car transport.
Guidelines for Shipping Expensive Cars
Reputable auto transporters understand that your car is your baby, and they want to provide you with bespoke exotic car transport services that are much more professional than a tow dolly. Instead of completing the online form to get a free quote, get on the phone with us at 1800-311-7073 for a bespoke price.
The logistics personnel will ask you questions about your car and your exotic car transport requirements in order to arrive at the best quote possible.
While some companies don't ship inoperable vehicles, others will do it for an additional fee. Why? Because methods and equipment will vary. In some cases, special transportation vehicles are required, especially if your car has modifications. Check with your auto transportation consultant whether the company can transport your exotic car.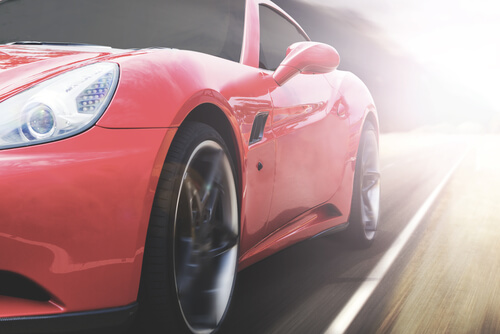 How much does it cost to ship a supercar?
There are many different factors involved in arriving at an exotic car transport quote, especially the distance from pickup to delivery.
What's the cheapest way to transport a car?
How much does it cost to transport a car 100 miles?
The average per-mile exotic car transport cost is about $1.50 per mile across short distances, and this goes down to $1.15 per mile across distances greater than 1,000 miles. Coast to coast exotic car shipping can cost as little as $.90 cents per mile. The prices vary depending on the shipping season and various other factors.
However, here are examples of our shipping prices for February 2021:
Shipping a 2022 Bentley Azure from Sacramento to New York City on an open carrier will be $1,370 or an extra $685 for enclosed shipping.
Shipping a 2008 Ferrari 125 F1 from Detroit, MI to Orlando, FL, will be $746 (open shipping) and an additional $373.
INFOGRAPHIC: Prepare Your Car for Shipping
Once you have confirmed that you accepted the exotic car transport quote, it is time to prepare your vehicle:
There must be no obvious fluid leaks.
Check that the battery fits securely in the mounting bracket.
Empty the gas tank to somewhere between ⅛ to ½ a tank.
Disarm, disconnect and disable all alarm systems.
Remove any garage door openers, car phones, and loose items from the car. Only leave behind your spare tire and jack.
Retract and remove any antennas.
Depending on the weather, check your transmission oil, engine coolant, and other fluids.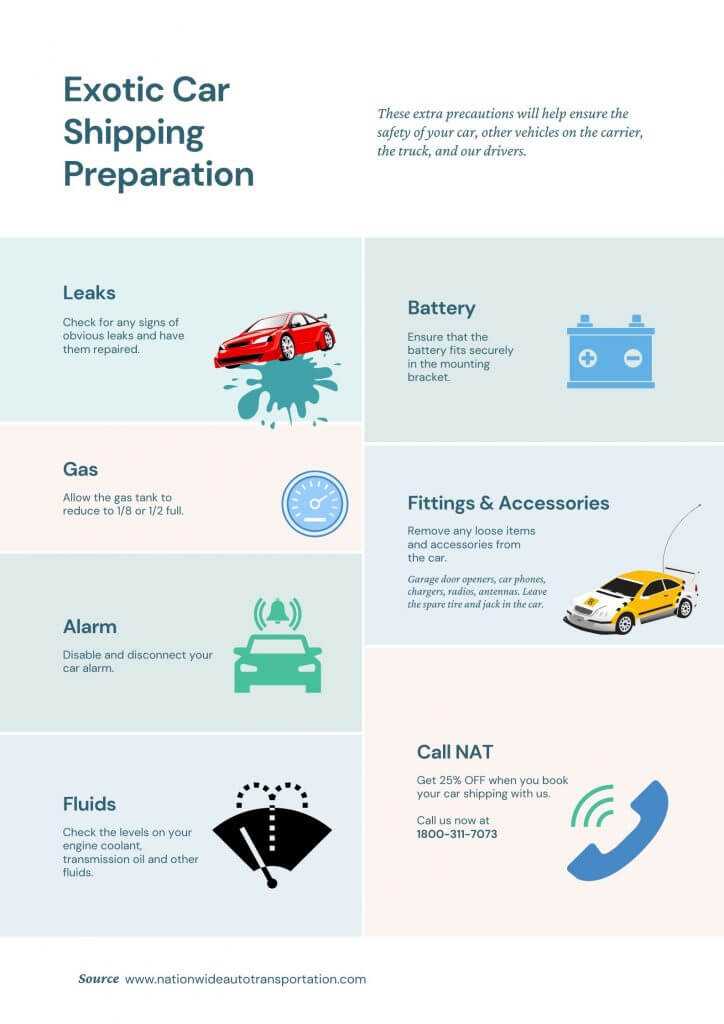 What to expect from your exotic car shipping carrier
Upon collection, the exotic car transportation services carrier will need a full set of all the keys for your car. You should then be present for an inspection of the car, along with the driver. You will have to sign a Bill of Lading that confirms any damages before the vehicle leaves your premises.
Your car will be loaded onto the truck. If you chose enclosed transportation, the vehicle will be in a truck with closed hard or soft sides and a roof. Alternatively, it will be loaded onto the ramps of an open carrier.
Another inspection – for which you must be present – will occur at the destination. You will have to sign the Bill of Lading again, and include notes in the unlikely event that there's more damage.
Need to ship your Lamborghini, Rolls Royce, Bentley, Bugatti, Aston Martin, or McLaren? That's no problem for Nationwide's team of exotic car transport professionals. Contact us today for a free quote and to schedule your shipment – after all, we shipped the Batmobile.