Reading Time: 7 minutes
Find out how to purchase a car for someone you care about as a gift!
Can you gift a car to a friend? Well, you may! That's what your grammar school teacher would've said. It is absolutely possible to buy someone a car as a gift if you have the money and the generous spirit to do so.
December reminds us that we have a lot to give. (Let's not forget that March / April is when many young people receive their first cars as graduation gifts.) That time of the year is crazy busy at Nationwide Auto Transportation since we ship cars to and from colleges.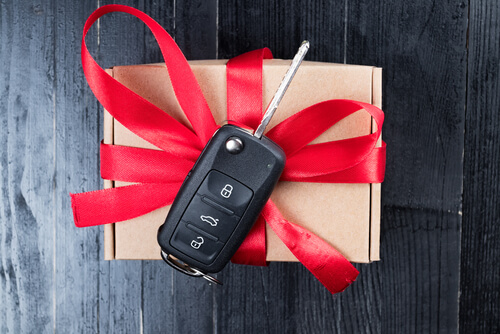 Reasons why you might want to gift a car
Among the many reasons why you may want to gift someone a car are:
Your young adult child just had a milestone birthday or freshly graduated and is moving out of the home for the first time.
Someone close to you might just have received their drivers license and you want to reward them.
Rather than selling your old car, you might want to donate it to someone who needs it more than you need the money.
Alternatively, you might simply feel passionate about filling a need for someone and wish to assist.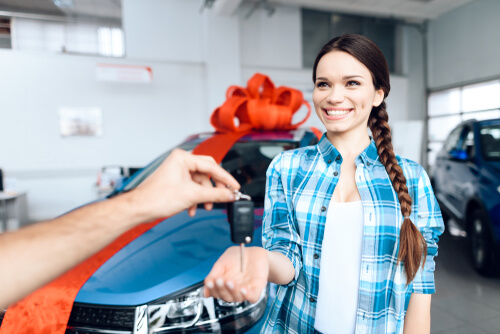 However, whatever the reason, the car must be transferred to the person you are gifting it to.
Make sure that you do not owe money on the car you are giving away.
If the vehicle is owned jointly with another party, you must get their signature to complete the transfer.
To complete the title transfer, you must present the title to the Department of Motor vehicle.
Gifting a car involves a few more processes than just letting someone borrow your car. But the process is much less complicated than most believe.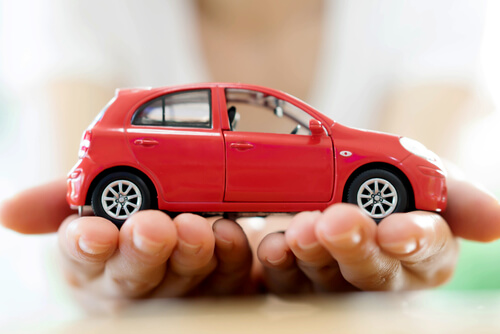 Should you give somebody a car?
Gifting a car is an unselfish and bold gesture. Add a red bow and you might just make someone's day or year.
You should only buy a car if you're sure that the recipient will really want it and be able to drive it. Otherwise, a well-intended gift could become a frustration.
Before you buy someone a car, you should ask these questions.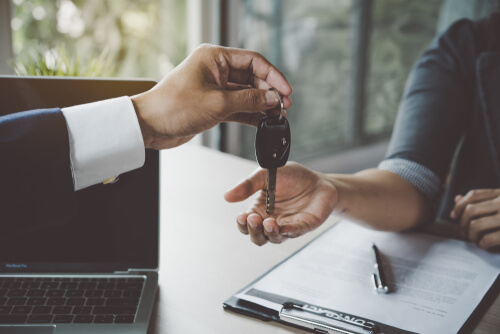 Does the person for whom the car is intended have any particular needs?
Do they prefer and need a vehicle? Would it be beneficial to have one? Do they drive or take public transit most of the time? 
You've probably heard that it's the thought that counts, but when it comes to spending a big amount on a car, make sure it's something they will enjoy driving. That way, you and the person you're giving it to will be more pleased.
Alternatively, if they know you want to gift them a car, consider letting them tag along to the dealer to select the vehicle. This way you'll avoid transfer fees and hassle later on.
You may want to check out Certified Pre Owned Vehicles for an affordable deal on a car. If you're in need of a reliable vehicle and know how to maintain it, you might want to consider purchasing a vehicle from a vehicle auction.
This requires that you have the financial means to spend the entire amount on the vehicle, and the recipient must be able to maintain it.
Generally, the maintenance costs of luxury automobiles are higher.
Luxury car insurance is also more expensive.
If there is still money due on the vehicle you wish to gift, you will need to pay it up before transferring it. Once the final installment is paid, the financial institution will give you the title deed, which is required to complete the transfer. They will need to present the transfer title when registering the vehicle at the state DMV.
Taxes- if you are the recipient of a gifted car you don't have to pay any taxes. But the person gifting the car will be charged gifting taxes. Taxes are charged according to the car value. Unless the vehicle is worth more than $15 000 there will not be any taxes to pay. If it is worth more than that there will be taxes based on value.
What are the rules of transferring ownership? Generally gifts among family members are allowed, however, sales taxes will not be charged when you transfer ownership. But the law differs from state to state so check with your local state DMV to get the correct information and requirements. In some states you will be asked to give a proof of relationship, to prove that you are indeed family. The transfer will then be tax free.
Many states require the car to go through a safety test and other related procedures at the transfer station, which must be done by a licensed inspection station. The recipient will have to take out insurance on the car. Once they have the documents they must take the documentation and transfer documents to get a new title declaring that they are the new owners of the vehicle.
The process of transferring the title will depend on your location. If you buy a new vehicle, the dealership will handle the majority of the legal paperwork.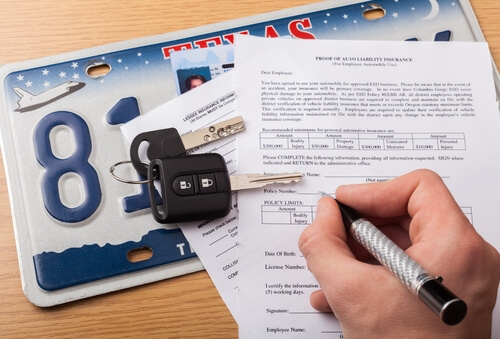 Follow These Steps
Visit your local DMV.
Obtain all the necessary paperwork for transferring your car title.
It is necessary to show proof that you purchased vehicle insurance.
Register your vehicle by completing all of the necessary paperwork.
You must have a signed and completed title, complete with odometer and damage disclosures.
You must fill out a statement of transaction along with a note stating that this is a gift.
In addition to the title fee- usually around $20- you will also have to pay any expenses your state imposes.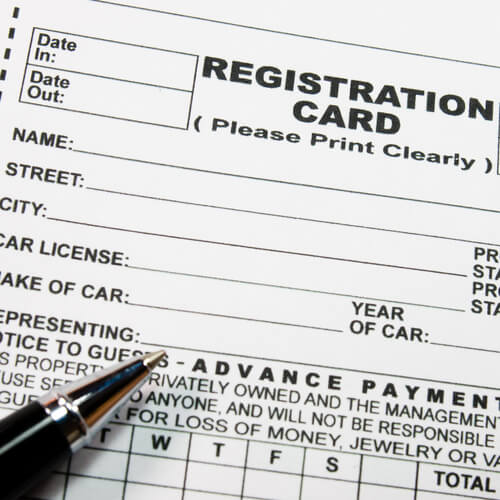 The title transfer will normally take 30 days, and the transfer amount won't exceed $15. When filling out the documents, take special care since a small error could mean that you need to get a new copy, and you'll have to start all over again.
Deliver the completed documents, along with all fees, to the RMV, please. The gifting person will be responsible for these fees.
You will need an order from the Probate Court if you received the car as part of an inheritance. Although in some states you might only need an affidavit from the RMV. Again, check your state's laws to see which one will work for you.
A car that is owned jointly by a married couple can be gifted when one of the owners passes away. The surviving individual can, in many cases, transfer the title without the death certificate. A copy of the death certificate may need to accompany the title.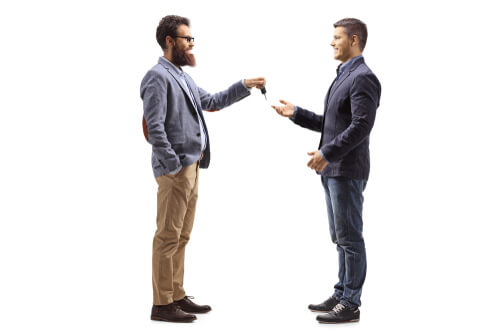 How does insurance on a gifted car work?
The person giving the car usually does not need additional insurance, but the person receiving it will be required to provide proof of insurance, which will make ownership transfer possible.
Hence, if you want to assist them in getting insurance before you give them the car, you can do the following:
In some instances, you can transfer the title and the insurance directly to the recipient of the car by taking them to the dealership with you when you purchase it.
Make sure that the insurance cover is in place before the car is driven away from the lot. Whether you choose to pay for the insurance cover is totally up to you, but whoever is receiving the gift must have insurance.
You may be able to purchase temporary car insurance for a new car through your existing insurance policy. These temporary policies can cover periods ranging from a few days to a month. Check your state laws and your insurance records to determine how much grace time you will have available.
State laws differ greatly regarding extension periods, so be sure you're aware of your state's laws.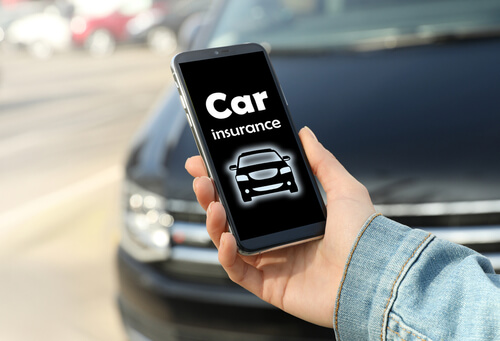 How to send a gifted car to another city or country
Family and friends are dispersed all around the world, therefore when you want to gift a car to someone who lives in a different city or country, we provide some solutions. 
You can always count on auto transport companies to assist you, but after Christmas or Thanksgiving, most of these companies will be closed since workers are also taking time off to spend time with their families.
An auto transport company has a fleet suited to transporting vehicles without breaking down or adding extra mileage to them.
These guys are professional and well-trained to do this job on a daily basis.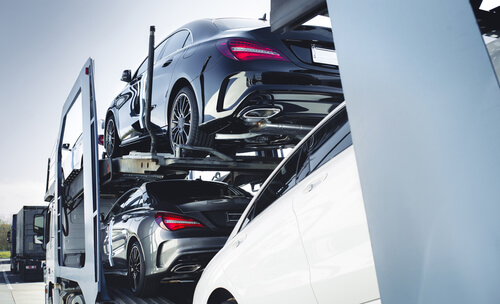 The reliable companies will also make sure your car is insured from the moment they pick it up for transportation until it is safely delivered at its destination.
It would be convenient if they would deliver the car to the new owner's home or pick it up as a gift for the student at the university as long as the trucks can drive into the available parking. Otherwise, they will arrange for the gift to be delivered to a nearby lot.
Driving across state lines could take you a few days or a few weeks, resulting in wear and tear on the car. You should let professionals do it instead.
Final thoughts on giving someone a car
You can still give your loved one or friend a car, whether they live nearby or across the country. If you wish to make it a surprise, ask family members and friends to help with the logistics. Then prepare the present and watch their faces when they see it. Nothing is better than giving someone a gift they deserve.
Despite the fact that people's lives can be improved by even the smallest things, a big thing, such as a car, can also make a big difference.
Choosing an auto transportation company that has positive client comments on their website will help you determine how the company treats clients and how reliable they are at delivering cars.
Always ensure that you select a reputable auto transportation company or shipping company. These companies can move your vehicle from one city to another without any hassle. If you are a first-time client, you will receive a 25% discount if you use NAT.