Reading Time: 8 minutes
Let's face it: Cars are expensive. Especially new cars from reputable dealerships. Of course, there are many ways to get your hands on a decent-enough pre-owned vehicle, including America's auto auction circuit. From local newspapers to eBay, and Craigslist, you can easily get a good deal on a second-hand car. But these days, there's a new trend towards auto auctions. That's right. People – even dealers! – buy vehicles from auctions either for personal use, or to flip and re-sell as a means to make some cash on the side.
In difficult economic times, people make the wise decision to – instead of buying new cars – turn to Insurance Auto Auctions Inc. (IAAI) to buy parts that can keep the wheels turning no their older cars, or to buy relatively cheap salvaged cars which they can repair.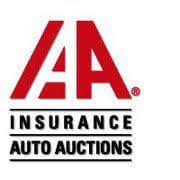 The first things to know about buying a car for sale from owner, is that they are often quite desperate to get rid of it, whether they need money, or if they're selling because they can no longer drive it. One advantage of buying cars for sale by owners, is that you don't have to decide on the spot. You can always return in a few days' time. It's important that you don't become emotionally attached until you actually own it.
If you don't like the pushing and negotiating that goes into buying cars for sale by owners, you may want to consider going to auto auctions instead. There are several types of auto auctions, namely:
And the topic of today's post: Insurance Auto Auctions (IAAI).
What is IAAI (Insurance Auto Auctions Inc.)?
IAAI was founded in 1982 and has grown to become a global leader in the automotive auction industry. The company facilitates the buying and selling of vehicles from insurance carriers, fleet lease companies, dealerships and rental car businesses.
Its services to sellers include vehicle appraisals and auctioning of total-loss vehicles. It provides buyers with powerful tools to help them find the perfect pre-owned vehicle.
How does an IAAI insurance auto auction work?
Every year, between three- to four-million vehicles are declared total losses in the United States alone. Although the average age of total-loss vehicles is rising, their value has consistently declined. As such, the automotive salvage industry has broadened beyond re-builders and recyclers to a more general public. Since laws differ from one state to the next, it's important to check whether you need a dealer's license to buy from an auto auction in your state.
IAAI facilitates this process through:
Live auctions

Proxy bidding

Internet auctions
Through these salvage auto auctions, IAAI finds buyers for vehicles that are accident damaged, stolen, repossessed, as well as cars that were retired from car rental companies, fleet lease companies, charitable organisations and dealerships. Total loss vehicles are those that are deemed too costly to repair by insurance companies. If a stolen vehicle is recovered after the payout has been made to the client, the insurance company will send the vehicle to Insurance Auto Auctions Inc.(IAAI). Repossessed and retired fleet cars are typically in good condition, although they sometimes need a little TLC before they can be flipped. Either way, this presents a good opportunity for someone who wants to buy them.
IAA is committed to ensuring that all the vehicles on their America's auto auction floors have the appropriate titles. Vehicles are only sold to properly authorized buyers who are in full compliance with state regulations. This is one of the ways in which they help achieve the best possible outcome for buyers and sellers alike.
When vehicles are no longer roadworthy, Insurance Auto Auctions Inc. (IAAI) practices environmentally-friendly disposition. This effort has seen them saving already overly-full landfills in excess of a trillion pounds of automotive scraps per year.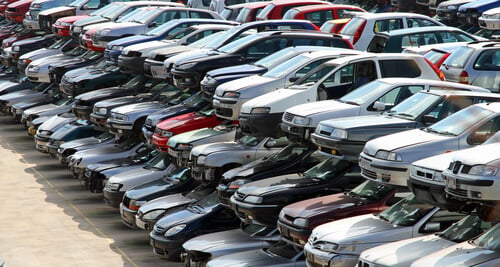 How to Purchase a Car From a IAAI Auto Auction
Buying your next car at an auction, and from IAA specifically enables you to buy a vehicle at a wholesale price. Most people who attend auto auctions find it to be a fun and lively event. Insurance Auto Auctions Inc. holds weekly auctions at most of their storage yards, drawing crowds of up to five-hundred potential buyers to some events.
It all starts with registering as a buyer on the IAA site. Your bid amount is as high or as low as you can afford. The company has the technology needed to facilitate the payment and shipping of your new salvage car.
[Learn how to buy a car online]
IAA Locations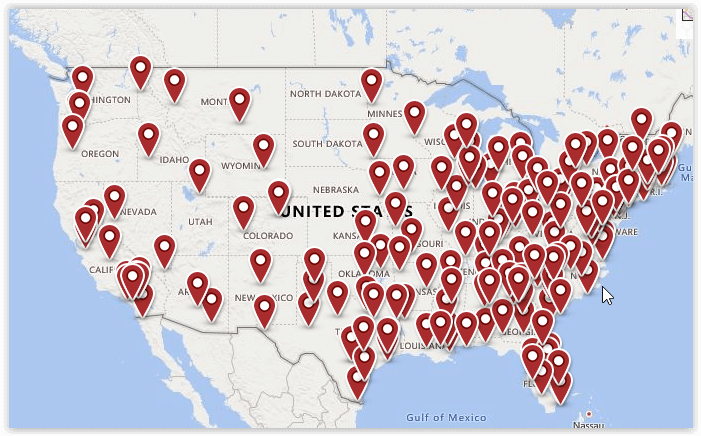 IAA has more than 160 facilities in the US and Canada alone, and the company continues to build relationships with partners in more than one-hundred and ten countries. The US-based IAA locations include are spread throughout the country. You can view an updated IAA locations list here. Each location links to a list of vehicles that are up for auction at the next event.
Some locations include:
IAA buyers include:
Salvage yards

Exporters

Dismantlers

Auto body shops

Recyclers

Rebuilders
The company uses a detailed inventory process to prepare vehicles for auction and to prevent damage when it is loaded up for transportation.
5 Tips for Buying a Car at Insurance Auto Auctions Inc.(IAAI)
One valid concerned some people have with buying cars from Insurance Auto Auctions Inc. or police auctions, is the fact that they don't have the skills to deal with the potential mechanical repairs. Salvage cars are best left to those who do have the expertise to decide whether a damaged car is worth the cost.
When you buy from an auction as opposed to buying cars from owners, you can only rely on your eyes. You can't take it for a test drive or do a thorough inspection as you would when buying a car privately. You're buying the car in an "as is" condition, and lemon laws don't apply, so don't expect guarantees or warranties. As such, you need to look for:
Odors (musty, wet carpeting or upholstery)
Lubricants – Pull the dipsticks and ensure that transmission fluid and oil is clean and clear.
In many cases, you will have to replace the tires and windscreen wipers, or perhaps the mirrors. Those are minor repairs.
Avoid cars that were rebuilt after a major accident by writing down and comparing the VIN number from the base of the windshield, and on the stickers inside the doors and trunk lid.
Do a few practice runs first. Before you go to an auction with your pocketbook in hand, first attend a few practice auctions where you can see exactly how it works, and look for bidders who behave suspiciously. Sometimes, people go to every lot and bid on every car to push up the prices.
Avoid spending more than the car is worth by making a list of all the cars you like. Don't become emotionally attached and make an impulse buy.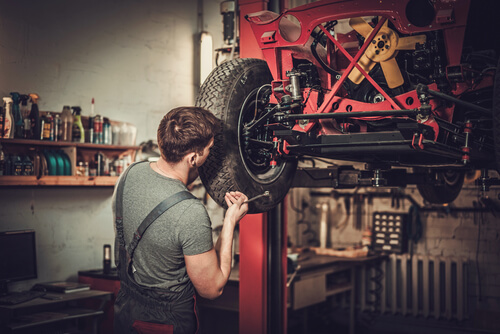 How do you get insurance on a salvage car?
Even if you wish to sell the salvaged car, it is important to insure your asset. If your car cases the registration inspection, you will probably find an insurance company offering liability insurance. Most insurance companies won't offer comprehensive insurance on these types of vehicles, as it functions in a similar way to a warranty (plus of course, the deductible).
Some companies only offer collision cover on salvaged cars, in which case they only pay out up to 80% of the calculated market value in the event of a claim. The good news is that you shouldn't pay more for collision insurance of a salvaged car than a normal car.
How to Clean a Salvaged Car Title
Few things are as satisfying to car lovers as taking a car headed for the junkyard, and turning it into their pride and joy. One of the biggest challenges when it comes to a salvage car, is not restoring its bodywork, but rather its title.
Most states don't allow you to drive or insure a car that has a salvage title. Most reputable dealerships won't go near a salvage car as a trade-in either. So what are your options?
While you can't remove the salvage title from the vehicle, it can be re-branded, or in some states, rebuilt salvage, assembled, or reconditioned, provided it passes DMV inspection.
If you know how to repair vehicles, that's a good start. If not, it needs to be done by a certified mechanic. The process needed to be documented with all the necessary paperwork, receipts, photos, and any other documents. When it's all done, you need to book an inspection.
Important Note: It's not legal to drive a salvaged vehicle to the inspection, even if it is in 100% condition. However, you can ship it there with Nationwide Auto Transportation. Get a FREE quote now!
Once the car has passed the inspection, you will have to fill out forms and pay some fees to have it rebranded. If the vehicle was salvaged in another state, it will have to be inspected and rebranded in that state first before it can be registered in your home state.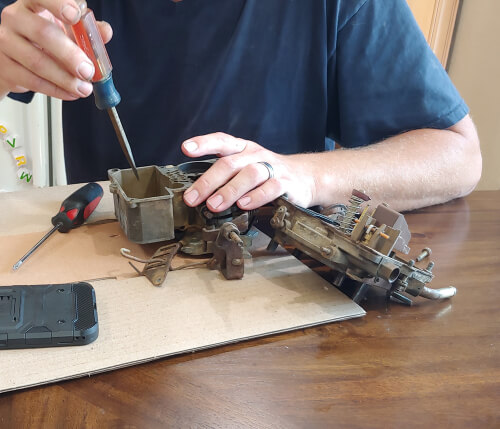 How to Ship Your Car From Auto Auctions (IAAI)
Now that you know how to take your salvaged car from decision to dream car, you're probably raring to attend your first Insurance Auto Auctions Inc. Some cars bought from Insurance Auto Auctions Inc. run and steer, but not all of them.
Before you attend the auction, decide how you will bring the car home. [Learn how to choose a car carrier]
Once you have paid Insurance Auto Auctions Inc. for your vehicle(s) it can be shipped to you or you can tow it. It is important to verify the ownership and title of the vehicle with an auction export representative before arranging shipping.
When you purchase a vehicle through Insurance Auto Auctions Inc.(IAAI) , you can ship it to any location in the world through a company like Nationwide Auto Transportation.
Buyers could also arrange their own vehicle shipping inside our outside of the USA. Once an auction export representative has verified that your vehicle is ready for shipping, a truck mandated by Nationwide Auto Transportation can collect it from the warehouse and bring it to your home anywhere in the US, or to an international shipping port from where you can arrange overseas transportation. The company uses ground transportation facilitated by a flatbed truck to transport your vehicle during door to door auto transportation.
When you use a recognized auto shipping company such as Nationwide Auto Transportation, you can rely on the expertise of qualified, experienced drivers that are licensed and approved by the US Department of Transportation and Federal Motor Carrier Safety Administration.
Certain issues that can affect the transportation time of auction vehicles include the fact that the seller has up to thirty days to submit title and ownership documents. Shipping companies cannot collect the vehicle until the documentation is available. This delay can be avoided by checking whether the documentation is available before you purchase the car.
Have you used Nationwide Auto Transportation to ship a vehicle purchased through Insurance Auto Auctions Inc.? Please share your experience below!