Reading Time: 7 minutes
Who doesn't love a good road trip? Flying is great. It gets you to your destination fast, but it lacks the charms of a scenic drive through our country's beautifully diverse landscape. In addition to the cost of flying, taking the low road allows you to quickly pull over to look at awesome sites and take inspired selfies for Instagram. It's fun, it's exciting and it creates lasting memories and special moments with your companion(s). But the roads are busy during the holidays, and long distance driving trips have their inherent challenges. That's why we decided to bring you a list of tips for your holiday travels this December.
Traveling across the country can easily involve lengthy, boring (for the kids), and uncomfortable hours on the road. To make it all a bit easier to cover as many miles as possible in the shortest amount of time to reach your destination sooner, or to make the most of every mile – whichever your goal might be. We want you to enjoy the ultimate cross-country road trip!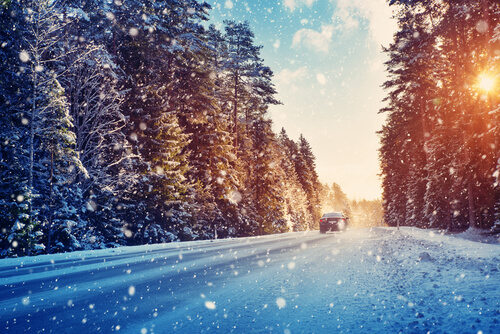 What's considered long distance driving?
A couple of hours' drive to the next big city can feel like a long road trip, but it's not really. Long distance drives are usually those that are about ten hours or more. Longer drives mean that you have to be extra vigilant because:
Driving for several hours can lead to driver's fatigue. That's when your mind starts to wander and you fall asleep without realizing. For that reason, it is important to take regular breaks from driving.
The longer the drive, the more likely you are to end up driving on unfamiliar routes in possibly unusual conditions. This can be particularly dangerous at night.
Your number one priority is to be safe on the road during a long distance drive. Here are some of the best tips we received from our long-haul car transport drivers. Need to permanently move a vehicle to a new location, but don't want to add unnecessary miles? Ship your car while taking a road trip to your destination in a rental car.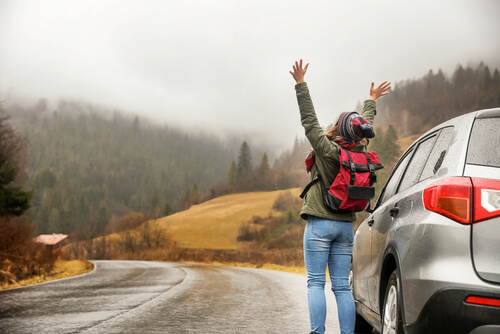 Always Prepare Your Vehicle
There's nothing more important to your long distance road trip than preparing your vehicle. A safe car is one of the main ways to keep your family alive on the roads.
Check the tires, even if they seem fine to drive around town. The last thing you want is a blowout on the highway. Take a look at the treads and replace the tires if need be.
Check your wheel alignment. It may seem insignificant, but it is actually one of the leading contributing factors to accidents.
Get a tune-up. Unless you had your car serviced within the last few months, you can probably skip this step. However, it doesn't take much effort to take your car into a professional mechanic who can verify that your car is in the optimal condition to go on a lengthy road trip.
Check the fluids. Take your car for an oil change, even if you had it done not too long ago, and have them check the other fluids, such as transmission fluid, power steering fluid, brake fluid, and coolant.
Clean your car inside and out. This step does not have as much to do with your safety as your comfort. You'll be spending a lot of time in it over the next few days, so keep your environment clean and comfortable.
Get Roadside Assistance. Even with the best possible preparation, things can still go wrong. Invest in a roadside assistance plan to help you if you need a mechanic, a tow truck, or even a locksmith. Make sure that your travel area is covered.
License and Registration. You should receive a letter from the DMV when your license and registration is about to expire, but in some states, you're responsible for keeping it up to date. Check the status of your documentation before you end up being caught unintentionally with an expired license.
Insurance. Make sure your car insurance is up to date, or upgrade to a higher tier of coverage in the event of an accident in which you or your passengers need cover. If you're pulling a trailer, make sure that is covered as well.
If your car is not in a condition to ensure a good, safe driving experience, it would be safer to rent a car.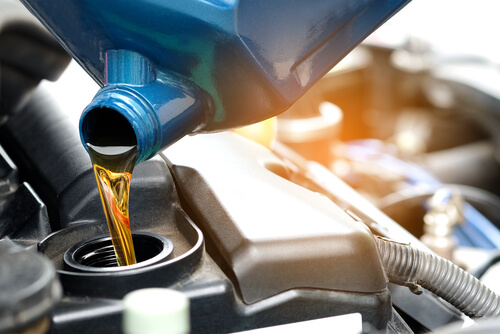 Plan Ahead for Your Festive Season Road Trip
Some people like to be spontaneous, but unless you're always prepared, this is not always a good idea for long distance road trips. If you're traveling with other people, it is especially important to ensure that everyone knows what to expect. This simply makes everyone more prepared and comfortable. But how do you plan a road trip?
Decide where you want to go, and use a map or GPS to plot your route.
In addition to the general direction, add stops for ablutions, fuel, food, and rest stops.
Add overnight stopovers.
Checking the weather reports for the time of travel will help ensure that you know what to expect on the road and you can make appropriate provisions.
This is especially important in winter when some states receive snow and ice.
Use a location app that sends your location to someone at your destination or to a good friend at home who knows your itinerary.
Bring along a paper map for those areas that are not covered by GPS signal areas.
Set aside sufficient travel time. You should take a break from driving approximately every 150 miles or every two hours during a long distance trip. Take time to fill up, eat a snack, stretch your legs, and use the bathroom. This will energize you for the rest of the journey.
Motorists should not drive for more than ten hours a day in total. If you're tired behind the wheel, share long distance driving duties with one of your companions, if you can.
Set a daily driving limit. Be realistic about how many miles you wish to cover in a day, and resist the urge to limit your breaks so that you can fit in more mileage.
Cruise control is great, but it could cause you to lose focus. Therefore, you should only use it for short periods of time as needed.
Plan for the unexpected. Once you've plotted out your journey, be sure to allocate some free time in your itinerary to visit interesting sites along the way and have a contingency plan if you don't make it to your destination. For instance, have a backup sleeping arrangement in place.
Bring along an emergency supply of gas and water in the trunk in case you run out due to a miscalculation.
Remember your chargers and extra batteries.
Bring an emergency survival kit, in the event that you become stuck on the side of the road or somewhere.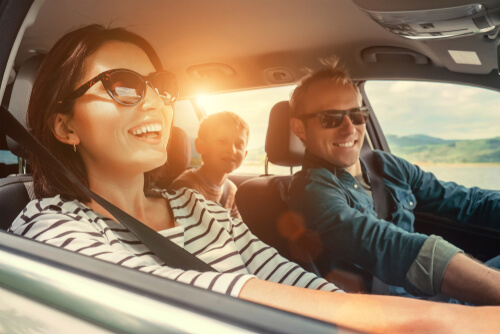 How to get comfortable
The key to a fun road trip is to be comfortable. How do you do that? By keeping your body and mind nourished and active – or relaxed, if that's the kind of person you are. Here are some great tips to get you comfortable:
Make a road trip playlist with a fresh, new, high energy content that will help you remain focused while you drive. Whether you opt for music or podcasts or a combination of the two, download it before you pack the car.
Dress in comfortable clothes. You'll be sitting for a long time, so make sure your clothing is loose and does not itch, bunch, constrictor tickle. Opt for soft, breathable fabrics that are weather appropriate.
Bring along healthy foods to snack on. While truck stop burgers are tasty and convenient, you never know how you will react to it.
Have cash on hand. You may need cash for a gas station that doesn't take a card, or for a toll bridge.
Check out our Travel Packing List to learn what to pack for a long trip.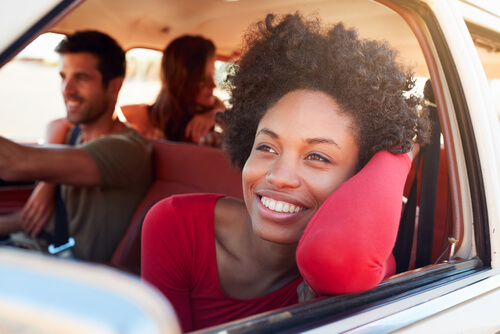 Stay Focused and Alert During a Road Trip
Road safety starts long before you pack your bags in the car ahead of your long distance travels. Just as you plan for the actual trip, you need to also prepare your body for the trip. From a physical perspective, you want to be sure that your body is feeling energized and your mind fresh and focused. Here's how:
Boost your energy levels with vitamin B complex and vitamin C supplements. Take them with food to ensure proper absorption.
Rest enough. Many people struggle to fall asleep on the night before a big road trip, and that can be quite dangerous, especially when you need to be focused on the road. Make a point of resting enough in the weeks leading up to your road trip.
Drink ice cold water while you're driving. Yes, high octane coffee and energy drinks taste good, but they will cause you to become dangerously tired and dehydrated. Water will hydrate you and keep you alert.
Stop for a power nap. If you start feeling tired, find a parking spot near the entrance of a truck stop and take a twenty-minute power nap. All ways lock all the doors.
Turn up the sound. Upbeat music will energize you, especially if you listen to sing-along songs.
Open your car windows. One of the greatest benefits of traveling by car in winter is that it's cold. That means that when you're getting tired, you can open the windows for a blast of fresh air.
If your passengers can't share long distance driving duties, they can always keep you engaged in interesting conversations.
At the end of the day, you need to make your long distance driving trip both enjoyable and safe for all parties concerned. When everyone works together, you can have a fun, memorable trip.