Reading Time: 11 minutes
Whether you're up for a lengthy post-Covid vacation, relocating, or driving your kid to college, there are many reasons why you might find yourself behind the wheel for several hours. Of course, it is always easier to make use of professional auto transport services instead of driving purely for the purpose of moving your car to a new location. However, there's one major advantage to road-tripping if you want to see our country's awesome vacation hotspots.
In this post, we'll look at a few of the most important facts surrounding road tripping, using our years of professional auto transport experience. Our drivers have years of experience in driving across the country and are therefore well-placed to give you the best advice. But first, let's give you some valuable information about safe long-distance driving.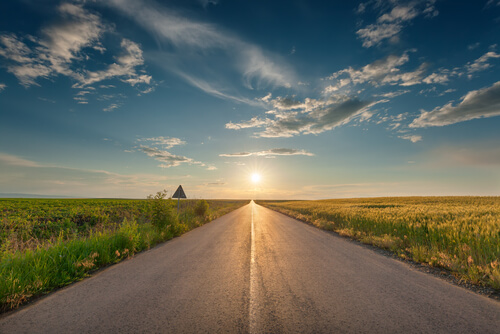 What is long-distance driving?
Trying to get to the ski slopes in Denver on a Friday evening can seem like a right slog, as can driving an hour or two to a family wedding or reunion. But that doesn't really count as a long drive. When professional car haulers talk "long-distance", they're talking about drives that can't be completed in a single day. They're talking about driving ten to fourteen hours a day for several days. For example, on long-distance cross country routes such as:
As you can imagine, a long distance trucker drives long distances across multiple states, they have to be extra vigilant. But driving for hours can make you tired. You may not notice when your mind starts to wander, which is why it is extremely important to stop every two hours for a fifteen minute break. Of course, that might seem like a waste of driving time; but ultimately, you'd rather arrive late and alive than not at all…
The National Sleep Foundation did a survey that revealed some shocking statistics; most surprisingly, almost half of all adults in the U.S. admitted to driving while they are feeling drowsy on a regular basis. A fifth of respondents admitted to falling asleep behind the wheel in the last year, while about 40% admitted that they have fallen asleep behind the wheel at least once since they started driving.
Identifying the signs of fatigue is simple when you know what to look for, namely:
Lane drifting
Frequent yawning
Difficulty keeping your eyes open
Missing turns or road signs
Trouble maintaining your speed
The Governors Highway Safety Association estimated that as many as five thousand people died in car crashes involving drowsy driving in 2015.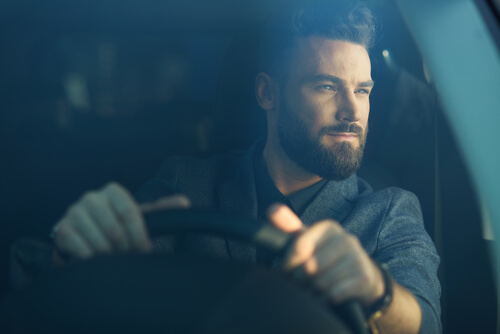 What are the risks of driving when you are tired?
It is commonly believed that drowsy driving is as bad as driving while intoxicated, as similar risks apply to both:
Driving after twenty hours without sleep impairs you as much as driving with a blood alcohol concentration equivalent to the U.S. legal limit – 0.08%.
When you drive while tired (or intoxicated), your ability to pay focused attention to the road, maintain awareness of road hazards, and your reaction times are impeded.
Fatigued driving puts you at a three-times higher risk of being involved in a car crash.
Sometimes, you may be fighting the signs of fatigue in order to reach your destination. That could cause you to experience four- to five-second increments of micro-sleep, which is defined as involuntary periods of inattention. Your vehicle, when driving at highway speed, can travel the length of a football field in four or five seconds.
How can I avoid falling asleep while driving?
According to The National Safety Council, drivers younger than 25 make up half the demographic for drowsy driving crashes. However, everyone can benefit from interventions to reduce drowsy driving, including:
Get enough sleep. Adults need at least 7-8 hours of sleep every night, according to the American Academy of Sleep Medicine and the Sleep Research Society.
Read medication labels. In 2015, a Consumer Reports article recommended that pharmaceutical companies label medication better to warn users if the medication will make them drowsy, and to avoid driving after taking the medicine.
Avoid driving under the influence of drugs or alcohol.
Invest in ADAS. If you often drive long distances, it will be worth your while to invest in crash avoidance technologies, such as lane departure warnings and drowsiness alerts.
Take frequent rest stops – at least once every two hours.
What can I do to stay alert while driving long distance?
Driving safety is especially important when it comes to long-distance drivers, or if you're pulling a trailer hooked up to your car. Here are some cool ideas to keep you safe during your next road trip:
Chat to your passengers. And get them to chat with you and have a deep, meaningful discussion to stimulate your mind during your road trip. Some will notice when you're nodding off, and play some word games or suggest a break.
Share the driving. If your passenger is licensed, you can share the driving. That way, you can have a nap as and when you need to.
Open your windows – even if it's cold. If you're unable to stop or if it is unsafe on the road, get some fresh air into the cabin by opening the windows and breathing some fresh, cool air.
Turn up the sound. Play some loud, upbeat music and sing and dance in your seat for your fellow road users – or just for yourself. This will give you a nice energy boost.
Keep the blood flowing. If you're unable to pull off nearby, keep your blood flowing while driving by clenching and unclenching your muscles, one group at a time.
Boost your nutrition. It can be difficult to follow a healthy, balanced, and fresh diet on the road, but supplementing with vitamin C and Complex B supplements can boost your energy. When you take them with food, your body will absorb them better. Speak to your doctor before you head on your road trip about the best supplements for your specific needs.
Enjoy healthy snacks. While a candy bar can help you wake up for a moment, it is bound to be followed by a sugar crash, just as coffee causes caffeine crashes. Instead, opt for healthy snacks, such as nuts and seeds, and fruits.
Drink water. Sipping on extra cold water is a much better choice than a high-caffeine coffee or high octane energy drink. These beverages can cause you to become dangerously tired when the caffeine wears off. On the flipside, ice-cold water will keep you alert while staving off dehydration, which also causes fatigue.
Take a power nap. When you're nearing a rest stop, plan to indulge in a 20-minute power nap. Be sure to lock your doors and windows and pull into a safe parking spot.
How to plan a road trip across the US
Now let's get down to the nuts and bolts of putting together the ultimate US road tripping experience. That's right. We're going to talk about how to plan a road trip across the US. It all starts with planning where you wish to go.
Best US Road Tripping Routes
Wondering where to go on a road trip in the US? When you look at a map of the US, you'll be spoilt for choice in terms of planning your road trip. Some of the biggest American road trips routes include:
Pacific Coast Highway, with Olympic National Park, Three Capes Loop, and Redwood National Park. This road trip of 133 miles includes around four hours of driving time.
Border to Border with the Columbia Icefield, Bitterroot Mountains, The Extraterrestrial Highway in Nevada, and Joshua Forest Parkway in Arizona.
The Road to Nowhere with Sitting Bull Memorial, Nebraska Sand Hills, Monument Rocks, and Paint Rock Pictographs.
The Great River Road with Main Street USA, St. Louis, Natchez Trace Parkway and New Orleans.
Appalachian Trail with Mt. Washington, The Poconos, Shenandoah National Park, and the Great Smoky Mountains National Park in North Carolina.
Atlantic Coast with The Statue Of Liberty in New Jersey, Assateague Island National Seashore, Savanna and Cocoa Beach in Florida.
The Great Northern with Tumwater Canyon, Glacier National Park, Lake Michigan and Acadia National Park.
The Oregon Trail with Cannon Beach, Fort Boise, Yellowstone National Park, Mt Rushmore, and Carhenge.
The Loneliest Road with Lake Tahoe, Moab, The Million Dollar Highway in Colorado, and Dodge City.
Southern Pacific with the Desert View Tower in California, Tombstone in Arizona, Roswell, and the Civil Rights Movement National Historic Trail.
Route 66 with Chicago, Meramec Caverns, Tucumcari, Painted Desert, and Santa Monica.
Choose a means of transportation
Many people ask "how much does it cost to road trip the US?" That's a valid question, but not one that can be easily and directly answered. It all depends on where you're going, how you will get there, and much more. Let's look at some of the options:
Your own car –
A road trip should be on the road – like a car, right? Well, it's one of the more common options for people who enjoy driving, are safe drivers, and don't get car sick. However, you should remember that you'll be covering great distances. Is your car in the best condition to cover such distances?
Also, consider the route and the terrain on which you will travel. The climate will be another issue to consider. As always, update your insurance and make sure to arrange for payments to go through while you're on the road.
What are the costs of a cross country road trip?
If you decide to go by car, you can calculate what it would cost by multiplying the distance you will cover during your road trip by the fuel price and adding:
fuel costs
Toll fees
Overnight stays
Food
And entrance fees to parks or other places you wish to visit.
What should I check for before I go on a road trip?
Before setting off on your road trip in your own car, be sure to do a proper inspection:
Check the tires for uneven tread or wear, and have the tires rotated, if need be, or replace them if you don't think they will help you reach your destination safely.
Check your brakes. The pedal shouldn't be too soft or too rigid.
Inspect the car's struts and shocks to ensure a smooth ride.
Take a look under the hood for signs of wear and tear, especially for any tiny cracks on the rubber hoses and belts, which could lead to serious breakdowns on the road.
Check the air filter on the engine.
Do an oil change if needed. It should be done every 3000 miles.
Ensure the electronic functions are working as they should, including the automatic windows, windshield wipers, radio, and so forth.
Have your air conditioner and heater checked by a professional.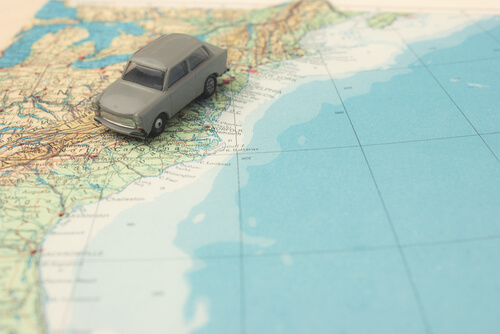 Rental car –
A good option if you don't have a car, or if your old jalopy is not up for the trip, is to rent a car. Numerous companies offer fantastic deals, especially on one-way trips. What is a one way rental? It's when you rent a car in one city, and drive it to a location of the same company in a different city. Note that not all car rental companies offer this option, and those that do, do so by appointment only.
Of course, there are many rules when it comes to renting a car, and it can be expensive. But there are ways to save as well. Carrentalreviews.net has some fantastic information to help you plan your road trip using a rental car. Be sure to read the following blog posts:
Road Trip Gas Calculator: How to estimate your travel budget. This will work whether you're hiring a car or driving your own.
If you'd like to learn how to go about road tripping in a rental car, check out this cross country road trip guide.
Your own RV / Rental RV –
You could also hire a recreational vehicle (RV) or drive your own. What's best about this option, is that you will save a good chunk of money on overnight stays in hotels. You'll have your home and car with you wherever you go.
However, you should again consider where you will be driving, as some terrains may not be suitable for RV navigation.
A great benefit of renting a car or RV is that you don't have to worry about the maintenance too much. But fuel can be expensive if you go over your mile allocation.
A motorcycle –
Do you love feeling the wind in your hair while looking at spectacular views? Then you'll love road tripping on your motorcycle. Modern touring bikes are fantastic, as they fit a surprising amount of luggage in the storage compartments, but is it enough for the duration of your trip? Also, you're exposed to the elements, so you must carefully consider your route and where you will be staying overnight.
Plane –
Flying is not exactly a road trip – unless you fly to your location and then rent a car to get around and explore your destination. The one time when traveling by plane is really the best option, is if you have a set destination in mind. This could be your new home, college or a new military base.
Flying to your destination will get you there quickly, and we can ship your car to you.
Bus –
Road tripping by bus can be fun – especially if you don't have a driver's license or if you're on a tight budget and set on your destination already.
Unfortunately, buses have set departure times and destinations. You will get to see a lot of the country during your cross-country road trip, but you won't have much opportunity to explore. Unless, of course, you opt for the more pricey option of booking tickets that stop in towns or cities you wish to explore. That way, you can stay for a few days before moving on to the next stop.
With this method, you could stay in backpackers' lodges or cheap motels, and simply rent a car or use public transportation to go sightseeing.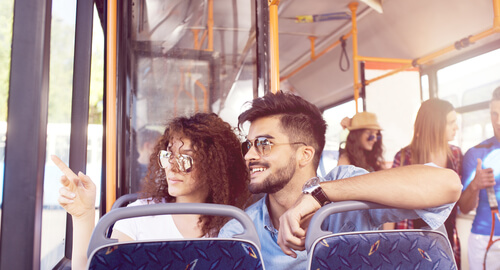 Train –
Road tripping by train is not really a viable option, as the railway infrastructure in the United States is not as well-developed as in some other countries. You won't get to see all that much.
Hitchhiking –
If you'd like to hitchhike across the United States, be sure to check whether it is allowed by the state laws. Some states strictly forbid it, and it can be very unsafe – especially if you're road tripping alone.
Based on the options above, road tripping by car or campervan would be the safest, most versatile, and inexpensive options.
Where will you stay?
In many cases, your mode of transportation will dictate where you stay, but options will include:
Hotels or motels
Camping in State or National Parks – in a tent or camper van
Air Bnb
At family or friends
If you're traveling by bus, you don't really need to book a place to stay, as you'll probably sleep in the bus – depending of course on how long you'll be on the road. Most cross-country road trips in the bus take about 3-4 days.
Staying with family or friends? Be sure to contribute to your stay, even if they object. It's the right thing to do!
10 Tips for an Epic Trip Across the USA
Now that you know what to consider when you want to go on a cross-country road trip, we'd like to give you a few final tips:
Use Google Maps to plot your route, with your anticipated stops along the way. Be sure to download Offline Maps.
Where possible, stay with friends and family who live along the route. They may offer you a warm plate of food and a free bed for the night.
Give yourself enough time to explore and to deal with any roadside hassles by building in some "buffer time". You want some time to explore, get lost (in a good way of course), and maybe spend extra time in some places. You don't want to be driving all day, every day.
Consider the seasonality of the route you opt for. Summer can be hot and crowded in some places. Likewise, spring or fall can present with road closures and detours if your route runs through the mountains.
If you're traveling during the high season, be sure that you book your accommodation and any other tickets for holiday events or festivals ahead of time.
Always buffer your budget. You never know what problems or exciting deals you might run into.
Be clear with your road trip companion(s) about your expectations and plans. You'll be spending a lot of time together, and you want to be sure you understand each other.
Remember to pack emergency kits; one for your car, and one for your people.
Bring along a small cooler in which you can store fresh, healthy snacks and beverages, in case you get hungry far from civilization.
Pack sunscreen!
In a previous guide, we shared some tips about how to make the most of your cross -country road tripping experience. Now, if you're going one way and will need your car, you can request a free quote on auto shipping for your precious car.