Reading Time: 6 minutes
Auto Transport Insurance is the safety net that provides peace of mind during your vehicle's journey.
Driving a car for long distances is not always the best option. When would you need auto transport insurance? Your classic investment needs to be at that all important car show in another state. Alternatively when you must relocate for work. Maybe you finally won that bid on eBay. When you need to ship the vehicle you'll also need auto transport insurance.
Work through this quick crash course to understand better when you need to get a car shipped across the country.
Is Auto Transport Insurance Worth It?
Short term car insurance for auto transport is something that you don't think much about until it is needed. Your vehicle is one of your most prized and valued possessions. Clearly while a professional company will do their best to look after your investment during auto transport, accidents can happen.
If a company does not offer insurance to cover auto transport do not sign a contract. Rather find an established car shipping company like Nationwide Auto Transportation. They have more than 15 years experience in the auto transport business. Learn how we can protect your cargo.
This is where many of the questions regarding auto transport insurance requirements start to pile up a bit:
Does auto insurance cover vehicle in transport?
Does my car insurance cover my car during car shipping?
Who pays for auto transport cargo insurance?
Learn to Navigate the Auto Shipping Quote Process.
Who Should Have it?
Everyone who uses an auto transport carrier should have some type of car shipping cover. This is just in case the unthinkable happens and your car accidentally gets damaged.
The law requires insurance for all car transport companies in America. (even if it is just a basic liability coverage). Individuals can purchase gap coverage, or other additional insurance from a reputable car shipping company. Alternatively ask your insurance broker about auto transport insurance costs. Along with this see if any auto shipping cover you may have on your personal portfolio.
What is a great way to make sure that you are dealing with a legitimate shipping broker? Moreover, how do you check that they have auto insurance? For your peace of mind check to see if they are registered with the FMCSA. At the same time you can confirm their USDOT number. Nationwide Auto Transportation is a fully registered and licenced auto transport company. We look after your car like its our own.
Read more about important facts regarding auto transport insurance. Following this see the glossary of auto transport insurance terms that you should know when planning to ship a car with an auto carrier.
What Are Some Important Auto Insurance Terms Should You Know?
Knowledge is power and knowing auto transport insurance terminology will come in handy when the time comes for you to ship your car across the country, ot maybe just the state. Here are some terms to remember:
Carrier: The company that you choose to ship your car. Also known as:

auto hauler
car shipper
car transport carrier

Broker: Auto Transport brokers don't actually ship your car, instead they only connect you to a carrier.
Supplemental: As in, "purchase supplemental (extra) auto transport insurance for a valuable car!"
Licensed carrier: Carriers need to be registered with the Federal Motor Carrier Safety Administration.
USDOT number: These important numbers keeps your carrier accountable and can be tracked on the internet. The United States Department of Transportation supply these numbers..
In the next section we take a look at the types of car shipping cover that is available when you use car carrier services, including liability insurance for auto transport.
To understand Auto Transport Insurance a little more, read this simplified auto insurance post. There are three types of auto transport insurance to know about when you need to ship your car:
Personal/Customer insurance—not a requirement but can be additional.
Carrier insurance—Auto carriers have to have sufficient auto transport insurance.
Broker insurance—Supplemental insurance is often offered as a carrot on a stick, but is not required from a broker.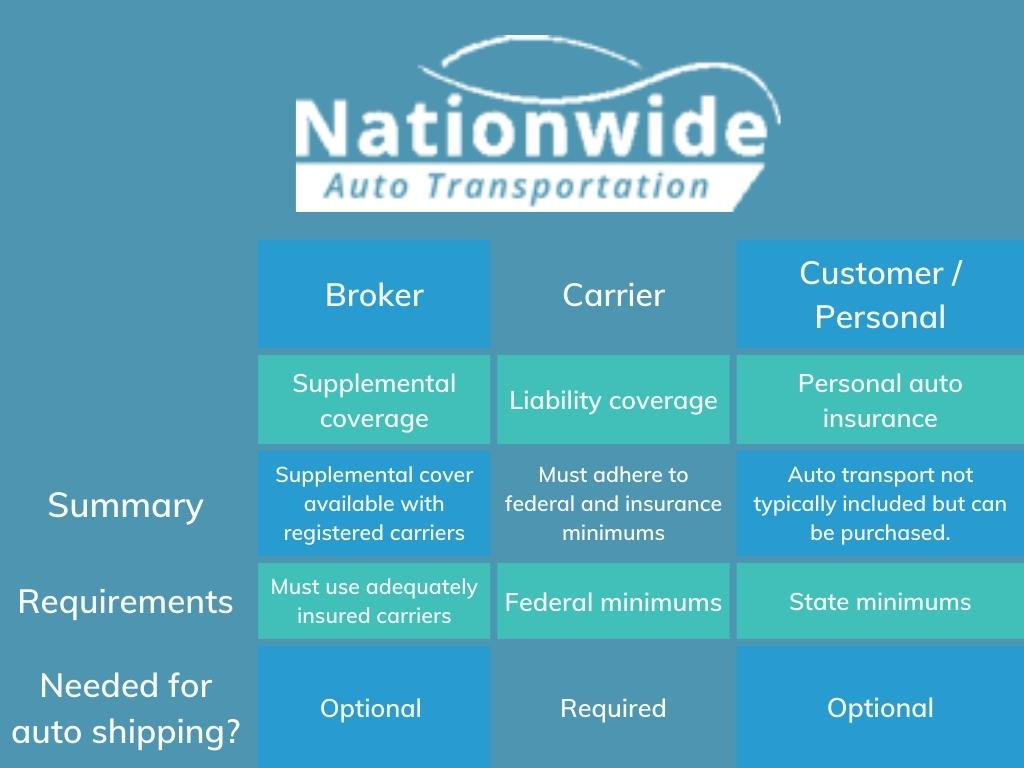 What does the Auto Transport Insurance policy cover?
In the unlikely event (when you use a reputable auto shipper like Nationwide Auto Transportation) that your vehicle sustains damage during transit, what does your shipping company's car shipping cover cover?
damage that occurs when loading your car
while the car is in transit
damage when unloading the car.
Any pre-existing damage, or damage caused as a result of your vehicle's bad condition (oil leaks, loose parts, moving parts, etc.) will be for your own account. If you are not sure how to prepare your car for shipping, here is an article on how to prepare your classic car for shipping.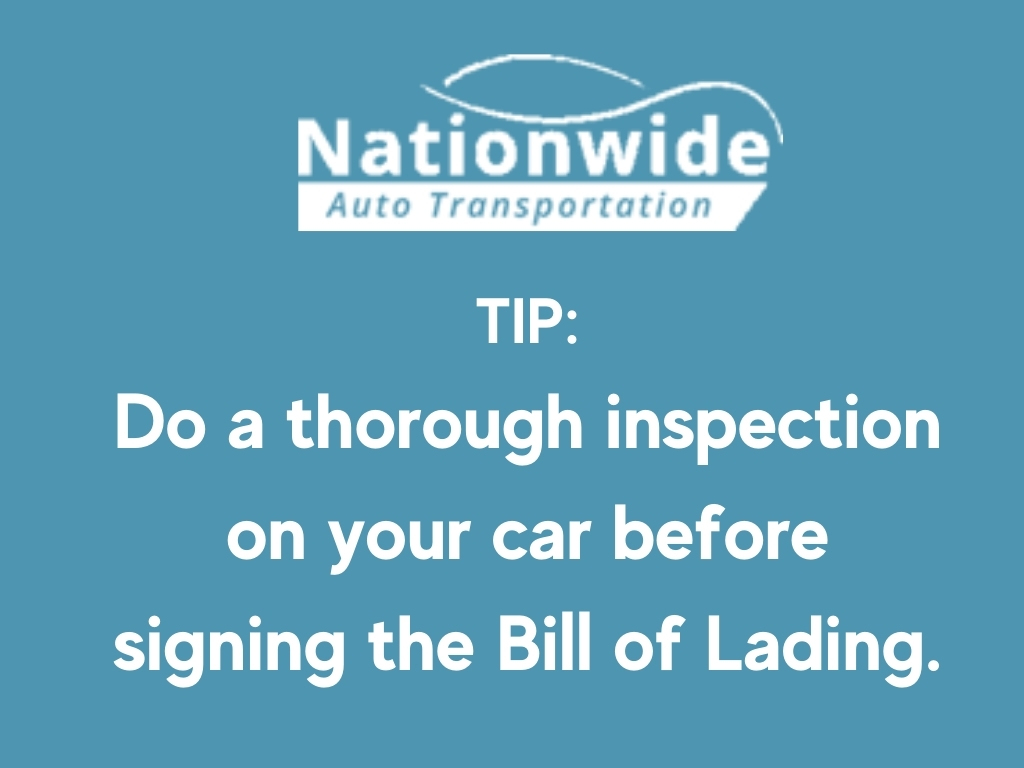 NATIONWIDE AUTO TRANSPORTATION TIP: Make sure you have done a thorough inspection on your car before signing the Bill of Lading. It is practically impossible to claim for any damages that you may have overlooked.
What Else Should I Know?
There are a few things that just make life easier when you are aware of them. When it comes to auto transport insurance, it is always good to know the following:
Scammers in the auto transport industry are a daily occurrence, but it is something that can be avoided through some common sense, and due diligence. Here are 5 simple tips to spot a car shipping scam, and read on and learn how to spot more red flags when you need car shipping:
Fake companies use false MC and USDOT numbers on paperwork to make a fraudulent business look legitimate. The last thing you will see is your favorite Bentley driving off into the sunset.
Bad company
Auto transport companies are a great way to start a business, but not everyone has morals. Therefore it is really important to choose your auto shipping partner with care. But how do you choose a reliable car shipping company?
Would you let someone who's not highly qualified, and the best in their field perform open heart surgery on you? Or, it's like when your new girlfriend wants to give you a haircut… there's a 50/50 chance that it could be ok, but a bigger chance that it won't!
Auto Transport Brokers cannot guarantee that a fake, or terrible auto carrier, has a new company name and registration. This is an accident waiting to happen.
How Can I Protect Myself With Insurance For Auto Transport Brokers/Carriers?
Car shipping cover is your security and peace of mind umbrella when you ship a car with an auto carrier. There is however a few more steps you can take to sidestep other auto transport insurance' pitfalls:
What is the difference between carriers and brokers? By law brokers do not need to have insurance for auto transport business day-to-day operations. Make 100% certain whether you are dealing with a broker or an auto carrier… if in doubt, swipe left!
Identity check. If you cannot find verifiable contact numbers, websites and/or government registration numbers from a company, the chances are 100% something will go wrong.
Watch your bank statements—any unauthorized amounts should be reported immediately, as well as complaints filed.
Check reviews. A ten minute read could save you thousands of dollars. If it smell fishy in the complaints department, its a no-go. Nationwide Auto Transportation customers have this to say about the company's service.
Let's Answer a Few Frequently Asked Questions About Car Shipping Cover
Is pick up and delivery covered by Auto Transport Insurance?
It is always best practice to look at the terms and conditions of your contract, and that includes the conditions of your car shipping cover.
Delivery, transit, and pick-up, is standard cover in most car shipping cover contracts used by legitimate companies like Nationwide Auto Transportation.
How do I know the truck driver will keep my car safe?
Nationwide Auto Transportation conducts intense training for their drivers, as well as in depth background checks. Shipping with them literally means that they take care of your car like it was their own.
How much is car shipping cover?
When you ship with Nationwide Auto Transportation, your basic car shipping cover is built into the quote. Call our consultants for a detailed quote or simply click on our Free Cost Calculator.
Is car shipping insurance for trucks more than for cars?
The cost of auto transport insurance can depend on a few different factors. This includes the value of your car, and you may save on insurance when shipping with enclosed auto transport. Here are a few more important questions to ask a transport company before booking.
Do you need car shipping cover to ship a car?
The short answer is yes, the carrier as well as the client must have car shipping cover when shipping a vehicle.
Do you need car insurance to ship a vehicle?
It is not necessary, but personal insurance may be needed when you plan to claim from your insurance agency.
Where Can I Find a Car Shipping Company With an Enclosed Carrier?
Any reputable car shipping company should offer enclosed, as well as open transport with enough auto transport insurance that covers basic liability for either methods. Nationwide Auto Transportation has the expertise, experience and auto insurance cover to give you peace of mind for your cars journey.
Contact them today for a free quote and free advice from one of our knowledgeable consultants.