Reading Time: 5 minutes
Every household or office move is as unique as the challenges we face when we relocate. Luckily, moving companies and auto shipping brokers understand this. In this post we look at types of car transport for your needs. Keep on reading and follow all the relevant links for even more info.
Moving can be painful at the best of times, but we know it. Nationwide Auto Transportation goes out of their way to provide you with the resources and information you need to make the most of your holiday.
When you're faced with the decision on which moving services to use, auto transportation might well be a clear requirement.
And before we forget… You can get 20% OFF your auto transport quote.
Why Should I Ship My Car?
There are many reasons why you might need to have your car moved:
Driving your car to your new home is usually the 'done thing', but by being aware of your options, you can make more informed decisions. How do you know whether using a car shipping company is the right choice?
It doesn't deteriorate your car's value—Driving your car across the country adds miles to the odometer. The vehicle's mileage directly influences its market value. The lower the miles, the higher the dollars.
Wear and tear protection—Driving your car thousands of miles will cause premature engine and tire wear. Car shipping companies ensure your car remains in good shape. Using an auto transport company to ship your car doesn't add any mileage or wear and tear. Your car is transported on the back of a truck. 
Save time—Need to get it all done in a short space of time? Then driving all the way across the country is a waste of time. When you use a reliable auto transportation company, you can fly to your new city instead of driving.
Safe and reliable. Traveling from one state to another is very stressful and takes a toll on the driver and passengers alike. There is always the obvious risk of things not going according to plan. 
Protection. Professional auto transportation trucks are equipped with the tools and expertise to get your vehicle to its destination safely and without any damage.
Environmentally friendly—An auto shipping company transports multiple cars at once. This not only cuts down on your carbon footprint, but it's also a great way to save money. The costs are split among all the other clients using the truck.
Now that you know that you need auto transport, let's look at the options that are available to you in terms of the different types of car shipping.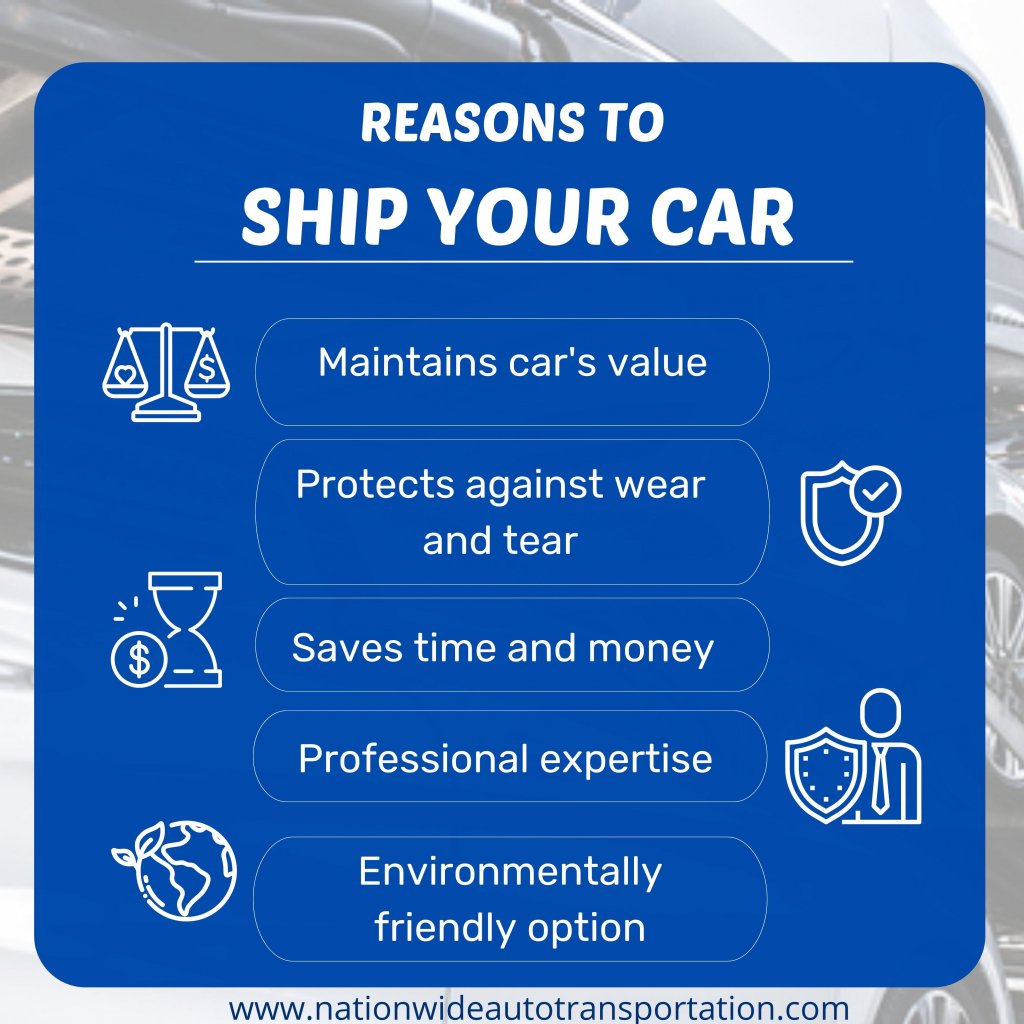 Types and methods of auto shipping and transport
Car shipping companies like Nationwide Auto Transportation help clients to save on hassles and stress when it comes to vehicle relocation. Whether you want to ship your car across the country or just a few states away, you can find different methods of auto shipping and transport that will suit your exact needs. As with every other consumer decision, it is important to choose a reliable auto transportation company that has the knowledge, experience and equipment to deliver on their promises.
Professional vehicle transporters use one or more of the following types of car transport, often with a range of sub-options. Let's take a look at what options are available to you.
Shipping your car overseas by boat
Are you moving abroad? Finding one company to collect your vehicle from your current home and delivering it to your new home overseas can cost quite a lot of money. That's why we always recommend that our clients consider whether it's best to sell their car and use the proceeds to buy a new car abroad—unless it's a valuable or sentimental car.
If you still want to ship your car abroad, you might consider using a local car hauler to ship your car from your home to the nearest international seaport for cars. You can then arrange with a Ro/Ro car shipping company to ship the car to the overseas sea port. From there, you will have to arrange another auto transport company to bring the car from the port to your new home.
You will be dealing with three different auto shipping companies to complete the process.
Flying your car abroad
Hell-bent on shipping your car abroad but don't want to wait for your ship to come? Well, the fastest option is to ship your car by plane. You'll likely still be working with 3 companies, but the process will be much faster.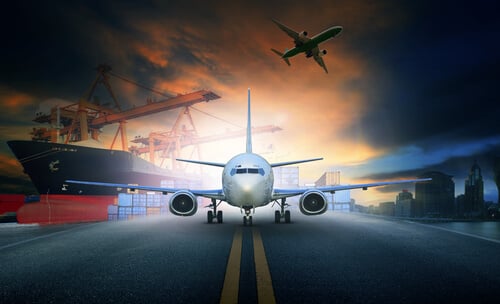 Shipping your car by rail
Shipping your car domestically? Then you might consider hauling it as rail freight. Shipping your car by train is safe and fast, however, it can be more expensive than shipping by truck. Another downside to shipping your car as rail cargo is that tracks don't cover as many routes as trucks do, with all the national highways and byways which they traverse. You may also have to invest in more insurance.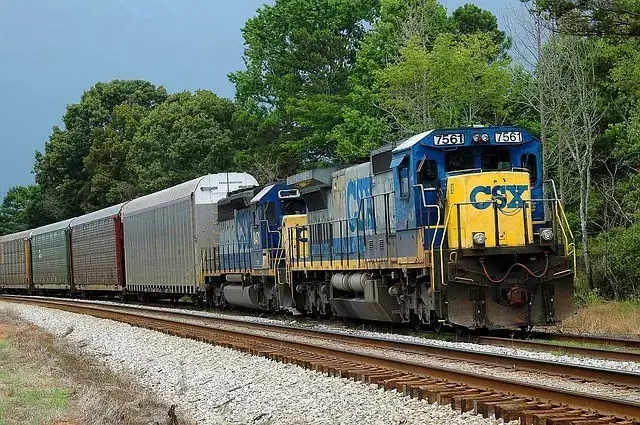 Auto transportation using a vehicle carrier
Like most vehicle owners, you will probably opt for truck transportation to move your car from one place to another. Truck transport for cars is typically quite competitively priced, as compared to air or rail freight.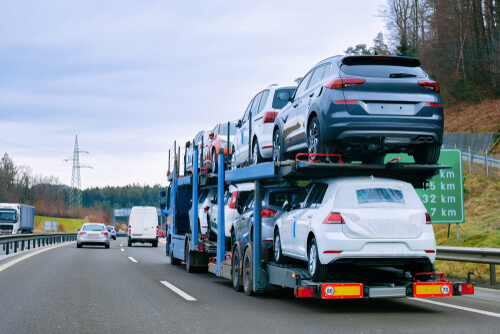 Within this method of auto transportation, you have the options of:
Door-to-door auto transport—Our friendly team will come to you to collect the car. They will load it onto the truck and deliver it to the new address or a spacious public lot nearby, if one of the addresses is difficult to access due to space or clearance issues.
Terminal-to-terminal Shipping
If your vehicle is stored in a storage facility, it can be collected from or delivered to the terminal.
Enclosed auto transport—This premium type of vehicle transportation offers an alternative to conventional open air car shipping services.
Open auto transport—This is the preferred option for shipping a vehicle, as it is cost-effective and competitively priced.
Classic car transport—This specialized type of car shipping is for cars a) aged 15-20 years old or older, b) that are stored in a garage when they are not in use, or c) that are driven less than 2,500 – 5,000 miles per year. Additionally, insurance companies usually require that you have at least one other vehicle for regular use. Haulers use specialized tools and equipment to haul these cars, usually in enclosed trucks.
Choose from open or enclosed shipping when you want to transport your bike between two locations. 
ATV shipping—Did you know that auto shipping companies ship all-terrain vehicles (ATV), motorcycles, buses, recreational vehicles (RVs) and even boats?
Car buyers transport—If you bought a car from overseas, or from a seller or dealership and can't collect it, an auto transportation company can do so for you.
RV shipping / boat shipping—when you need to move your recreational vehicle, mobile home or boat, you can have it shipped.
There you have it. Everything you need to know to choose the right types of car transport for your needs.