Reading Time: 5 minutes
What is vintage motorcycle shipping?
Vintage motorcycle shipping is when owners make use of companies that specialize in transporting vintage and other high value rides from one place (seller's or owner's home, storage) to another (auction, buyer's home, show) using enclosed auto shipping trucks.
Your classic motorcycle might look like a beast, but it's actually pretty fragile. Either way, it's your baby and you want it to receive the special tender loving care and attention to detail when you have to have it shipped somewhere.
Who Needs Vintage Bike Shipping?
At Nationwide Auto Transportation, we frequently ship vintage or classic motorcycles on behalf of:
People who have won these vehicles from online auctions;
Individuals who are relocating to a new home and can't ride their bikes the entire way;
Motorcycle owners who want their bikes shipped to specialist repair shops;
Motorcycle enthusiasts who want to save miles, wear and tear on their bikes;
Dealerships and online stores that specialize in classic or vintage bikes;
Private buyers and sellers;
Collectors needing to transport their bikes to shows or auctions;
And much more.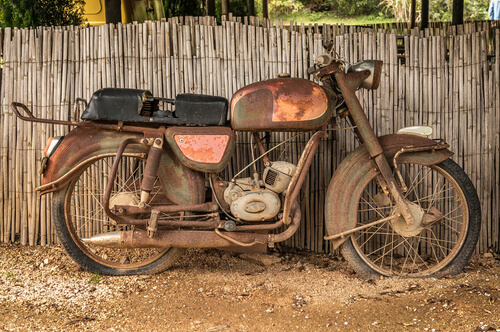 Motorcycle collectors and restorers frequently attend classic motorcycle auctions. After all, that's one of the best places to find great vintage motorcycles at good prices. Even when the bike is not in great condition, they look forward to the many hours they will spend on the restoration. If you're thinking about attending your first motorcycle auction, be sure to put a plan in place to get your motorcycle home.
Nationwide Auto Transportation is the first choice in vintage motorcycle shipping. As one of our specialty services, we have the vehicles, systems and processes in place to safeguard your bike from the elements and to ensure damage-free transportation.
Why Ship a Classic Motorcycle?
One of the best reasons to ship a classic motorcycle is because it is already old, and you want to handle it with care. For every mile you add to your motorcycle, there's a certain amount of wear and tear. When you ship your classic motorcycle, it is not exposed to potholes and road debris. Those are important considerations, as it is harder – not to mention more expensive! – to find parts for older bikes. You've probably already spent a small fortune, time and energy on fixing it up.
No matter who you are or why you need your bike transported, Nationwide Auto Transportation is your number one choice in reliable, worry-free motorcycle shipping. In more than 12 years, we have delivered every vehicle we have transported damage free to their owners. We know how to transport a classic bike to ensure it is still mechanically sound and free of unnecessary wear and tear when it arrives at its destination.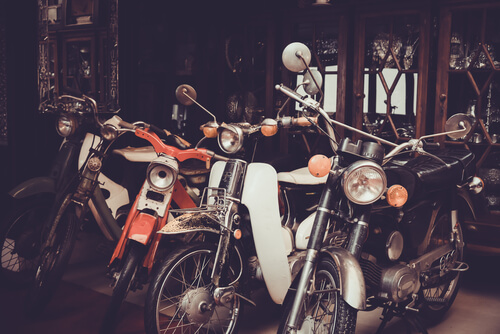 Safest Options for Shipping Your Bike
Although motorcycles can be shipped on the back of a pickup truck (if it's big enough), on a trailer pulled by a truck or car, or on a large vehicle transport carrier, it is usually best to ship a vintage or classic motorcycle using an enclosed transportation carrier. If you have a pickup truck or a bike trailer, you could probably do it yourself, but it's a bad idea, unless you're highly experienced in navigating narrow streets and turns and driving with additional weight on highways. Of course, it is a bad idea in winter when the weather is bad.
Although open transportation carriers are cheaper, an enclosed carrier offers more protection against the elements. Both open and enclosed carriers use special safeguards to secure your motorcycle to the trailer, the enclosed truck has sides and a roof to provide maximum defense against the elements.
Transporting your motorcycle using enclosed auto shipping sounds complicated and expensive, but it doesn't have to be. Firstly, you don't have to rent the entire truck. An auto transport broker such as NAT will help the carrier fill up the remaining space in the truck with other vehicles headed in the same direction. That way, you will split the cost of the truck rental with other vehicles that are being transported. Your vintage motorcycle will be tied down and secured to prevent it from tipping over or moving around while in transit.
How to Keep Your Ride Safe in Transit
As with shipping a car, it is important to properly prepare your vintage motorcycle for shipping. You can't simply replace a vintage motorcycle or easily find parts if it is damaged. Whether you need to ship a classic motorcycle to the next big city or across the country, you want peace of mind knowing it's as safe as possible.
5 Steps to Motorcycle Shipping Preparation
We've compiled a list to help you achieve the best results with your motorcycle shipping process.
Step 1: Remove any and all side bags, hardshell cases and other removable accessories.
Step 2: Have all your documents handy. This includes your proof of address and social security numbers, as well as your motorcycle registration.
Now follow step 3: Remove any fluids from the motorcycle. Be aware that wooden crates and pallets are easily flammable. 
The next step: Unplug the battery, remove it if possible, and store it in a safe place.
5: Wash your motorcycle. See scratches and other damage. You should record these on your Bill of Lading and on photos.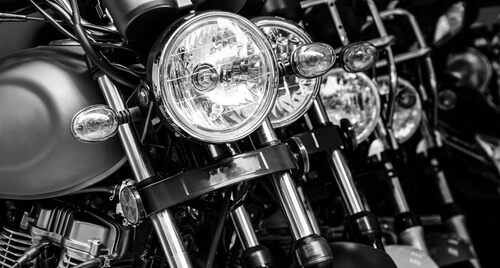 Your driver will do an inspection using the Bill of Lading to note any existing dents, scratches or other issues. You, or someone who can represent you, (someone you trust over the age of 18) must be present at collection and delivery for inspection. On delivery, the driver will compare the condition of the motorcycle against the condition it was in on collection, according to the Bill of Lading.
Nationwide Auto Transportation – Vintage Motorcycles
For well over a decade, Nationwide Auto Transportation has been a leading classic and vintage motorcycle shipping provider. As a specialist in our field, we work with a large network of enclosed auto shipping drivers from across the country, shipping all kinds of motorcycles among the 48 lower United States.
Our flawless record of damage free transportation gives clients the peace of mind they desire when they have to ship their classic motorcycles anywhere. Get in touch with us today for a free motorcycle shipping quote.
Whether you want to ship your super bike, project motorcycle, ATV, classic or vintage motorcycle, we can provide you with the best price on the safest shipping. Get in touch today!