Reading Time: 11 minutes
O.B.D. is real! Obsessive Boating Disorder sees a 100 million Americans step aboard some type of watercraft each year. But is boat shipping really as simple as putting your boat on a trailer, and driving it across the country? Let's find out…
In 2020 we saw the highest boat sales in 13 years, and if you consider that 95% of registered craft are less than 26 feet long, there is a pretty good chance that you might spot a boat on a trailer as you drive down the road today.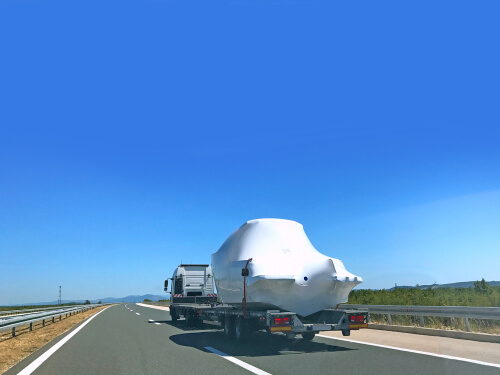 If you own a boat, or you have realized that wetter is better, and can't wait to buy one, our post 6 Top Tips From the Pros, will interest you. But first we drop anchor to discuss 'nearly' everything regarding boat shipping. Welcome aboard!
What are the Largest Car Companies in the World?
When Would I Need Boat Transport?
Owning a boat would be a great start as to why you may want to ship it across the United States, and to help you get on an even keel when buying your first boat, our blog Buy a Boat with This Handy Guide for First-Time Boat Owners, is a must read.
When would I need boat shipping? That's a question that is really not that uncommon.
People ship boats across the country or internationally for a variety of reasons, and most boat owners ship their vessels at least once. To prepare you in the event that you may need boat shipping, we take a look at the primary reasons and situations where you, as a boat owner, may require boat transport to get your vessel from Point A to Point B.
Weather – For people who wish to escape the severe weather, harsh snowstorms, and frozen water in winter, boat transport is the perfect choice. Rather than just listening to Rod Stewart sing, you could be the one who is sailing on your boat all winter long. Your boat can be shipped down south for all vacations and Nationwide Auto Transportation Boat Shipping might just be the perfect boat carrier for the job. Now you can be on board your vessel for the whole year, minus a couple of days while your craft is shipped to its new destination.
Relocation and moving – This is a major reason for boat shipping. Moving is recognized as one of the  most stressful undertakings for most people. Add in a huge boat that needs to move, with all your other belongings, vehicles and trailers etc., from one town, state, or even country, to another, and you instantly move up a few levels on the stress-o-meter. But guess what? Your worries are over because of reliable auto carriers like Nationwide Auto Transportation. Shipping your precious craft safely is our primary concern. We can also help with any other vehicles you might need to get to your new home, or boating destination. Get a Free No obligation quote right here!
Nationwide Auto Transportation are Boat Shipping Experts
Maintenance – Custom-designed boats require maintenance services that may not be available to you locally, and your schedule might just be so crazy that even if your local boat shop could sort out your problem, you just cannot seem to find the time. This is where Nationwide Auto Transportation comes to the rescue. Schedule your maintenance and we will get your vessel safely there, and back, and in time for your wife to try out that new bikini she's planning on getting.
Buying or Selling – It stands to reason that if you have either bought or sold a boat, you more than likely will need the services of a boat shipping company. Boat transportation companies have suitable tools and equipment to transport your boat safely, no matter how it is being shipped.
In the next section we look at different boat shipping methods, and you will learn that in boat transportation, size really does matter.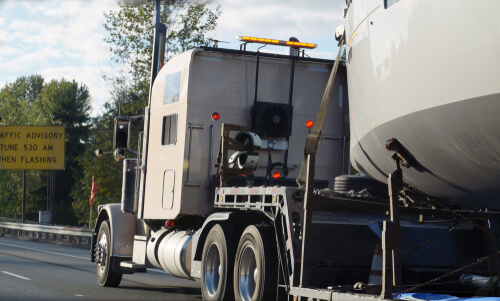 How are Boats Shipped? We Look at 4 Different Methods
You have finally made the commitment and bought a boat. Lucky for you, you read our blog post Buy a Boat with This Handy Guide for First-Time Boat Owners and saved yourself some dollars and stress.
Now you need to get your B-Yacht'ch back to your home waters, so the two of you can start having some aqualiscious fun. So, How DO you ship a boat?
It may sound super difficult, and it could be if you are a novice, or you partner with a sub-par auto shipping company. Nationwide Auto Transportation are professionals with 16+ years of experience. Our professional staff will assist you and help you choose the right option to get your Yeah Buoy on the water.
Depending on the size of the boat, there are usually four ways of boat transportation:
Trailering a boat
Using a professional boat hauler to move a boat on land
A boat can be sailed on its own bottom
Yacht transport ships for shipping boats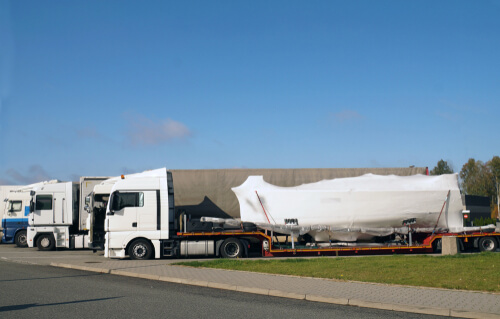 Boat Shipping on Own Trailer?
When you buy a boat-motor-trailer package, you may be able to take care of the delivery all by yourself for nothing more than the cost of fuel… and your own time (and a few other things…).
That means you'll need your own tow vehicle to haul the load, and if you don't have one, you would have to hire one. If you are reading this post, and you happen to be in the military, our post PCS Move: Your Ultimate Guide for a Simple Military Relocation will make for some informative reading.
Boat Transportation Over Land
It is most common for boats to be shipped over land, and many boats with trailers are loaded on a flatbed or a large multi-boat trailer for delivery. While boat shipping down the highway is popular and preferred, there are a number of very specific restrictions. A boat that is shipped over land must:
Not to exceed 12 feet in width
Be no taller than 13'6"
Ensure the loading and unloading area has at least 14'0" of overhead clearance, prior to pick up, and it is required that your boat is ready on the arranged time.
If your watercraft meets these requirements, a professional auto carrier like Nationwide Auto Transportation, can safely deliver it over land. To get an idea of what shipping might cost you, our Free Quote is ideal.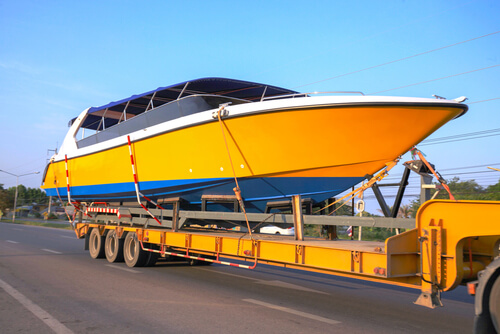 Bottoms Up – Boat Transportation on Your Own Keel
If you are in the super fortunate position where you could take a week or three to adventure your new nautical purchase down the coast back home, you are envied by millions, my friend. Most of us mere mortal boat owners just do not have the means and time to take a fun fortnight escapade.
People with an annual income of $75,000 or less make up 61% of our country's boaters, meaning more often than not boats shipped on their own bottom are delivered by a professional skipper. Large boats and yachts may require additional crew.
This method of boat transport does require some special considerations.
Purchasing special insurance, providing provisions and/or accommodations for the crew, and in some cases, paying the captain and crew to fly home after the delivery, may be required.
You must also be prepared for unpredictable weather, mechanical issues, or other factors that may cause delays in this type of delivery. Having a contingency plan in place is essential in case your boat and crew are stranded due to a hurricane.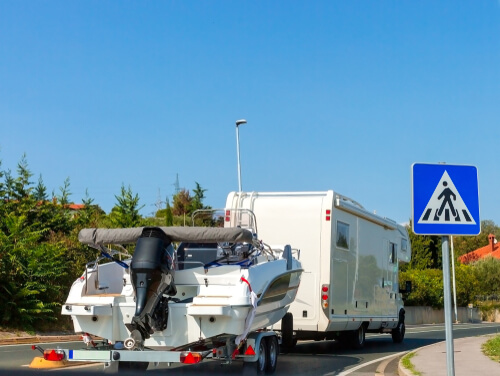 Boat Shipping on a Yacht Transport Ship
For very large boats or yachts traveling long distances or overseas, a yacht transport ship may be the best option. As one may expect, such cases are comparatively rare, as well as significantly more expensive. Tens of thousands of dollars are often involved. There are companies that specialize in reserving space on ships and handling all the paperwork and logistics involved.
Despite the apparent simplicity of boat shipping, only professionals can anticipate the possible risks that weather and road conditions pose. Your insurance policy will not cover boat shipping unless it is done by a company that carries the proper insurance, Motor Carrier Authority and Department of Transportation registration.
So even if Tony from the club (Tony has towed boats from here to Timbuktu, he says) can tow your precious floating investment, it might not be the move a wise wo/man would make.
Regardless of how big or small your boat is, one of these options is right for you. Remember, when you own a boat, you don't need therapy.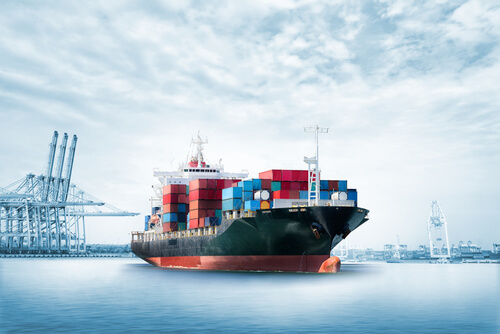 How Much Does It Cost to Ship a Boat?
Some things are harder to move than others, like boats over land for instance. Size and the fact that watercraft, well… they don't normally have wheels.
Besides requiring extra preparation, it can also be a pretty expensive exercise. Depending on the size of your vessel, and the distance it needs to travel, shipping costs will vary. This chart contains some estimates of how much it will cost to transport your boat.
| | |
| --- | --- |
| Boat size | Estimated price |
| Smaller than 9 foot | $1.50 – $2.50 per mile |
| 9-foot | $1.75 – $2.75 per mile |
| 10-foot | $2 – $3 per mile |
| 11-foot | $2.25 – $3.25 per mile |
| 12-foot | $2.50 – $3.50 per mile |
| Greater than 12 foot | $2.75 – $3.75 per mile |
This rough estimate suggests that moving a 9-foot boat the distance of 1000 miles will cost around $2,250, and moving a 12-foot boat the same distance, about $3,250.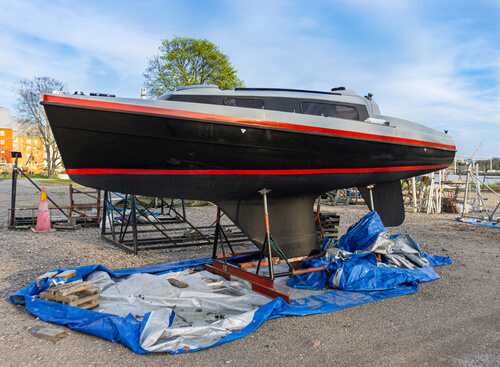 Nationwide Auto Transportation Tip: Make sure you have the correct measurements of your boat, as well as the distance it will travel, before contacting a transport company.
Boat Shipping Requires Planning
Boat transportation should be approached as if going to war. And by that I don't mean you find a clandestine little group from the South to transport your boat… It's just that when it comes to boat shipping, the old adage of failing to plan, is planning to fail, really applies perfectly.
Start making a detailed 'war' plan well ahead of time. Your desired outcome is to get your Unsinkable 2, from A to B, and in the same state and condition as when she started her journey.
Boat shipping requires a detailed and careful approach. It is possible for the boatyard professionals to handle your move and take care of everything. It should be kept in mind, however, that in the event your boat is not prepared as required, it will be shipped "as-is", which means the auto carrier won't be responsible for damage during transit.
You Need a Reliable and Reputable Boat Shipping Company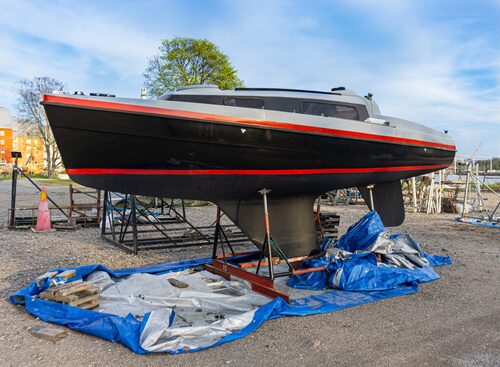 You should approach the search for a boat shipping company in the same way you would if you were looking for a moving company. Compare at least three quotes from different companies. Boat shipping companies are often harder to find than moving companies in general, so finding the right one can be a humdrum process.
In order to ensure that you're getting the best services possible, ask whether the driver and crew know all of the tricks of the trade of boat transport. Pick a company that has experience working with DOT, boatyards, ports, and permit agencies. Having this experience ensures that the boat is shipped properly and on time. Nationwide Auto Transportation has this experience. Get your Free Quote now.
Before moving the boat, the owner should prepare it. You'll need to take measurements of the height and width, which the shipper needs to obtain a trailer of the correct size.
How to Properly Prepare Your Boat for Transport
It is very important to prepare your boat for transportation before moving it. Remove all personal items and anything else that could cause damage to the boat during the move. A few examples include:
Things of value
Antennas
Navigation and Fish Finding Equipment
The anchors
Outriggers
Covers for couches or cushions
The screens
Window glass
Items related to electronics
Flagpoles/staffs
Propellers
This is where you might need to use a little elbow grease to empty your boat, inside and out, before the boat transport carrier arrives. Also, make sure there is no water anywhere on or in the boat, including in pumps, air conditioners, and water systems.
Keep no more than a fourth of the gas tank full when moving
Tie or tape any hatches closed and secure
Lock and tape the windows of the cabin from the outside
Lock any doors or hatches that need to be secured, and keep your keys on hand at all times
Make sure the movers have a spare set in case they need to access the boat's interior
If you're loading at a marina or boatyard, make sure there is at least 14′ of clearance
Ensure all water systems, pumps, and air conditioners are drained and plugs are removed from the hull
To prevent contact, disconnect batteries and secure cables away from them
Do not leave any valuables on the deck – pad and secure what you can inside the cabin
Make sure any large objects, like a dinghy, are well-padded on board
How to Protect Your Boat During Transportation
If you plan to move your boat during the winter, you'll need to winterize the exterior of the boat. A plastic covering or boat wrap can also be purchased to protect it from the elements during the move. Despite being more expensive, shrink wrapping your boat will protect it from rain, hail, freezing rain, snow, dust, dirt, and bird droppings.
Before moving your boat, conduct a thorough inspection of the entire vessel to ensure that everything is in good condition.
Cleaning your boat with hot water before moving is essential, as is maintaining it to code. You run the risk of your boat being seized by DOT officers if you don't.
You can remove all the risk by letting Nationwide Auto Transportation do the hard work of getting your precious Main Mistress back to her berth.
Boat Transport has Style
It is suggested that wooden boats be carried on their own custom cradles. This balances out any structural weaknesses. A liability release may also be required.
If you are moving a power boat or speed boat, check that the boat's windshield is durable enough to withstand any strong winds it is likely to encounter while moving. You should check that all the seals and screws are tight.
If you are moving your boat internationally, there are three different types of trailers you can use:
The roll-on/roll-off trailer
Closed container
The flat rack and submersible container
Don't forget to
Before pics. Taking pictures of your boat before your move will help you if it is damaged in transit. A photo will serve as proof that your boat was undamaged before the move.
Documents related to moving should be filed safely. You will need to provide your bill of lading, your insurance coverage policy, and any pictures you have taken of the boat as proof of insurance.
Know your dimensions before contacting a boat shipper. It will be the first thing they ask you. Measure the length of your boat from its bow to its stern. Include bow pulpits, swim platforms, motor brackets, and thrusters in the raised position. Overall height: measured from the bottom of the keel to the highest permanent part of the boat. The beam of a boat is measured from the widest part to the rub rail.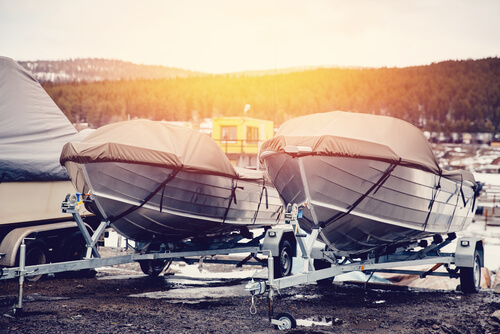 The "and Then Some" We Mentioned in the Heading
Find out what days your marina or boat yard is open for boat loading and unloading. It is important to know the hours of operation, but even more important is to know the cut-off time. Also, is there a travel lift or a forklift with straps at the loading/unloading facility?
Make sure your vessel's weight is known if a fork lift is needed. Is there enough space to load/offload a rig that could be 75 feet long?
The transporter must also have a direct telephone number of someone at the yard so that they can reach them. It eliminates aggravation and saves time. Inquiries such as:
are there height or width issues that the driver should be aware of?
are there construction projects that the driver may not know about?
These questions can be answered by the crew at the yard. You may not be able to answer many things that your boat yard or marina can.
Confirm how and when your marina or boatyard wants you to pay for loading or unloading. There are some facilities that will not load or unload until all of these types of charges have been paid.
Again, you are trying to eliminate delays. Marinas often have little in the way of space to maneuver. Keep that in mind for a extra long truck and trailer.
Make sure that you cross all the t's and dot the i's. Marinas require documentation, so do your due diligence and save yourself hassle and stress later on.
Request a Free Boat Shipping Quote
At Nationwide Auto Transportation, our trucks travel on all major routes several times a week. When you need a spot on a truck, we can get it at an affordable price. Get in touch with one of our boat shipping brokers today.
You can get a free quote from Nationwide Auto Transportation for boat shipping. Let us know the size and weight of your boat, the pick-up and drop-off locations, and the approximate dates, and we'll give you a free quote.