Reading Time: 10 minutes
Are you planning on your first Permanent Change of Station or PCS move? As an experienced military auto transport company, we have prepared a few PCS preparation tips that we hope will prove to be very helpful when you—or your service member spouse or partner—receive your next set of orders.
As the military community enters PCS season, thousands of military personnel are preparing for a PCS move—and a sizable percentage, are learning first hand how transportation drove globalization over the years for the very first time.
But let's face it… the transportation planning process can always be improved on no matter how many times you go through it!
Here are a few PCS preparation tips and tricks that our online contributors came up with to help you get through packing for a PCS and make your next military move successful.
Did you know? The average military family moves three times as often as a non-military family. Children from military families move more than six times while in school, according to some statistics. As a military person, you know all this already. Now that you know your next step, you need to make it as easy as you can.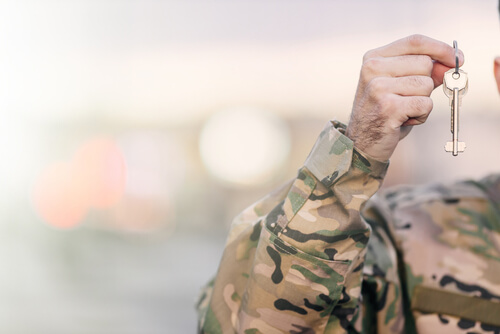 Things to Do Before a PCS
The #1 step to preparing for a government PCS move, is to do your RESEARCH and to avoid the auto transportation lead reseller trap.
Seasoned experts agree that if you don't need to move post-retirement—don't! Rather wait until you really need to. Although you only get one of these types of military moves, you can use it whenever you need it. And if you need veteran car transport, you can often secure great discounts with Nationwide Auto Transportation. After all, clients often refer to us as the 'best car shipping company for military PCS'…
Learn how to deal with any PCS move, whether it is your first PCS move or whether you're a seasoned pro at preparing for a PCS move. Whether this is your first move or whether you've done it before, each move is unique due to the different circumstances involved.
DOD's Perspective
There is a shortage of labor in the moving and storage industry, which is contributing to the tighter capacity than usual in Defense Personal Property. Additionally, competition from non-DOD clients (such as corporate and residential customers) who vie for the same services compound the issue of demand.
DOD personnel must often wait upwards of four to six weeks for available moving crews. In addition to moving trucks and storage containers, there is a high demand for rental trucks and storage containers.
Taking these steps will help
If you receive orders, visit the Transportation Office as soon as possible. Don't hesitate!
Whether it is your first or tenth move, take advantage of counseling. Taking advantage of your local transportation office will give you a better understanding of the delays and challenges you face in your community.
Discuss options with your chain of command right away if movers are not able to support your timeline, including changing reporting deadlines, if necessary.
Don't be impatient with staff at your transportation office! They want to help you solve problems. If your plans about moving change, or if you have any questions once your move is scheduled, contact the local transportation office.
Do not forget to use your Family Support Centers and DOD resources if you're looking for employment after a PCS move.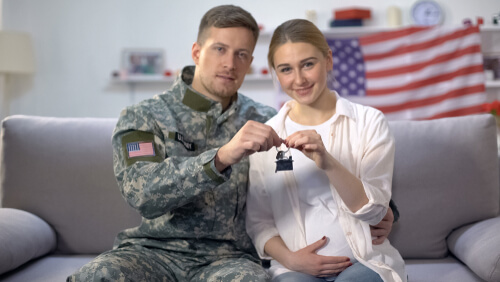 How to Prepare for PCS Movers
Early planning will pay off. Once you know you are in the window to move permanently in the next few months, you can start your move process right away. When your orders arrive, you will already be familiar with some of the basics.
Your household goods officer can help you start on the moving process as soon as possible. This is especially helpful if you will be moving with less than a two-month notice.
Expert Tip: Being accessible by phone and email during your move is essential.
It's possible that your first move took place when you were single. You may have two kids, a spouse, two cars, furniture for a three-bedroom house, three dogs, and a trampoline in your backyard by the time you move your third time around.
Starting early is the key to a smooth move. You should begin to prepare for the move the moment you learn you will be moving. You'll find your move goes more smoothly the earlier you start.
For your convenience, here are some relocation guides to some of the most popular cities or states for PCS moves.
Here, we'll cover all those "little" things you may not think about until you really wish you did.
Step 1: Packing for a PCS
Make sure to speak with Travel and Finance well in advance so you will know exactly what you will need to do during the process and what to expect.
Call your local transportation office if you're unsure.
When you get a whiff of orders coming your way, start hunting for boxes. Don't be afraid to ask friends for extras. You can buy them at your local moving store or home improvement store. They're pricey, so ask around at a thrift store or grocery store instead—they might be glad for you to take them off your hands.
You can find out more about your new base at militaryinstallations.dod.mil. Make sure to thoroughly research the schools in the area and choose a house or a neighborhood based on that. Make sure you do some preliminary research of your destination before you arrive. Before transferring, use your smartphone's GPS or print out directions (from your hotel) to important locations (commissary, base, malls, Target, restaurants).
Check with your next base ahead of time for information about temporary housing, if your family center or command has lending lockers, and what else you can borrow. You may not need everything you're moving, so this is a great way to reduce the cost and hassle of the move.
Renting a place sight unseen isn't a good idea since you don't know the neighborhood, the schools, or any other important factors. Before moving to your new station, talk to the support/relocation center for advice about which neighborhoods are worth exploring. It is likely that the center can also refer you to a good rental realtors.
Research interesting things to see and do in the new town with the kids and have them make a list of all the things they would like to experience or see. The transition will be easier if they have something to look forward to.
Learn what options you have for transporting your household goods
Learn more about relocation and housing by visiting Military One Source
Attend an information session (briefing) at your local transportation office
Please visit PCSmyPOV for more information about transporting privately owned vehicles (POVs), such as cars, trucks, motorcycles, and so forth.
Prepare a folder in which you will keep all the documents pertaining to your move. Print them out, and keep them in a place you will take them with you. Be sure to keep a copy of your family medical and dental records, moving forms, apartment leases, etc. with you. Don't forget the pets either! Put together a little folder containing all my important medical information: shot records, military member medical records, pet records, birth certificates, etc. Not only that, but you should leave a little space for receipts! This is especially true when the DITY is partial. A well-organized approach will make getting your money back easier, plus it will be quicker. Always keep every receipt you receive during a move and always weigh the truck before opening and after closing the door. Those things might not be covered by your reimbursement… which means you have to pay for them yourself.
Also, keep your orders on hand because you'll need them many times. A handy supply of 30 copies is not excessive.
Before you leave, ask your doctor for extra prescription refills. Request prescriptions in written form. That way, you can fill them while you wait for your new provider at your next duty station.
Take photographs of any items that are valuable or irreplaceable. Take photos or videos in order to file a claim in case they are lost or damaged.
Invest in a small fire safe to store all important paperwork, such as birth certificates and social security cards. Invest in an external hard drive that lives inside this safe to store all of your family photos and videos. All of this will be easy to gather for the next PCS move, as you can simply add to it and backup new photos and videos.
Before moving, have a garage sale and get rid of everything you can. Having fewer things to unpack at the new house is good – and it's less expensive to transport.
Take advantage of Advance Travel Pay!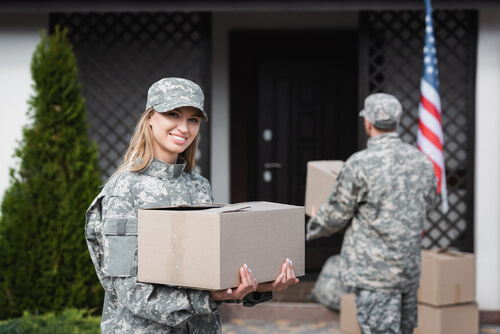 Expert Tip:
Also during this time, you can decide if you want to drive or ship your car(s). Both options have their advantages and disadvantages. If you decide to use military PCS vehicle shipping, contact Nationwide Auto Transportation for an estimate. More than 50,000 customers, including military personnel and their families, have trusted us to transport their cars, trucks, motorcycles, etc. To learn more, you can contact us by phone at 800-311-7073.
Spend some time preparing your car if your move takes you overseas. Taking care of any recalls on your vehicle should be your first step. Unrepaired recalls can cause cars to be turned away at the vehicle processing center. Keep a record of the current condition of the car so you can report any damage that occurs during the move.
Step 2: Schedule Your Military Relocation Services
Having specific moving dates locked in can create problems during the moving process. Before finalizing the details of the move, you'll want to confirm that moving services are available on the specific date that you're looking for.
In situations where you are trying to sell your home or give your landlord a notice, it is sometimes challenging to keep dates flexible, but the more flexible you can be, the better.
Make arrangements with a transportation company through Defense Personal Property System (DPS).
To schedule your move online, log in to DPS (find out if you're eligible to use the military relocation assistance program for your move).
You can schedule joint military moves (also known as dual military moves) by visiting your local transportation office.
For assistance scheduling an appointment, visit PCSmyPOV.
If you are traveling during a PCS, look for cash back websites and booking sites with reward programs. By the time you get to your destination, you will have earned some cash back and points toward a future vacation!
When you leave your apartment, pay the cleaning fee. Don't overwhelm yourself further with the added stress of cleaning for inspection.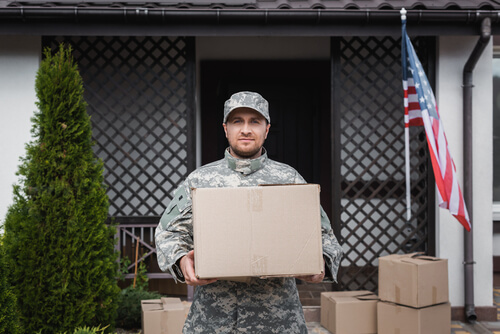 Step 3: Prepare for PCS Move Day
You can ensure you have the basic necessities at your destination with a Partial DITY or PPM move. These types of military relocations allow you to transport some of your own household goods yourself; a government procured mover transports the rest. This could also include allowing you to use a private auto transportation company to ship your car.
It is particularly useful for moving items such as air mattresses, basic cooking utensils, pots and pans, and cleaning products, as well as plants, open foods, and other items that would otherwise have to be thrown away.
It's even possible to tow a small U-Haul—or similar truck rental (check out our reviews here)—if you're doing a partial DITY.
PCS move is an opportunity to declutter
You can use PCSing as an occasion to declutter your home and remove certain items. Declutter before you travel, and you'll have less to unpack once you've reached your destination!
Get your kids to reduce their clutter by taking advantage of this opportunity! Make a list of items they would like to sell at a yard sale after going through their rooms. Allow them to keep whatever money they make as extra travel money! If any of their items are not sold, give them to a charity.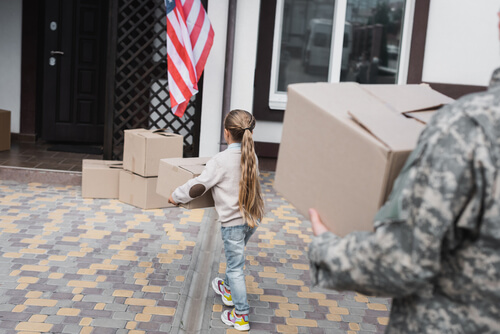 Help your kids adjust to the relocation
You might want to throw a going away party for your kids if you have any. Make a collage from lots of pictures so that they can remember their friends forever. Having a dress-up party is great for younger kids. A going away party gives them a point to start making their transition.
Give the kids a box of markers, and let them use them to decorate boxes that contain their stuff. They will recognize them quickly when they arrive at their next destination!
Make sure your PCS move does not interfere with your health and fitness goals. Find out ways to fit family exercise into your travel plans, and plan snacks and meals to replace fast food. You can take advantage of the hotel pools, or you can take a walk with your dogs after a long journey.
Should anything go wrong with your moving company on moving day, you should contact your local transportation office
Print out a copy of our relocation checklist to help you keep track of your move.
Prepare your POV for shipment or storage by reviewing our Vehicle Preparation Tips
Do not sign the inventory sheet until you have inspected every item that was marked as damaged during the PCS move! You should make sure all items you would like to be inventoried are included on the documentation. It is not uncommon for people to sign off on the inventory without first reading through it. Be sure to double check the inventory to ensure that your items are documented correctly. If your stuff is already packed up in a closed box, don't hesitate to let the movers know what you'd like included.
Set up a First Day box. The first day you live in an empty house you will need toilet paper, shower curtains, TV remotes, and other items.
It is important to ask questions at every step of the moving process. Moreover, they can answer any questions you may have about the information on move.mil.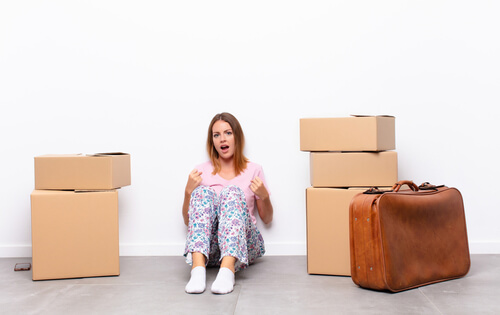 Arriving at your new home
It's possible that some items were damaged or lost during transport. In addition to filing a claim to recover damaged items, review your moving company. Customer reviews enable others to benefit from your experience.
You have the right to ask the moving company to disassemble your items, pack them, and then reassemble them at your new home. In addition to unpacking your boxes and removing packing materials, they are responsible for picking up leftover debris after you have moved into your new home.
The move.mil website provides a wealth of information to make your transition as smooth as possible.
The Customer Bill of Rights can serve as a starting point for your search. This document outlines your rights as you move your belongings from your current residence to your new home. It also provides you with guidelines for resolving any issues during the move. The information on move.mil is updated periodically. Although you may have moved before, you want to make sure the information you have is current.
Follow up with your previous utility companies about a month after you move. Make sure all bills are paid in full.
There you have it. Now all you need to do is to get a quote on military auto transportation. We deliver to and from all military car shipping locations in the continental USA.