Reading Time: 5 minutes
She gets more than a billion views a month and has 70 million followers – this is Alex Hirschi, better known as Supercar Blondie. This vivacious vlogger knows more about Supercars than most men, and following her on social media is a must for anyone who loves speed, or cars or boats or bikes – but beware, sooner or later you will want to buy a supercar for yourself.
"How can I buy a supercar?" you may ask. In this post we give you a few pointers on the subject, plus we take a glance at who is Supercar Blondie.
Don't forget that Nationwide Auto Transportation handles all types of vehicle shipping – from Supercars to SUVs, and practically anything in between – safely and timeously all across the U.S. If you are planning to ship your investment this post about Exotic Car Transport is a must read.
Who is @supercarblondie? Let's Meet This Desert Driver
Originally from Australia, Alex currently resides in Dubai. Previously, her work as a journalist on TV and radio (She hosted her own radio show until May 2017) led her to launching Supercar Blondie.
Since an early age, the Brisbane born beauty with ice-blue eyes, had developed an unbridled passion for cars, and these days she is an Instagram, Facebook and YouTube vlogger who posts fun and informative videos about cars.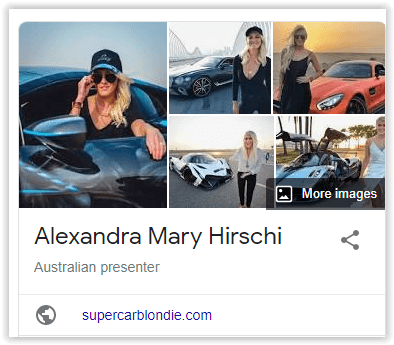 Before moving to Dubai, Hirschi studied Journalism and Business. Here she worked as a presenter for a talk radio show for nine years. According to Arabian Business, she is one of the top 30 most influential women in the Arab world. At the same time Esquire Middle East named her Influencer of the Year. Cosmopolitan Magazine ME named her Vlogger of the Year, the Monaco Influencers awarded her Lifestyle Influencer of the Year, and Shorty Awards named her Breakout YouTuber of the Year in May 2020!
She gets to work with Bugatti, Ferrari, and this vivacious Virgo even got to drive the 'real' Batmobile from the 1989 movie… Every car enthusiast would love her life. As of 2018, her Facebook page was the fastest growing automotive page in the world, according to Socialbakers, and she has a net worth of $17 million.
Husband and Business Manager for Supercar Blondie
Alex is married to longtime partner Nik, who is also her business manager. She has become one of the world's most successful automotive entertainers, thanks to her fun take on cars. Talking about fun and cars, do you know what is parked in this blonde's garage?
| | |
| --- | --- |
| Mitsubishi Lancer | $11,650 |
| BMW i8 | $147,500 |
| Lamborghini Huracan LP610 | $238,600 |
| Rolls Royce Wraith BB | $ 380,000 |
| Mclaren 720S | $39900 |
| Ares Design Modena S1 | $ 600,000 |
| Tesla Cybertruck | $69,900 |
Did you know that you can rent your own BMW or other luxury car? This post opens the door to the Ins and Outs of Luxury and Exotic Car Rental. Let's carry on down the road and see just how you can drive, or buy a supercar.
Can I Buy a Supercar for under $100 000?
Have you ever asked yourself, "Can I buy a supercar?" What was your answer to the speed freak in you? To the average American owning a supercar is just something that we dream about, right? But what if I told you that you can buy a supercar for less than $100 000? That should get the old vein oil pumping a bit faster, if you catch my drift.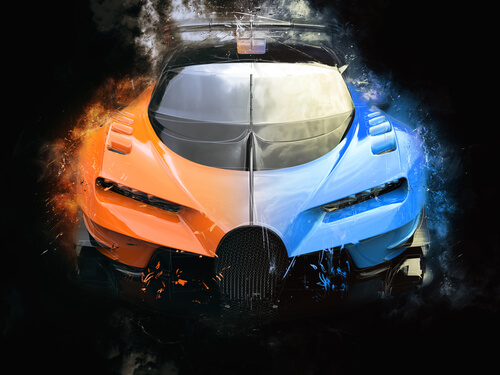 A recent trend has emerged where sellers of supercars are persuading their customers that these vehicles are an investment opportunity that increases in value every year. A supercar's actual value is much more complicated. Just like any other investment it cannot be guaranteed that it will increase in value indefinitely. In fact, over the first few years, the chances are that it will decrease is a rather safe bet. This depreciation calculator from Caredge.com will show you just how much of your investment disappears around the corner in the initial time after purchase.
With this said, let's take a look at what you can buy for less than 100k, but first, let me pull up the handbrake for an interesting fact: Did you know even billionaires can't always get what they want? Supercar makers like Ferrari, Aston Martin, Lamborghini and McLaren will only sell limited edition cars to a VERY short list of people, who they get to know on a more personal level before they give them an invitation to buy a supercar.
But don't get depressed, here are two supercars that you can buy without an invitation – or a billion in the bank.
Audi R8
The 2008 to 2012 models sell for between $59 000 to $95 000.
I can't believe the Audi R8 has been around this long. When it was launched in 2008, the 420 horsepower V-8 and Quattro all-wheel drive made it Audi's first halo car since the original Quattro. The car was also hailed as the first supercar you could drive every day. The V-10 version arrived later, and a 2014 update added Audi's fast S-Tronic dual-clutch transmission. One of the most affordable used supercars in the market today, the original R8 is now a bargain and a future classic.
Ferrari 360
The 2000 to 2004 360 sells for between $67 000 and $71 000.
A list of supercars is incomplete without a Ferrari, right? In a list of budget supercars like this, a prancing horse is not out of place. Ferrari's 360 was the car that brought the company into the 21st century. Ferrari created the 360 Challenge Stradale, the first road-going Ferrari race car. Additionally, it was the last modern Ferrari to come standard with a manual transmission. Don't miss the chance to buy one with a stick – their value will only increase. Nevertheless, the 360 is still one of the most reasonably priced Ferraris, and one of the cheapest if you want to buy a supercar.
Buy a Supercar and let us Ship it
There are loads of guys and girls who, like Supercar Blondie, would love to buy a supercar and as we have shown it could very well be possible. Nationwide Auto Transportation is the company to choose when you need to ship your investment, or daily drive, across the country – click here for your no-obligation quotation.
Wonderning what's the best car type for you? Click here and let us help you choose…