Reading Time: 6 minutes
At Nationwide Auto Transportation, we believe that preparedness is key to success in every part of life – including auto shipping preparation.
Whether this is your first or tenth time shipping a car, it's important to follow the correct preparation procedures. Car shipping preparation ensures that the process flows properly from quote through to delivery and beyond, and it is a great way to ensure your car doesn't sustain any damage.
Thorough preparation is particularly important when you're shipping a classic, vintage motorcycle, or exotic car.
Are you moving across the country? Sometimes, you simply don't have the time available to travel across the country for two or three days to your new city. Besides, you don't want to put unnecessary miles and wear and tear on your car.
Tired of the cold winters up in the northern states? Perhaps it's time to start thinking about making the annual trek down to sunnier climes. Those snowbirds may actually have a valid idea – spending the cold months in the southern regions, such as Florida, Texas, and California.
The only snag is that you really need a car when you travel to these regions. After all, a vacation is all about driving around and spending time exploring the areas at your leisure. Hiring a car is not only expensive, but the "extra miles" and limitations can truly hamper your freedom.
Traveling long distance this holiday season? Here's how to plan successful holiday travels.
Every savvy snowbird knows that it's a much better idea to ship your car
But what if you have an RV? It's the ultimate travel companion and made for the long road, right?
Yes… But why spend two to three days traveling to your destination and back again, when you could ship your RV and fly down? This will give an extra 4-6 days to enjoy golden beaches, bright sunlight, and beautiful warm weather. At the same time, it will help prolong your vehicle's lifespan.
Check out our car shipping preparation checklist below, and learn more about auto transportation prep after the jump…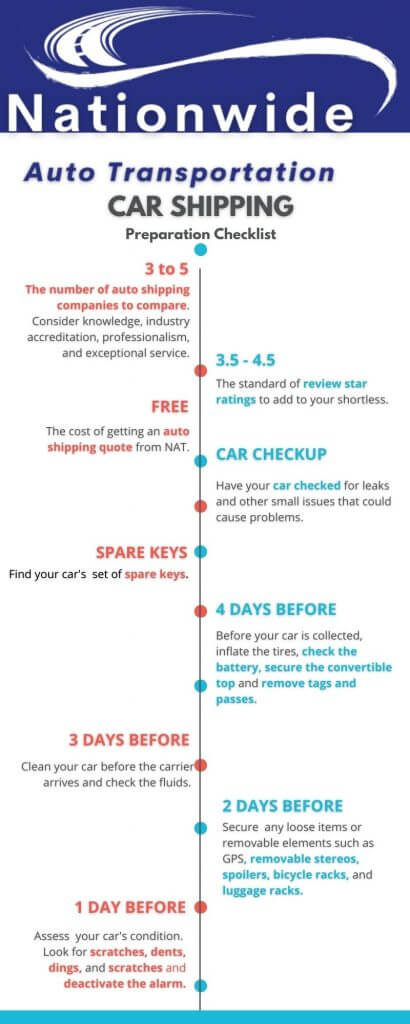 Car Shipping Preparation: Step-by-Step
Step 1: Compare auto shipping quotes from at least 3 different companies.
Too many people make the mistake of choosing the cheapest car carrier without assessing a company carefully. It's important to do your research and to look for reviews from customers who have made use of their services.
What should you look for in a car shipping company? Well, think about it. You're trusting this company with your precious car. Consider what's important to you and then let that guide your decision.
What to look for in an auto transport company
Industry knowledge – Look for a company that has a minimum of 5 years of experience in the auto shipping industry.
Industry accreditation – It's crucial to only work with companies that have the required accreditation and ratings with the Better Business Bureau. They should also be registered with the Department of Transport.
Trained professionals – From the first shipping consultant you speak to through to the driver who delivers your vehicle, you expect professionalism. Don't be afraid to inquire about their qualifications.
Free online quote calculator – Efficient auto-forwarding companies understand that time is money. Instead of expecting you to call them for every inquiry, they will have a professional website that provides most of the tools you need free of charge. A free online quote calculator is one of the most important tools.
Exceptional service – Of course, every company will claim to offer exceptional service. At the end of the day, you can only trust their past customers. Review sites are a great place to learn more about a company. The best companies have many reviews ranging between 3.5-5 stars. This is the first key to successful car shipping preparation. Also, look for a company that is rated A+ by the BBB.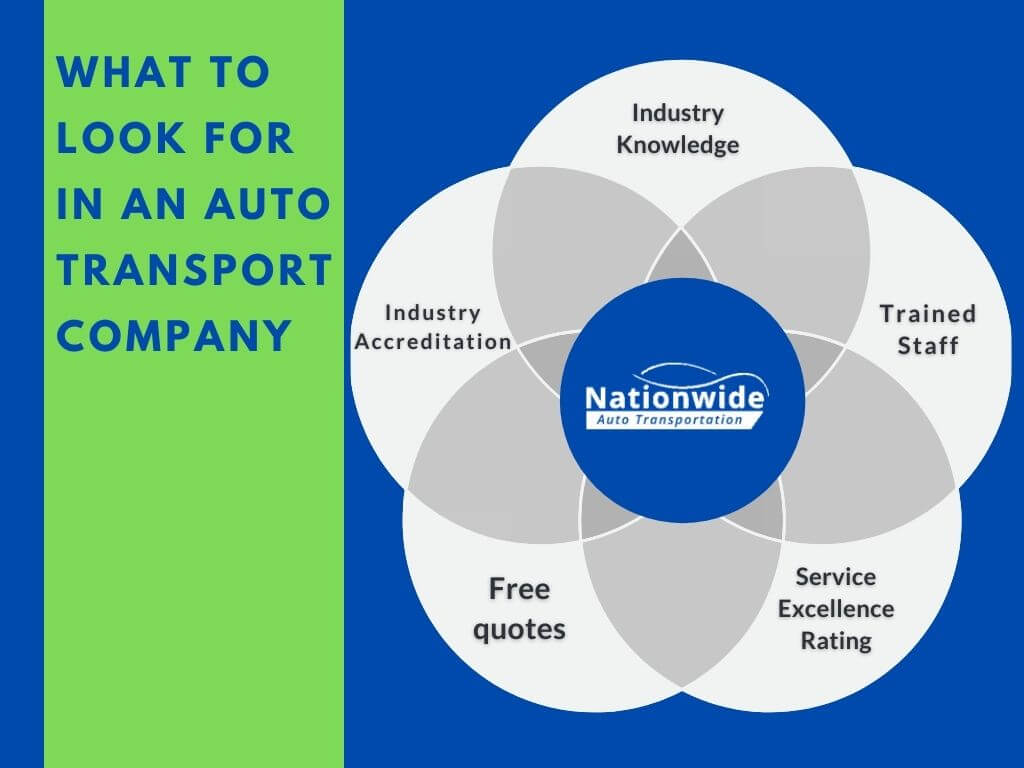 Step 2: Take your car for a checkup.
A week before shipping, take your vehicle to your mechanic for a check-up, even if you don't think there's anything wrong with it. Your mechanic will be able to find and repair small issues that – left undetected – might lead to big problems.
Why is this so important for successful car shipping preparation? Remember, if your car stops working mid-way through the shipping process, the carriers will treat it as "non-operational" and charge you accordingly.
Also, any small leaks that are undetectable to the untrained eye may end up causing damage to your car. It may also leak onto other vehicles in a shared container, or on the bottom level of an open car carrier.
Step 3: Find your spare keys.
At the same time, make sure that you have two full sets of keys – the main keys, and a spare set. You must give one set of keys to the driver when your car is collected. They will need this to upload and offload your car.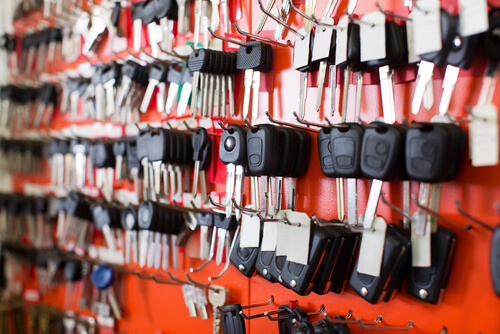 Step 4: Perform vehicle checks
Approximately two to three days before your vehicle is collected, perform the following checks:
Check your battery function,
inflate your tires,
remove tall passes or tags (to avoid incurring extra costs),
secure convertible tops.
Avoid filling up in the days before shipping your car. The ideal gas level is a quarter tank.
Step 5: Clean your car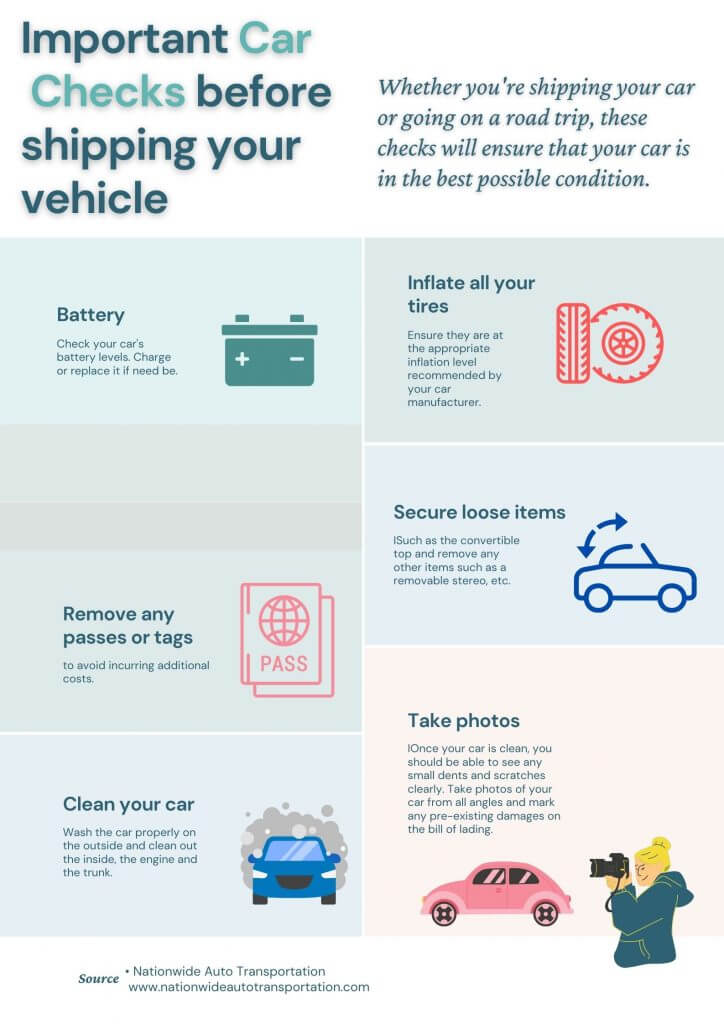 Wash your vehicle properly and clean it inside in the three days before the vehicle shipping carrier collects it. Clean the outside, inside, as well as the engine and trunk. This is an important step to car shipping preparation because it will enable you to see and record any damages.
During this stage of your car shipping preparations, prepare your car for the climate at its intended destination. This includes checking and adjusting the fluid levels, especially coolant and engine oil.
Check out these awesome cars cleaning hacks to keep your ride sparkling clean.
Step 6: Document your car's condition
Take photos and notes of any existing damage and the general condition of your vehicle, including dents, dings, and scratches. A picture of each area would suffice, in addition to close-up images of the damages.
Step 7: Secure loose accessories
Disconnect or remove any antennas and other removable elements, and secure any loose items that can't be removed. Pay special attention to:
GPS
removable stereos
spoilers
bicycle racks
luggage racks
Remove any personal items during car shipping preparation. If you're transporting your car in a shipping container, you may transport personal items in the car. However, you will drive the car into and out of the container. Pack it in such a way that you do not compromise visibility through the windows and mirrors. Braking systems and manual shifters should also be accessible and unobstructed.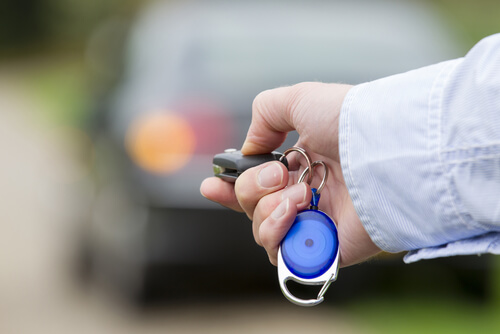 Step 8: De-activate your car alarms.
On shipping day, you should be there to hand over your vehicle and a full set of keys if you can. If you can't be present, you need to assign someone to facilitate this process.
While this list is quite comprehensive, it really doesn't take all that much time to prepare your car for shipping. The reward is a safer, damage-free auto shipping experience.
When the driver collects your car, he will give you a Bill of Lading to sign. The driver will perform another inspection with you, and you will have an opportunity to ask questions about your shipment. If there are any special instructions for handling your car or any mechanical issues of which he should be aware, you should inform the driver at this time. Once both parties are satisfied, they will load the car onto the carrier and it will start making its way to your destination.
Do you have any additional questions about auto shipping? Our experienced team is ready to answer all your questions, so don't hesitate to get in touch!