Reading Time: 7 minutes
There are many ways to ship your vehicle in America. Choose from open air car shipping to enclosed auto shipping, railway vehicle shipping, and RO/RO shipping. Sometimes, you need to make use of a vehicle storage facility to ensure that everything goes according to plan. Vehicle storage facilities offer flexible options to suit your needs. Store it for a day or two before or after auto shipping during relocation. On the other hand why not store it for for the duration of a trip overseas? There's an option out there that will meet your requirements.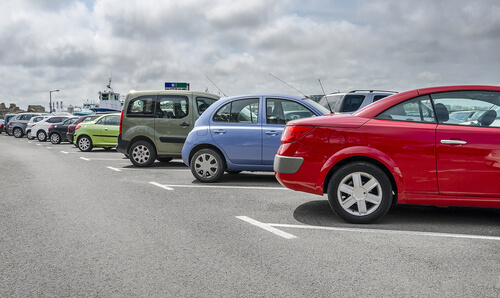 Auto Transportation Logistical Complications
No matter which auto transportation option you choose, a lot of organization goes into making it happen. Much of it happens behind the scenes. Unless you pay a premium rate to have only your vehicle shipped from your location to the destination, there is a lot of coordination that goes into making it happen. Up to 12 vehicles have to be picked up from different addresses and loaded on the most appropriate ramp on the truck before it is shipped to the destination.
When you book your auto transportation appointment, you typically do it according to the dates on which you are traveling, or when you need the car shipped. However, it's often impossible for an auto transport company to confirm a very specific collection and delivery time. That's why they often call you within 2-24 hours prior to collection and delivery to confirm your appointment.
Storage Facility Problems
Some of the issues that can complicate matters with your auto transportation and cause delays can include traffic and breakdowns, as well as road and weather conditions. It is important to consider how easily the carrier will be able to access the meeting point. But it's about more than just access. The shipping truck will have to be able to maneuver in such a way that your vehicle can be loaded onto the ramp. This requires a lot of space. That means that your driveway outside your home may not be suitable. You may have to meet at a nearby parking lot.
If you're unable to meet the truck, or if you cannot book an appointment that suits both you and the carrier, an option would be to put your vehicle in storage. The carrier will then collect it from storage and deliver it to either another storage facility at your destination, or to your actual destination. Be sure to speak to your logistics representative about your options.
Perhaps you want to keep your car until the day of your flight to your destination. It would be an option to put the car in storage on the day of your flight, and the transporter can collect it from there. Or perhaps you can't meet the truck at the destination. The carrier can deliver your car to a storage facility.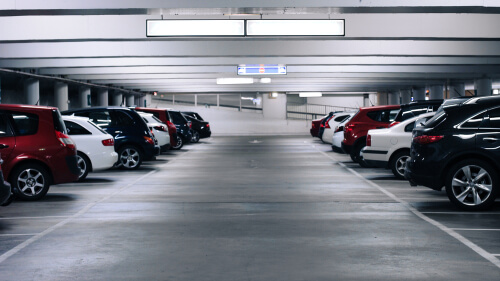 Choosing a Car Storage Facility
Although you can park your car in a storage unit, this is not recommended, as it complicates matters for auto shipping companies. Ideally, a car should be stored in a garage-like storage space with drive-up access. Choosing the right facility is especially important for classic cars and expensive vehicles. Thankfully, there are many facilities along the I94 east west connections.
There are many reasons why you might have to put your car into storage. Whether you buy a car online and need it delivered to you, or whether you have been transferred by your company or received overseas orders from the military, these are all good reasons to look into auto storage facilities.
You should be able to find a vehicle storage facility in just about every city. In fact, your car transport provider may be able to recommend one, if they don't have one of their own. Whichever facility you consider using, it is important to ensure that its condition is such that your car's initial condition will be maintained and its safety will be a top priority. For that reason, try to visit the facility to ensure you are comfortable leaving your car there.
Here are some of the things to look at
First Impressions – When the buildings first come into sight, what do you see? Consider the condition of the facility's buildings from the outside. A vehicle storage facility should be in good shape. There shouldn't be any noticeable defects. Look out for signs of pest infestations, water leaks and the tell-tale holes they leave along the building. Corrosion is a clear sign of neglect. If you notice these signs, rather find another facility that seems to be in good repair.

Lighting
The vehicle storage facility and its surrounds should be well-illuminated during the day and night alike. If the facility is dark, the carrier will not be able to perform a proper inspection of your car's condition prior to picking it up. Almost more importantly, bad lighting is a sign of poor security. Criminals can lurk about in dark auto storage garages, sight unseen by patrolling guards. 

Tidiness – The cleanliness of a facility speaks volumes about how well management cares for their possessions. That means, if the car storage facility is dusty, cluttered and cars are haphazardly parked, you should probably avoid it. You can't trust someone who can't keep their surrounds tidy with your prized possession.

Security
Apart from good illumination, there are other issues of security to consider when you choose a storage facility for auto shipping. If the facility doesn't offer at least night guards and a guarantee of safety for your car, choose another facility. Be sure that the facility has fire prevention measures, insurance, security surveillance, live guards, and obviously, a fence and gate.

Occupancy – How many cars should you expect to see at the storage facility? It's hard to say, as much of it depends on the location, season and size of your city. However, if their rates are good and they've been around for a while, that probably means that you should look elsewhere. After all, if they can't take care of their facility, chances are they won't be able to care for your car either.

Accessibility
Make sure you choose a facility with 24-hour access. That way, it will not be a hassle when the transporter needs to pick up the vehicle at any time of the day or night. 

Once you have chosen the appropriate storage facility and you're happy that everything is in good condition, it is time to weigh up your storage options. Most car storage facilities offer a combination of the three most common car storage options, namely:

Outdoor car storage – With this option, your car will be parked in a large, open air parking lot. While this option is the cheapest, it is not necessarily the best, since your car will be sitting in the rain and sun, depending on the season. If you live in an area that is prone to severe weather extremes, avoid open car storage facilities.

Covered car storage – Although most outdoor car storage facilities are housed under a large roof, it is not necessarily safe from prying eyes and seasoned criminals. Covered car storage facilities cost a little more than outdoor car storage, but provided the facility meets your needs, it is a great middle of the road option.

Indoor car storage
These facilities are typically large parking garages that are covered by walls and roofs. Indoor car storage facilities offer the highest level of protection for your car. While this option is slightly more pricey, it is important to note that cheaper facilities are cheaper for a reason. A cheaper facility may not offer the level of service and protection you expect for your car. 

Be sure that you know what you are getting into. Don't compromise the safety of your car just so that you can save a few dollars.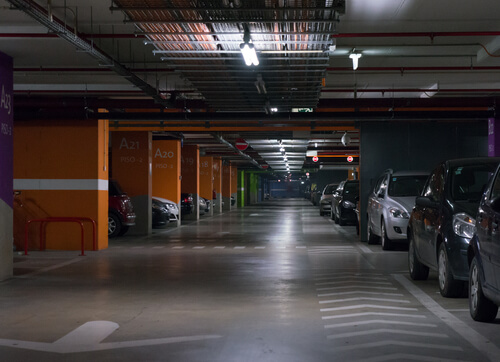 Preparing for Long-Term Car Storage & Facilities

When preparing your car for storage, be sure to clean it properly beforehand and take pictures of any existing damage. Invest in a car cover and maintain registration and proof of ownership. Don't pull the parking brake, and look for a facility that offers maintenance services to keep your car running while it is in storage.
Some of the larger companies that offer car storage facilities across the US, include:
Public Storage – Parking, Covered Spots and Enclosed Storage Units for Cars, Trucks and RVs
USA Storage Centers – Car, Truck, Trailer, Boat & RV Parking
Neighbor.com – from a simple parking space to a fully equipped indoor storage garage, Neighbor can find you a spot that meets your budget and needs.
Vehicle Storage Facility Fees
Costs of vehicle storage varies by type and storage duration. However, the average cost of hiring a climate controlled indoor unit is between approximately $100 to $450. Unheated indoor storage ranges on average from $45 to $125 a month. However, amenities, security, location and other factors will affect the price.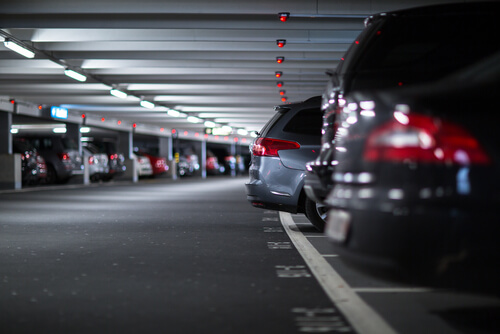 One of the most common car shipping issues we run into when shipping a vehicle from a storage facility, is the fact that clients have not paid their vehicle storage facilities by the time the auto transportation shipper comes to collect the car. Another issue is that cars are booked for transportation as running vehicles, but when transporters arrive, they do not run.
These types of issues can lead to higher transportation fees, delays, and possibly fines. The condition of a vehicle is crucial to the booking, as it may determine whether special equipment is needed, or even a special truck to accommodate the shipment.
When in doubt whether the car will start when the trucker arrives, call Nationwide Auto Transportation to discuss your options. This issue can be alleviated by placing your car in an indoor auto storage facility that offers trickle charging to keep the battery functioning.
Contact us today to discuss your vehicle storage options.