Reading Time: 9 minutes
It's sad, but true: from the moment you drive your car off the floor, it starts to depreciate in value. It's probably the fastest depreciating asset, but we need them to get from point A to point B. In a perfect world, we could get cash for junk cars, and we can replace them before the manufacturer warranty runs out, rather than holding onto it until it turns into junk. Salvage your broken down car for extra cash.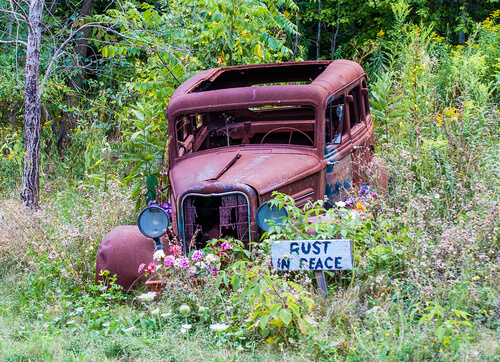 Note! Junk cars for sale are not bought because they can be fixed and resold. No, they are for scrap and recycling purposes. If the car's body is in decent shape however, some parts can be salvaged. In rare cases they are used for spares.
The Good News
The good news is that even junk cars have some value at the end of their lives. That's right! It's not always practical or economical to try repair a damaged or old car. You could take it to a professional, but finding the right parts to repair it. You need professional workmanship if you can't fix it yourself, or else you have to pay someone to do it, which is costly. More than 80% of a car can be recycled. It includes used components like copper wire, battery components, tires and metal. They can be sold or recycled. What's left is sent to the junkyard or to a containment facility for hazardous waste.
Salvage Junk Cars to Recycle
Not all cars that end up at a salvage yard belong on the scrap heap. In fact, many cars that are sold to salvage yards may still be attractive to people with the time, skills, and resources to fix it up and get it running again. However, most cars bought by salvage yards are sold at auction along with a group of similar cars. Don't assume that because your car is going to auction, you will make a lot of money. At best, you will get a bit more than the minimum scrap value.
If you have a car that no longer runs and that is not roadworthy, you can sell it to a recycling facility, where it will be assessed. Salvageable or working components are removed first before being sold. That includes on-board GPS systems, starter motors, an alternator, or new tires. However, since it involves labor to remove these parts and because there's an expense to sitting on dead stock, salvage yards will not give you the full value of the parts. They may however allow you to negotiate to about half the value of resellable components.
Auto Repair
Automotive repair facilities and dealers buy body panels that are still in good condition.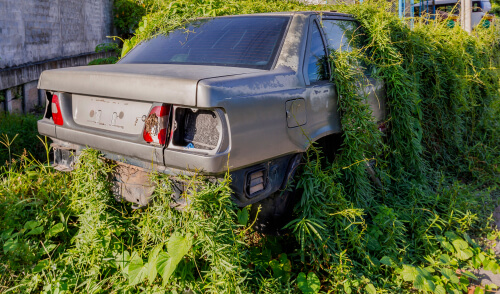 Batteries, rims and tires in fair shape are salvaged before resold as second hand. Damaged batteries must be professionally discarded, as battery acid is harmful to the environment. Recycle damaged tires to make new rubber materials, along with other damaged items.
The material trim and seats can usually be sold as spares, unless they are in a bad condition. In which case they are shredded. The plastic trim is removed from the car, and can be recycled. In recent years, more car manufacturers have been using recycled plastic in new car interiors, which reduces the load on our landfills. 
You can recycle junk car fluid! Drain the car oil and sell it to oil-burning manufacturing plants. Alternatively, refine to create new oil.
Once the car has been dismantled and the metal has been separated from the plastic, the car is usually pressed and shredded.
How to Sell Junk Cars for Cash
There are many junk yards and companies that buy non-runners and damaged vehicles. These companies will typically buy any cars that are in need of repairs, maintenance or attention. If you have a light accident damaged car, SUV or RV, many of these companies will collect the car at their own expense.
These companies will buy old or damaged cars when repairs are impractical. They use the cars for salvage or repair during technical or mechanical training. Some of the problems that are seen in junk cars include:
Damaged or worn suspension
Noisy engine
Electrical problems
Accident damage
Expired license
Expired license
Blown head gaskets
Worn clutch or gearbox
If you're unsure what the problem is, someone who buys junk cars for cash will often come out to you to view the car.
Being able to sell junk cars online makes life easier. Now you don't have to leave it to turn into a dust trap inside your garage.
Sell Online
If you have a junk car you'd like to sell, please follow the guidelines below to avoid being scammed. Due diligence is the key to successfully buying and selling cars, especially online.
Kelley Blue Book is a trusted resource when it comes to selling cars. Don't assume that a salvage yard will pay anywhere near the Blue Book value for your car just because it is in fair condition. After all, it is headed to the salvage yard. The site also provides a handy guide to buying and selling cars, which applies to both running and non running cars for sale by owner.
Avoid being scammed. Unfortunately, scammers are found anywhere money exchanges hands. Every year, thousands of people are scammed when they buy or sell cars. For that reason, it is important to screen your callers thoroughly. You're bound to receive lots of calls, emails and text messages from interested individuals. Use this opportunity to schedule a call with the most serious buyers, and to ascertain whether they actually have the money to buy the car. Some people will offer to buy your car sight unseen.
Draw up a contract and ensure that the buyer signs it to avoid future issues.
Check your state's Lemon Laws. An inoperable car is a liability and not an asset. In many cases, people fraudulently sell lemons without disclosing their full condition. It is important to include all the information about the car in your contract.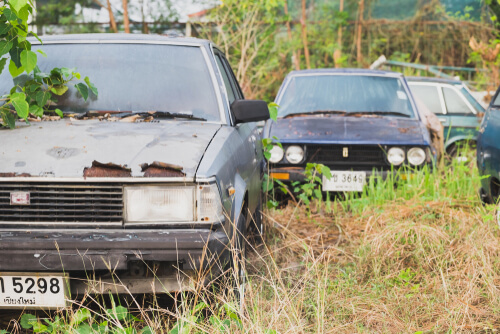 How Much Does Cash For Junk Cars Pay?
If you have a car sitting around, collecting dust and taking up space, it may be an idea to consider scrapping the car and selling it for parts. Junkyards are always keen to buy new cars which they can break down, sell working parts, and recycle the rest. This applies even to older, junk cars, which are sometimes sold at junk auctions.
According to the Kelley Blue Book, even a junk vehicle is often valued at approximately 20-40% of its used value. As such, junk car salvage companies are often prepared to pay between $200-$400 depending on how much they value it. Therefore, no two junk yards will pay you the same amount. It pays to shop around.
These rates are typically assessed on a case-by-case basis, and they will consider the car's:
A car that is complete junk and inoperable and unsalvageable, can typically only be used for scrap metal. In that case, you will only receive payment for the value of the metal.
In many cases, they will pay you cash on collection, but some companies will be happy to arrange checks or money orders.
What's My Car Worth?
When selling your unwanted car, you obviously want to recoup as much money as possible.
Like other commodities, the price of scrap metal varies on a daily basis. It can even vary by region. The fluctuating rates are influenced by market price, industry demand, and time.
In recent years, the amount you could get from a scrap car has gone down. And that's not because these companies have decided to take advantage of you. No, it is because the price of scrap metal has tanked. That means that cash for junk car services can't sell your old car for as much as they were able to years ago. Supply of scrap metal is high at the moment, and unfortunately demand is lower.
The price of metal is controlled by car manufacturers and construction material manufacturers. When companies are making fewer cars or building fewer buildings, the supply exceeds demand. Market prices are also being undercut by China's production of billet (semi-finished and finished steel) at less than the production costs. In the past, the US would sell scrap metal to massive steel mills in countries such as Turkey, but lately, the mills buy Chinese billet. As a result, our local steel is piling up on the east coast.
Thankfully, we note the occasional uptick in the RMDAS Ferrous Scrap Price Index. It rose from $40 per ton in January 2019 to $44 per ton in October 2019. Still, the industry standard ranges from 13-20% of the retail price.
How to Get the Best Price for Selling a Junk Car
The main value of a junk car lies in the metal. The average sedan weighs approximately 2,800 pounds. The average sedan weighs approximately 3,300 pounds. A minivan weighs about 4,400 pounds. Only approximately 55% of the vehicle's weight is steel. The rest consists of around 300 pounds of aluminum, copper, plastic and rubber. These are the elements that can hopefully be sold to manufacturers who recycle the metal for use in new cars, and other items used in manufacturing.
Now that you understand what goes into the price of your junk car. While the price is dependent on the amount of metal in the car, there are certain other factors that also have an influence:
If you have a GMC Yukon or Sierra, you're in luck. You can get as much as $500-600 for it, since they have the most reusable materials.
Want to sell your Ford Escort or Contour for scrap? You'd be lucky to get $80 for it, due to the small size and light weight of metal.
Find a Scrap App
Keeping track of scrap metal prices on a spreadsheet for a number of months will help you determine when the best time is to sell your car for junk. To learn more about scrap prices, speak to a junk car buyer and ask for an assessment. If you're active on the stock market, you can use your resources to determine what your junk car is worth. Alternatively, you can download the iScrap App.
Remember that your car is worth more if it is drivable. If your car is running, there are two benefits:
They don't have to tow it to the salvage yard. It can be driven there, which saves them time and money.
A car that is operational can be salvaged for parts – at least in part – which fetches more money than just scrap metal.
Be sure to push for more money if the car is driveable, and remember that you may not drive a salvage title vehicle on public roads. If you don't have a title for your salvage car, you need to have it shipped. [Read more about salvage cars and titles…]
Sell a Junk Car Online – The Process
Before you do anything else, research the junk yards you consider dealing with. Always opt for reputable salvage dealers, as they are more likely to be fair and offer decent customer service. Most importantly, they are insured and licensed. As always, customer reviews are very helpful. Here are a few options: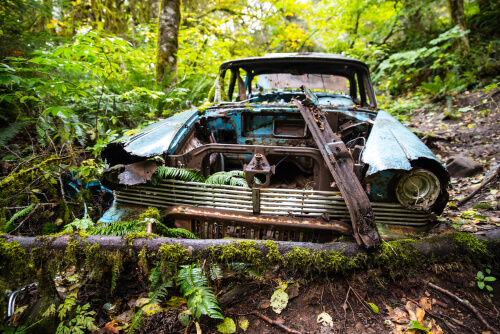 Junk Car USA/ Cash for Junk Car removal Atlanta
Ellenwood, GA, United States
Open ⋅ Closes 7PM · +1 770-299-8339
USA JUNK CARS RECYCLING INC
Orlando, FL, United States
Opens soon ⋅ 8AM · +1 407-308-4073
Junk Car Usa / Cash for Junk Cars/ Junk Car Buyer
Atlanta, GA, United States · In Buckhead Pointe
Open ⋅ Closes 7PM · +1 770-299-8339
Junk Car Buyers | Junk Car Removal
Orlando, FL, United States · In Seaquel Place, LLC
Opens soon ⋅ 8AM · +1 407-392-2289
Where to Look
Sam Auto Salvage
Charlotte, NC, United States
Opens soon ⋅ 8AM · +1 704-777-4777
Old Car City USA
White, GA, United States
Closed ⋅ Opens 9AM · +1 770-382-6141
Junk car instant cash
Dearborn, MI, United States
Open 24 hours · +1 313-721-2431
Junk Cars Near Me
Philadelphia, PA, United States
Closed ⋅ Opens 9AM · +1 267-972-1398
Copart Salvage Auto Auctions
Hartford City, IN, United States
Opens soon ⋅ 8AM · +1 765-348-4600
Junk Cars Removal – Tow Service Near Me
Riverdale, GA, United States
Open 24 hours · +1 404-319-5213
ATL-JUNK-CARS
Atlanta, GA, United States
Central Florida Auto Salvage
Zephyrhills, FL, United States
Opens soon ⋅ 8AM · +1 813-782-4805
US Auto Salvage
Indio, CA, United States
Closed ⋅ Opens 8AM · +1 760-347-7700
Look at junk online
We Buy Junk Cars
Canton, GA, United States
Closed ⋅ Opens 9AM · +1 404-437-2010
US Auto of Sterling Heights
Sterling Heights, MI, United States
Closed ⋅ Opens 9AM · +1 586-731-1616
Junk Cars Orlando Florida
Orlando, FL, United States
Opens soon ⋅ 8AM · +1 407-985-5698
Junk Car Buyers Of Broward
Open ⋅ Closes 10PM · +1 954-598-3735
Cash Junk Cars 1 Inc.
Lauderdale Lakes, FL, United States
Open 24 hours · +1 954-419-8394
Junk car
Detroit, MI, United States
Open 24 hours · +1 313-689-9911
Cash for junk car removal near me
Atlanta, GA, United States
Open 24 hours · +1 404-287-1694
[Find out how to determine that a review is accurate! Click here!]
Each scrap yard of junk car buyer will have a different process, but typically, you will be able to submit a condition report and photos online. For an accurate quote, be sure to supply all the information requested, including the car model, year, title, engine condition, body condition, and damage.
They will then perform a condition report and send you a quote, whether the car runs or not. This is known as the conditional price.
If you agree to the quote, the company will arrange pickup using a wrecker. This is typically factored into the price and it is done around your schedule. That's why we say that it will be best for you to get the car to them.
Always confirm the price before they load the car. Some companies will load the car first and then offer you a significantly lower price. Since the car is already loaded, you are pressured into agreeing to it.
If, during pickup, the condition of the vehicle does not match your submission, the company has the right to change their valuation. They will inform you, and you can accept or decline the counter offer.
A word of warning: Many junk yards offer to lodge vehicle deregistration with the traffic authorities. However, for safety reasons, it is best if you (the seller) does this.
Finally, remember to notify both your insurance company and the DMV of the sale of the vehicle, and to remove the plates from your junk vehicle. Need help shipping the salvage car to your home or to a specialist repair center? Get in touch with NAT today.