Reading Time: 3 minutes
When people think about auto shipping, they typically don't really pay much thought to the different modes of transportation that are available; they have the end goal in mind, namely, getting the car to its destination as quickly as possible at the best price they can find. Nothing wrong with that!
But actually considering the various modes of transportation and choosing the one best suited to your requirements can go a long way to saving time and money while keeping your car secure. Whether you're moving house to a different state or right across the country, or even overseas, moving companies and auto transport companies offer a wide range of options to suit your needs.
How to Transport Your Vehicle
One of the biggest decisions to make during a relocation is transporting your vehicle. Let's look at the options.
Modes of Transportation
Pros
Cons
Driving the car
No need to pay for transportation. Suitable modes of transportation for short one-way trips.
Costs include fuel, tolls, rest stops, overnight stays, food. There are risks and wear and tear involved in driving long distances.
Towing the car
You can save money by towing the car, but you should only do it if you're highly experienced.
Costs include fuel, tolls, rest stops, overnight stays, food. There are risks and wear and tear involved in driving long distances.
Dangerous if you're inexperienced or encounter bad weather or road conditions.
Shipping the car with household content in a container
Convenient.
Cheap modes of transportation.
There's a higher risk of damage to your car, as loose items can fall onto the car unless everything is well-secured.
Auto transport carriers
Suitable for long and short distances.
Very safe if you use a reputable company.
Choose open or closed car transport.
Huge network of carriers to choose from.
All national routes covered.
Dates and times are estimated and variable and can't be changed.
Not all operators are reliable.
Shipping a car by train
Fast. Safe. Very cost effective.
You can sometimes travel with your car by train.
You still have to transport the vehicle to and from the station.
Railway networks are far and few between, so this is not always an option.
Auto transportation by air
Fast. relatively cheap for international auto transport. Safe and secure.
You still need transport to and from the airport. It's pricey.
Roll-on Roll-off shipping
Available from all international seaports.
Good option for importing or exporting vehicles.
Very affordable mode of transportation.
Can take quite long. You still need to transport the car to and from the international port.
What is the most used form of transportation?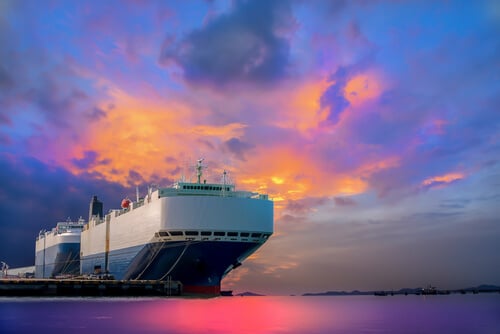 Each mode of transportation is best suited to a different use, and therefore equally popular among its clientele. The costs of international auto shipping can be steep, however, there are two available options:
Shipping your car by air is the faster international modes of transportation, but the cost may not justify taking your vehicle along with you. Some countries also drive on the opposite side of the road, and your left-side steering may not be permitted. Check on the logistics and costs of auto shipping before you arrange the shipping service via your preferred modes of transportation. In many cases, it is cheaper to buy a new car when you arrive overseas.
5 Ways to ship a car
When it comes to domestic or nationwide auto transportation, you can choose between a variety of modes of transportation, including:
Shipping cars by rail (where railway services are available)
Shipping cars by truck (open or enclosed)
Container car shipping
Driving the car to its destination
Towing the car
Choose Auto Shipping
Shipping cars by truck is by far the most practical and therefore most popular mode of transportation. Within that, you can also choose between door-to-door auto shipping or terminal to terminal auto transport.
With most modes of transportation, you will have to bring your vehicle to the terminal, transport depot, US seaport for cars, or international airport. If you're unable to do it yourself, you could hire an auto transportation company to collect the car from your door and take it to the shipping depot from where your preferred mode of transportation will collect it and deliver it to its destination.
Whenever you need to ship your vehicle, you must look for a reliable auto shipping company that offers your preferred modes of transportation at an affordable price. Be sure to ask for a free quote and read their online reviews.