Reading Time: 4 minutes
Many people scour the auto auctions for a diamond in the rough – that perfect ride, which they can only afford at a ridiculously low price and fix up to perfection. But when it comes to shipping a salvage vehicle, it's important to find an auto transporter with plenty of experience in the job at hand.
Did you take the plunge and bought a salvaged car from a police or insurance auto auction? Every more than half a million cars are written off by insurance companies. These are the cars that are sold at salvage car auctions. Unfortunately, when it comes to bringing the car home, most people are in for a big surprise. We'd like to help you avoid unnecessary inconvenience, so please read this post in its entirety.
Insurance companies often apply salvage titles to cars that they consider too expensive to repair, so the repair costs exceed the value of the car. They will pay the owner the pre-accident value of the car, which, from then, is the insurer's property, while the remnants of the car are sold at an insurance auto auction. Police auctions, on the other hand, often include cars in perfect condition that were recovered after being stolen or used in crimes. Because the vehicle owner would have been paid for the vehicle by the insurance, these cars also land up on the salvage yards, offering the perfect opportunity for people who want decent cars at unbeatable deals. While many salvaged cars are badly damaged, there are obviously many that are driveable.
Note: We do not recommend buying a salvage car as your first car!
You may not drive on American roads in a vehicle that has a salvage or scrap title. It has to be repaired first and re-registered. Therefore, you will have to have the car towed or shipped from the salvage yard to your home or workshop. With that in mind, pay close attention to the facts contained in this post.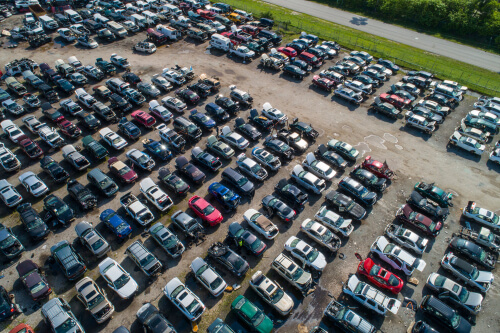 Salvage Vehicle Shipping Options
There are many ways to ship a vehicle, including towing it, or putting it on a car dolly. However, it is safest to use a car shipping company that specializes in shipping cars with salvage titles. In most cases, you will be able to choose from the following options:
Open car carrier
Enclosed auto shipping
Terminal to terminal auto transport
How to ship a car from the insurance auctions
The vehicle will probably require some additional steps, including a road test before it can be registered. For that reason, it's best to have the car delivered directly to its destination.
You must pay all fees in full: Before you can claim the car, you must pay for it in full. Also, you may be aware of the fact that not all salvaged cars are inoperable. Ensure that you have made any payments owed to the auction house, including storage fees, member fees and past due fees. The car will not be released from storage until all fees have been approved. If you or your transporter arrive to collect the car before payments are approved, they will not release the vehicle.
Calculate your storage fees accurately: Most auto auctions give buyers a minimum of two days of free storage after purchasing the vehicle. If you don't collect your vehicle within two days, they will start charging storage fees. When you book your vehicle pickup, be sure to let the transporter know when the last day of free storage is.
Provide your vehicle carrier with complete pickup details: Note that not all vehicle carriers can load and unload salvaged cars – especially those that are accident damaged and unable to steer or roll. So when you book your auction car shipping, be sure to let the auto transport broker know the condition of the car so that they can make the required arrangements. In addition to the condition of the vehicle, also supply the following information to ensure the auction can easily identify and release your salvaged vehicle:
Your buyer number
The VIN number
The lot number
Auto auctions usually use zip ties to attach the keys to the steering column. However, keys often become lost or stolen, so note the number of keys. But do bear in mind that auctions often deny responsibility for lost keys, because sometimes, keys are stolen.
Be prepared that the auction will probably use a forklift: Most auto auctions, including IAAI and Copart have policies that dictate that they will only use forklifts to move cars onto a trailer. That means that whenever you buy a car from an auto auction, there is always a risk of damage to your car's undercarriage. Again, the salvage yard will not take responsibility for any damages. However, if your auction company allows, our transporters will use a winch or cable to pull cars that are able to roll and steer onto the trailer.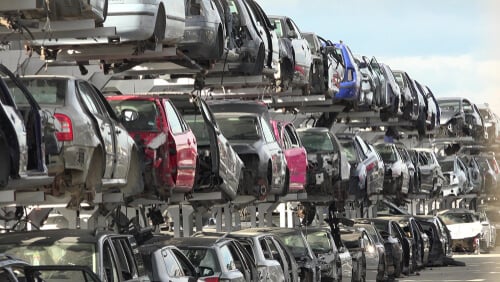 How much does it cost to ship a vehicle with a scrapped title?
Car shipping costs depend on many aspects, such as seasonality, distance, the type of transport and more. On average, shipping a standard car can cost anywhere from $500 to $1,000 across the country, while a distance of less than five hundred miles might cost as little as $200.
Similar factors affect the shipping quote calculation of a salvage car, but it might cost an extra $100 if the car is non-operational and has a salvage title.
When you hire Nationwide Auto Transportation to ship your vehicle, you can rely on our team's expertise. We handle several auction-to-dealer shipments and auto auction shipments on behalf of our clients every week. Request a quote for shipping a salvaged car now!