Reading Time: 8 minutes
Should You Hire a U-Haul
for Your Move?
Moving can be stressful! This is why Nationwide Auto Transportation reviewed the biggest companies to bring you answers to your burning questions. After all, knowing what to expect should make your move just a little earlier.
Read our independent U-Haul review after the jump…

What is U-Haul Moving Truck Rentals?
According to their website, U-Haul "has the Right Equipment at the Lowest Cost for whatever your moving needs are. U-Haul has the largest selection of new trucks specifically designed for your upcoming household move."
The company has a large fleet of trucks of different sizes available from more than 20,000 locations across continental US. What's more is that if your nearest U-Haul center doesn't have the right truck for your needs, they can usually bring it from another nearby center.
These and the other benefits the company offers makes for extremely convenient moving options. Check out these relocation guides:
Pros: U-Haul Truck Rental is a great option if you're:
You're looking to handle your own move.

Doing a one-way move and want to return the truck hassle-free.

Comfortable driving a large rental truck.

Looking for a truck in a hurry.

Comfortable with ordering online.
U-Haul is great for local and long distance moves between cities or states, as well as moving your household goods using a U-Box, the company's portable storage container solution.
Cons: U-Haul Truck Rental is not ideal if you're:
Not comfortable with ordering online.

Prefer working with professional movers or storage containers.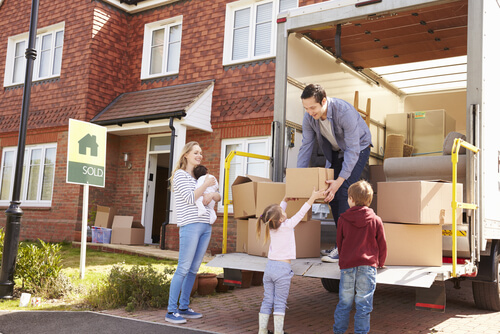 Availability
With depots located in fifty states, all over continental USA, you've probably seen U-Haul trucks driving around. This availability makes it an attractive option for clients who need a truck in a hurry, or at the last minute.
Since U-Haul centers are operated on a franchise basis, business hours, service, and upkeep levels will differ by location. It's best to read Google reviews to learn more about your preferred location.
Options
U-Haul has a one-way moving option, which some people find confusing. A one-way move is simply any event in which you collect the truck from one location, and delivering it to another location, even if it is in the same city. Since your quote is affected by this type of move, you should specify this preference when you request a quote.
An in-town or local move is defined as a move of less than fifteen miles or in the same city. You will have to return the truck to the same U-Haul center on the same day, or within a set time frame.
When hiring a truck from U-Haul, you can choose from a variety of truck sizes, including:
8' pickup truck for mini moves

9' cargo van for moving a large appliance or furniture item

10' truck for a small studio or apartment move

15' truck suitable for moving an apartment with up to two bedrooms

17′ truck suitable for moving a home with two bedrooms

20' truck suitable for moving a home with 2 or 3 bedrooms

24′ truck suitable for moving a home with 3 or 4 bedrooms

26' truck suitable for moving a home with more than four bedrooms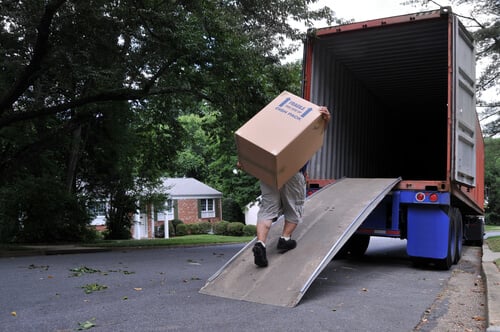 18 Years or Older
Although you don't need a special driver's license to drive a U-Haul truck, you should be 18 years or older to sign the rental contract required to make the reservation. You should also note that you cannot place a child seat in the truck and it only fits a total of three people. It is therefore not suitable to transport your household goods and your furniture as well as your family.
You should not transport your car in a U-Haul truck rental. However, the company offers car trailers on which to carry your personal vehicle behind the truck. Auto shipping is a specialized form of transportation that should be handled by professionals only. Speak to Nationwide Auto Transportation today about a free car shipping quote.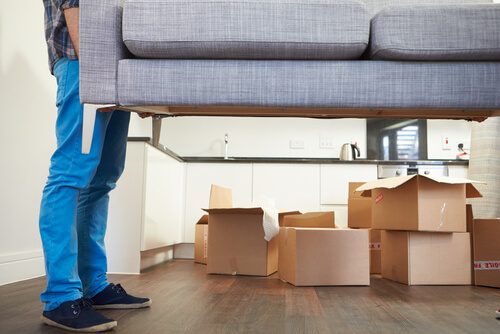 Additional services
In addition to rental moving trucks, U-Haul offers a range of additional products and services, including:
Trailers and towing

U-Box storage containers

Storage units

Boxes and packing supplies

Labor

Hitches and accessories

Complimentary roadside assistance
U-Haul trucks are equipped with EZ-load ramps and low decks.
Pricing
One of the overarching benefits of U-Haul is that you don't have to make a down payment or pay a deposit to secure your moving truck rental. Instead, they will place a hold on your credit or debit car for the cost of the quote, and final costs will be adjusted based on your gas and mileage costs upon returning the truck.
Another great benefit is that you save money by renting your truck from one location, and delivering it to a U-Haul center further than 30 miles from the original location. When requesting an online quote, be sure to specify that you intend on returning the truck to a different depot.
Pricing on U-Haul truck rentals vary based on the type of equipment you hire, as well as the distance of the move. In addition to truck rental, there's also the cost of refilling the fuel tank as needed throughout the trip. A twenty-foot truck takes 40 gallons of unleaded fuel per tank, and runs at approximately 10 miles per gallon (400 miles per tank).
Ask About U-Haul Truck Rental Costs
You will not be charged an additional cost to change the date of your booking or to cancel your booking, provided it is done at least 24 hours ahead of your scheduled collection time.
When it comes to pricing, it is important to understand that the advertised flat rate of between $19.99-$29.99 is rarely the bottom line. You must specify that you will return the truck to a different U-Haul center upon making your reservation, or else you will be charged an additional fee of over $124.95.
$19.99 is usually the price for pick-up trucks or cargo vans. Larger trucks are priced starting at $29.99 to $39.95 per day. Mileage, which is an additional charge, ranges from $0.59 to $0.99 per mile.
You are expected to refill the truck to the same level it was when you collected it. If you don't have time to do this, U-Haul will refill it at a higher-than-average cost, which will be added to your bill.
Other additional charges will include:
Insurance

Taxes

U-Haul environmental fee ($1 or $5, depending on the driving distance).
Your U-Haul truck rental bill will be calculated according to this formula:
Basic truck rental + mileage + liability cover + gas refill + environmental fee + taxes = Total payable.
Insurance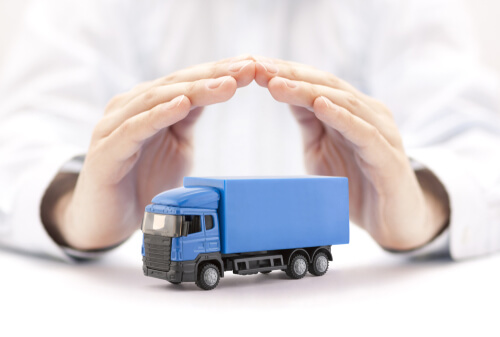 Insurance
Since most standard insurance products don't cover rental trucks, it is a good idea to add a U-Haul damage protection plan to your order. U-Haul offers liability cover that qualifies as insurance through Repwest.
U-Haul offers Safemove and Safemove Plus protection packages, each offering its own benefits, namely:
Cargo coverage – This benefit provides coverage in the event of damage to your household items in the event of an accident, a windstorm that overturns the truck, or a fire. Cargo coverage will not be available to you if your goods are damaged due to poor packing or driving. A $100 deductible applies, and limits are applicable ($15,000 for in-town and $25,000 for one-way rentals).

Damage waiver – This benefit covers you in the event of any damage to the vehicle while it is in your possession. You will not be held liable for any damages. However, if the truck is stolen, you will have to prove that you were not guilty of any neglect in order for the waiver to cover you. Damages that are not covered include blown, cut or damaged tires, and damages caused by colliding with overhead obstacles, which happens to be the most common damage suffered by moving truck rental customers.

Supplemental liability insurance – In the event of a collision with another vehicle or person, and damage to their property, you will be liable for that damage. Supplemental liability insurance provides protection against lawsuits following an accident. With U-Haul, you will get $1m in supplemental liability insurance with no deductible on the Safemove Plus package.
What is Safemove?
When you take the Safemove Plus package, you will be covered for:
All damages to your U-Haul truck

Damages due to collision with overhead obstacles

And damaged, blown or cut tires.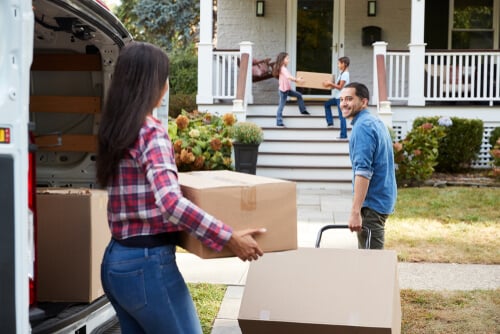 What do customers say about U-Haul?
U-Haul is a massive company with twenty-thousand franchises. While the company has many corporate policies in place, service levels may vary from one location to the next.
One of the main complaints clients have with U-Haul, is the pricing. It is important to understand that the flat rate pricing is rarely is the fee you pay at the end of your order. Understanding how the fees are calculated (see full explanation above) will help you reach a realistic expectation on what you will have to pay.
Mileage and faulty gas meters – It is a rare complaint, but some people have felt hat their charges were more than what they expected them to be. You can usually record a date, time and location or your phone in case there is a discrepancy.
Mechanical complications – U-Haul trucks are easily accessible, and almost always filled with every load. The problem is that this type of usage causes trucks to sustain wear and tear more quickly than other trucks. While the company has many regulations in place for maintaining trucks, the problem is that many mechanical problems go unnoticed until the trucks break down. Thankfully, U-Haul roadside assistance is available to assist with any emergencies.
U-Haul truck rental | Order Online
Online ordering system – Reviews are mixed when it comes to the online ordering system. Many found it simple and convenient, but others felt that although it is intuitive, it is designed to make customers spend more money than what they had budgeted for by auto-selecting options that you may not want. So instead of being able to select only what you want, you have to spend time going through all the options and unselecting each option that is not for you.
Finally, they may change pickup locations at the last minute to the nearest location with the suitable equipment, rather than your preferred pickup location.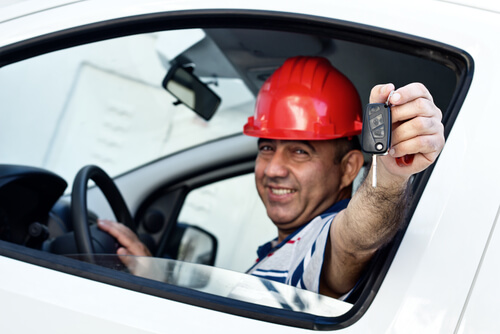 Is U-Haul the Right Moving Truck Rental Company for You?
If you're comfortable driving a truck of the size you require, U-Haul has cost-effective pricing options and a conveniently located fleet of trucks newer than 5 years. The company also aims to reduce the negative impact of transportation on the environment, hence the $5 environmental fee, which funds environmentally friendly detergents to wash trucks, storage re-use centers, a fuel economy gauge, and fuel saving truck skirts.
When available, U-Haul provides thirty days of free self-storage in U-Box containers for victims of natural disasters, tornadoes, fires and hurricanes.