At Nationwide Auto Transportation, we believe that preparation is key to success in every part of life – including car shipping. Whether this is your first or tenth time shipping a car, it's important to follow the correct preparation procedures. Car shipping preparation ensures that the process flows properly from quote through to delivery and beyond, and it is a great way to ensure your car doesn't sustain any damage.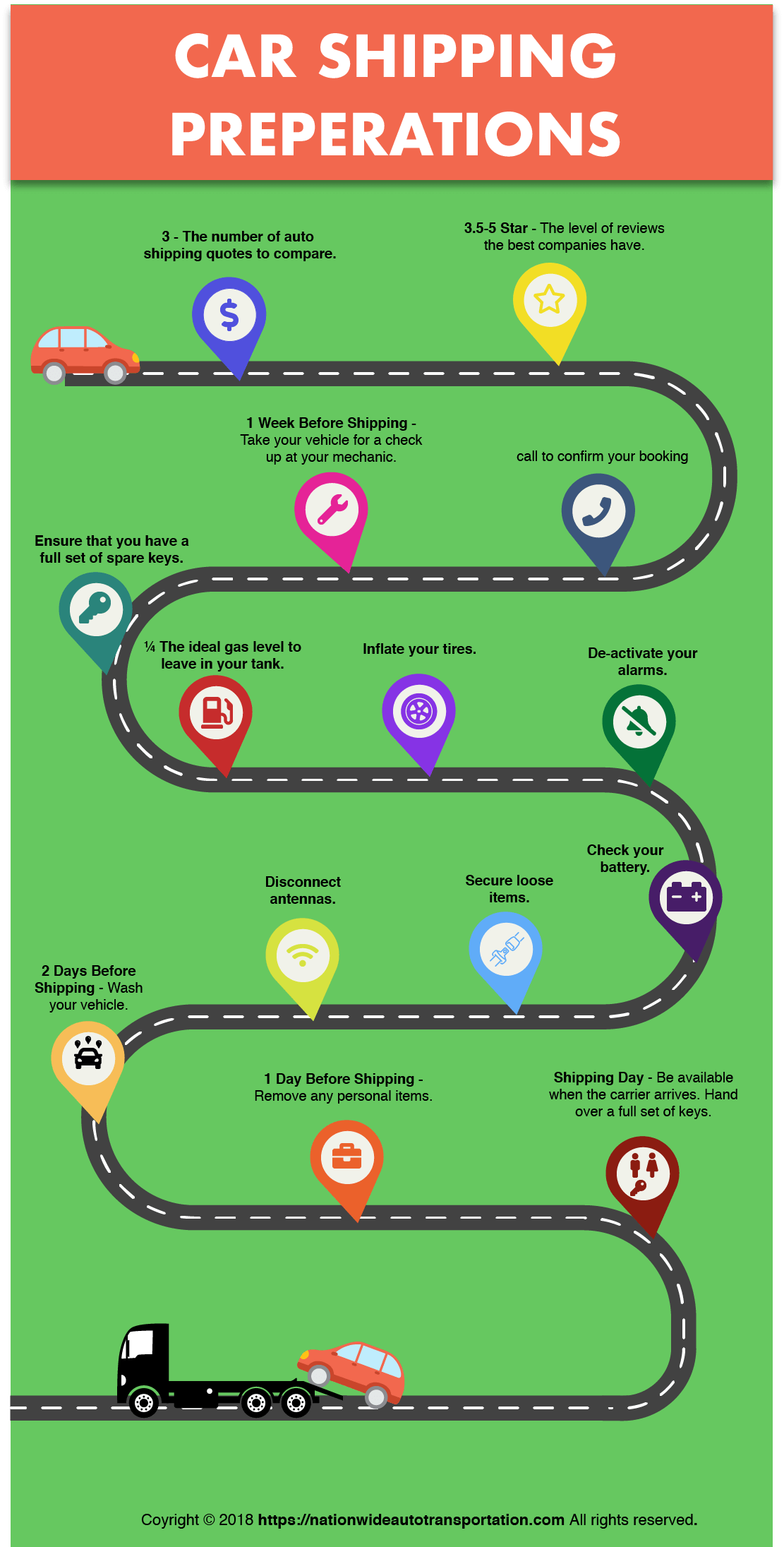 Car Shipping Preparation: Step-by-Step
Step 1: Compare auto shipping quotes from at least 3 different companies. But don't just select the cheapest auto transportation company. You must also look for reviews from customers who have made use of their services. Review sites are a great place to learn more about a company. The best companies have many reviews ranging between 3.5-5 stars. This is the first key to successful car shipping preparation. Also look for a company that is rated A+ by the BBB.
Step 2: Take your car for a checkup. A week before shipping, take your vehicle to your mechanic for a check-up, even if you don't think there's anything wrong with it. Your mechanic is trained to find and repair small issues that might lead to big problems. Why is this so important for successful car shipping preparation? Remember, if your car stops working mid-way through the shipping process, it will be treated as "non-operational" and you will be charged accordingly.
Step 3: At the same time, make sure that you have two full sets of keys – the main keys, and a spare set.
Step 4: Check your battery function, inflate your tires, and avoid filling up in the days before shipping your car. The ideal gas level is a quarter tank.
Step 5: Wash your vehicle properly and clean it inside in the three days before the vehicle shipping carrier collects it. Clean the outside, inside as well as the engine and trunk. This is an important step to car shipping preparation because it will enable you to see and record any damages.
Step 6: Take photos and notes of any existing damage and the general condition of your vehicle.
Step 7: Disconnect any antennas and other removable elements, and secure any loose items that can't be removed. Remove any personal items during car shipping preparation.
Step 8: De-activate your car alarms.
On shipping day, be present to hand over your vehicle and a full set of keys if you can. If you can't be present, you need to assign someone to facilitate this process.
Do you have questions about car shipping preparation? Speak to a consultant at Nationwide Auto Transportation today.