Reading Time: 7 minutes
Moor Often Than Knot for you to be able to enjoy the Best of Boat Worlds, you just have to Seas the Day, do the Big Nauti… and start wondering what's the cheapest state to buy a boat!
But is it really that easy? Should you just go to your local dealer and buy something a salesperson made you think you like? We drop the anchor and scour the horizon for some boat buying tips, and we check our GPS to see if there really is a cheapest state to buy a boat.
And it doesn't matter in which of our states you find your watercraft deal, Nationwide Auto Carriers can ship it safely home, but before we head for port, lets scan the radar and find out, when is the best time to buy a boat.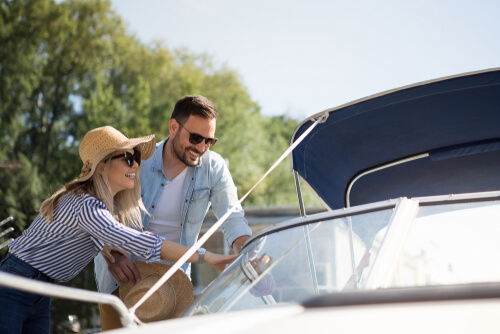 A Real Good Time to Buy a Boat is… When You're Ready
If I want to buy a boat, when is the best time to do so? You can find a better deal if you understand what seasons are best for boat-buying. No matter when you decide to buy, knowing how the different seasons affect boat sales can help you make an informed decision.
Summer Or Spring, What Prices do They Bring
Visit practically any lake or other boating hotspot in summer and spring, and you see boats of all shapes and sizes, and they are everywhere. These are the boating seasons and quite frankly, we should expect nothing less. With so much fun happening, people obviously get FOMO, so not to miss out, we buy a boat. In dives supply and demand, and with more people buying, prices tend to go up. If you have the willpower to restrain yourself from impulse buying, there are better times to buy… For Reels, soon you will be Bacon in the Sun.
Fall(ing) Prices to Please Boat Buyers
Many boat buyers will argue that the fall season is the best time for purchasing boats. During this time, most manufacturers offer discounts. Dealers often cut prices and provide discounts for buyers when demand declines. The autumn is often the best time to shop for boats, whether they are new or used.
The fall is a great time to buy a boat due to the lower prices plus you can organize the outfitting during the entire off-season. Also, this will give you plenty of time to prepare your boat, and follow the required statutory requirements, for the upcoming boating season.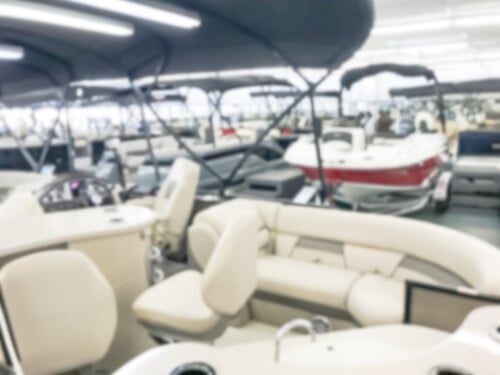 Get a Winter Winner at a Boat Show
Some people feel that winter is the perfect time to purchase a boat, even though it might seem odd. How come? Because boat shows are in full swing! It is possible to go to boat shows to view many models offered by the world's most popular manufacturers across all price and size ranges. Visitors can see many boats from many brands under one roof, and exhibitors display the latest models and features.
A boat show season typically lasts from January through March. Great deals can sometimes be found at these events. There is usually a chance to find a quality deal even if there is no off-season for boating. Dealers in warm climates are also trying to sell off their year-end inventory.
If you live up in the Northern States, now is a great time to look for deals down South. Once you have found a good deal, Nationwide Auto Carriers will gladly, and safely, ship your new "Paradise Pirate" or "Working Girl" back to your home water.
To learn more about boat shipping, with some top pro tips on how to prepare your craft for shipping, you can read our post Boat Transport: 6 Top Tips From the Pros.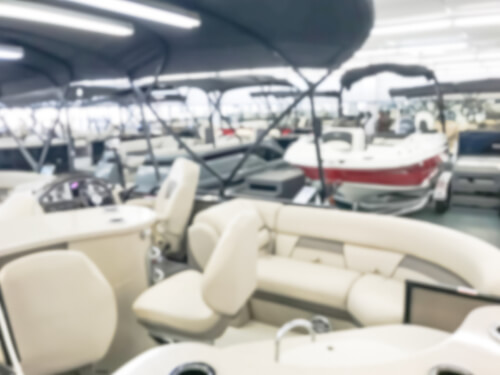 Boat Buying Tips: So, Why Should I Buy a Boat?
Y Knot is what I have to say to that. Whether it's fishing, sailing, or just enjoying the gentle waves after a hard week at work, the sea helps us unwind. Then why not just buy one? Why rent or charter a boat for a day or weekend? The benefits of owning a boat are numerous.
It is about fun and recreation. After a hectic week, everyone needs a little spark to get them going
It is important for families to bond. Boat ownership can do exactly that
There are many health benefits
Enjoying freedom and adventure
Taking part in social gatherings
Investing for the long term
Home away from home
Mastering new skills is a must for boat owners
It's a rewarding experience to own your own boat and this list represents just the tip of the iceberg, according to most boat owners!
If you are planning to relocate to be closer to your favorite boating spot, Nationwide Auto Carriers have some help for you. We have the Ultimate Relocation Guide with all the information you may need.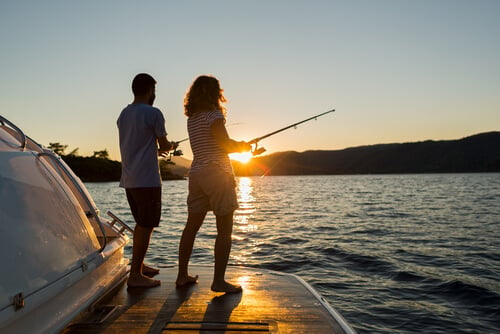 Let's Talk $$$
When we get down to the bottom of the keel, dollars matter to most of us mortals who are not William Shatner or Jeff Bezos, right? In the current boat market, stocks are going down faster than the Titanic after its brush with destiny (that would have been the iceberg's name if it was up to me), and suppliers are sailing against the wind to keep up with stocks.
But asking how much a boat costs, is akin to asking how long a piece of string is (when we all know How Long is a Chinese chef from Chicago). To pin down a dollar amount there are many price influencers to take note of:
Style and size
The brand
The difference between new and used
The demand
Geographical location
A look at the extras and features
Types of Boats and Their Prices
Ok, so this should be pretty self explanatory – boats come in a variety of prices, whether it is in the cheapest state to buy a boat, or not. Jack who likes bass, and works for Target, is not going to buy a cabin cruiser for $250 000; just like Jill, the millionaire lawyer, who likes to party… a lot (which rhymes with yacht) is not going to invest in a little Jon boat – you get the picture?
Making your choice of a boat based on this information is a great place to start. Generally:
Jon boats range in price from $500 to $3,000
The price of a catamaran starts at $10,000
The starting price of a sailboat is $12,000
The price of a fishing boat can range from $25,000 to $100,000
Airboats cost between $30k and $100k
$75k is the starting price for speed boats
Trawlers begin at $90,000
Houseboats and canal boats start at $100,000
The cost of a Cabin Cruiser ranges from $100,000 to $500,000
A yacht starts at $300,000
This provides a convenient way to gauge the average boat price. The actual price you'll pay depends on what accessories and features the boat needs (according to you and maritime law). So where exactly is the cheapest state to buy a boat then?
We look at this next – but whatever state you are getting your boat from – Nationwide Auto Carriers will safely get it to you. To calculate what shipping might cost you, use our free shipping calculator.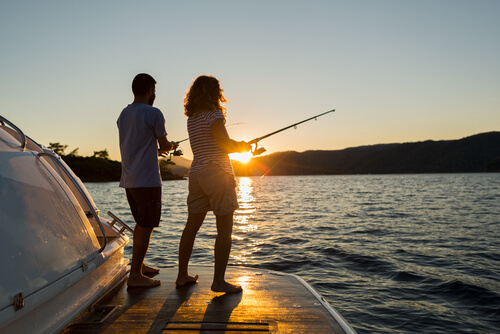 And the Winner of Cheapest State to Buy a Boat is…
Based on a study conducted by boatsafe.com using data from the Coast Guard and the Census Bureau, the following are the top 10 boating states, ranked by the number of registered watercraft per 100,000 people…wow, so many big words when the answer is Florida, get it, the cheapest state is Florida…but more about that a bit further along.
Now it stands to reason that, if there are many people owning boats in an area, there will be many people selling boats (remember supply and demand), which all leads to good pricing for prospective buyers. So it won't hurt to look at prices in these following boat crazy states:
Minnesota – 14,505
South Carolina – 11,161
Wisconsin – 10,444
North Dakota – 8,809
Maine – 8,397
Michigan – 8,066
New Hampshire – 7,077
Alaska – 6,887
Montana – 6,822
Louisiana – 6,790
But then why does it seem that the cheapest state to buy a boat is Florida? Do you recall our friends supply and demand? This is a simple matter of supply and demand economics. Recreational boating is the number-one economic activity associated with Florida, according to the National Marine Manufacturers Association (NMMA). Considering Florida has the most inventory of new and used boats, the state is a good place to find a bargain on a boat.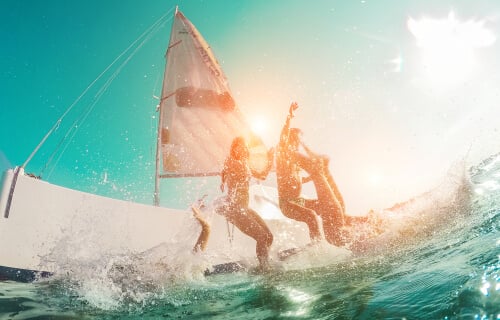 As of 2018, recreational boating contributed $23.3 billion to the economic output of the state, so the boating industry contributes significantly to the economic sustainability of the state. In this way, they do provide incentives for the market, which makes it profitable for retailers and affordable for consumers. Out-of-state buyers may benefit from this by lessening their tax burden.
When out-of-state buyers purchase a vessel from a verified dealer with all the proper paperwork (Florida Sales Tax), Florida does not charge them sales tax. This seems like a good deal, right? It is important to remember that you will have to pay taxes on the boat in the state where it is eventually registered. The boat must also be moved from Florida within a specific time frame.
We are here to help you move your newly purchased boat from, or to Florida. Whether you're a boat or car owner, a company or a large corporation, we're the perfect carrier for you. Nationwide Auto Carriers have extensive routes to the Sunshine State – and if you are considering moving there – our post about Moving to Florida: Your 2021 Guide, will make a good and helpful read.
What could be more romantic than buying a boat, and naming it after your better half—now that makes it the ultimate investment in happiness!