Reading Time: 5 minutes
Have you been thinking about a change of scenery? Moving to Arizona might just be the perfect option for you. Why is everyone moving to Arizona? Well, the weather is perfect for achy bones, and the summer-all-year-round means that you probably won't ever have to shovel snow. It's no wonder so many people make the state their home every year after weighing up the moving to Arizona pros and cons. Apart from its natural beauty provided by the forests and mountains, residents of Arizona say it's like living in the coolest museum.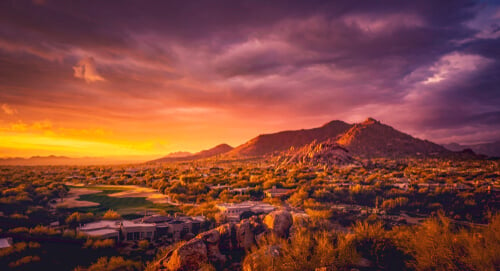 Ready for a Move?
It's easy to get a rush of blood to the head and make a move, but as with any move, take your time. Even better, consider doing an overwinter trip, or maybe moving to Arizona for a summer on a trial basis – to see that you can stand the heat. Moving isn't for the faint-hearted. And moving from up north to Arizona can take a bit of an adjustment – that's just the heat. However, when it comes to moving, there's a lot more to consider, including career opportunities, access to health care, good schools and the price of real estate.
How do you know you're ready to move to Arizona? Ask yourself the following questions:
Is the city you chose the best place to live in Arizona?
Can you see yourself living there for the foreseeable future?
Can you see yourself raising your family in this city in Arizona?
If you've already decided to move to Arizona, it's time to start making the required preparations for starting your new life in the desert. But before you start collecting moving boxes and renting a moving truck, read the facts below.
Facts
Whenever you make a big decision, it's a good idea to weigh up the pros and cons. The same applies when you decide to move to the Grand Canyon State, or the Copper State.
Arizona has an average cost of living compared to other states in the US. Their housing is slightly higher than the average, with the median home cost around $285,000. One-bedroom apartment rentals in Phoenix go for about $880 a month, while the same will be about $617 in Tucson and $1197 in Scottsdale.
Compare the cost of living where you currently live with that of your chosen city in Arizona by visiting this nifty calculator.
Low Crime
The state falls in the western United States, which has a higher crime rate than the rest of the country. Contrary to this, the crime rate in Arizona is lower than the national average. According to SafeWise, the twenty safest cities in Arizona averaged 1.7 violent crimes per 1,000 people. This is compared to the average 4.64. The crimes considered by this list included robbery, assault, rape and murder.
Native Americans make up approximately 25% of the state. Apache and Navajo are some of the spoken languages in this culturally diverse state.
Traffic can be crazy busy in Arizona. Moreso during the winter when snowbirds migrate here to thaw out their chilly bones. There's a lot of tourism in Arizona. You definitely want to bring your own car. It can be hard to find public transport from cities such as Phoenix to outlying places.
The heat is said to make people grumpy, which is why the population tends to spread out. When the heat is too much, they take a drive to one of the many ski resorts in the state. Others move to the more temperate mountain towns where they get to wear sweaters at night. Especially those moving to Arizona from NJ.
Amazing Landmarks
The state is home to many great landmarks and natural wonders apart from from the Grand Canyon, including Hoover Dam, Mission San Xavier del Bac, Montezuma Castle, and Picacho Peak. It is also believed that there are many areas in Sedona that contain powerful spiritual energy beneath the surface. This makes Sedona a great place to meditate.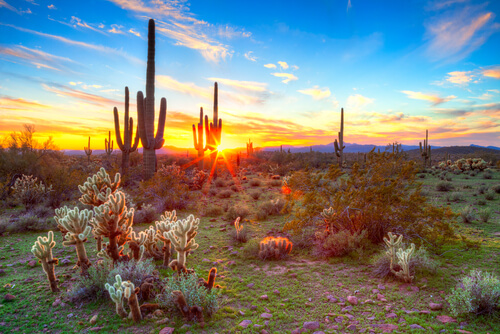 Most of the cons of living in Arizona can be attributed to the weather. Arizona frequently sees:
Extreme heat – For about 100 days of the year, the temperatures are in triple digits. In this heat, you're sure to burn yourself on steering wheels, safety belt buckles.
Creepy critters – Arizona is home to a variety of native predators such as scorpions, rattlesnakes, and mountain lions. It's a good idea to shake out your shoes, because these critters (not mountain lions, obviously) sneak into the dark corners to escape the heat.
Haboobs – Otherwise known as dust storms, haboobs are pretty frequent. However, locals just drive through them, no problem. Unless the haboob goes through your home, because then you'll have to clean up.
Monsoons – Yes, another natural phenomenon in the state occurs between mid-July to mid-August. During this month long period, Arizona gets half of the national annual rainfall.
Moving to The Copper State: Choosing a city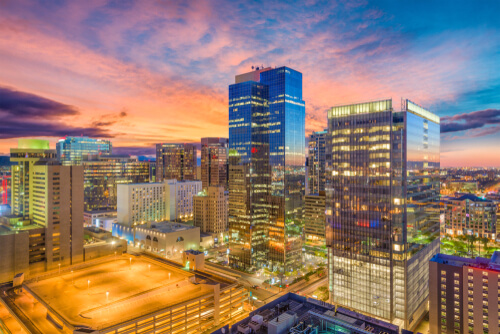 The cost of living is affordable in Arizona, and the state offers diverse terrain. However, the cost of living and quality of life does vary between cities. Here are the top 5:
Chandler – One of the fastest growing cities in all of the US, Chandler is affordable, despite its world class shopping, golfing, and dining opportunities. In fact, downtown Chandler is on the National Register of Historic Places. The median household income in Chandler is $73,000 and the median home price is $235,400.
Gilbert – Another suburb in Phoenix, Gilbert has outstanding schools and a low crime rate. Being an affordable suburb makes Gilbert a fantastic place to raise your family.
Prescott – South of Granite Dells, adjacent to the Prescott National Forest, lies the city of Prescott. People travel from near and far to come enjoy all the amazing outdoor recreation opportunities offered by the abundant nature and bodies of water, which includes Goldwater, Watson, Willow and Lynx lakes.
Oro Valley – This Tucson suburb has expanded a lot in recent years and even high tech giants such as Sanofi-Aventis, Ventana Medical Systems and Honeywell have made Oro Valley their home. This has had a fantastic influence on the median household income, which is $74,480 and the median house price, which is $276,600. That's great for anyone looking at moving to Tucson Arizona.
Flagstaff – The former railroad town has turned into a bustling economy whose focus has changed to education, thanks to the Northern Arizona University. The median income is not much at $48,120 and the average house price is $263,000.
Moving to Arizona: Yay or Nay?
Well, it's entirely up to you, of course. If you can stand the summertime heat, and you don't mind missing out on snow, you should be good to go. As with any move, preparation is key. So use our relocation checklist to make your own moving to Arizona checklist and ensure you're well prepared, and don't forget to register your car in Arizona.
Need help moving your car? We're here to help!
Other helpful links: