Reading Time: 2 minutes
Moving home or relocating your business can be stressful at the best of times. From choosing a new address to deciding what to take with and what to leave behind, you'll face many different decisions. On top of that, you have to decide whether you want to hire a full service moving company, a storage container, or simply a truck.
If you're doing a DIY move, hiring a truck is usually the best option, especially if you (or someone involved in the move) has sufficient experience in driving trucks.
To make the process easier for you, Nationwide Auto Transportation compiled an overview of some of the top truck rental companies to help make the decision easier for you.
What to Look for in a Moving Truck Rental Company?
Although choosing a rental truck company seems simple enough, there are many things to consider. Here are some aspects to bear in mind:
Truck Sizes: The size of the rental truck you choose is very important, as it will determine not only the price, but also the number of trips you will have to complete. You want to be sure that your truck is just the right size for your move – not too big, and not too small. It's a good idea to speak to a consultant who can recommend the correct truck based on the size of your home.
Budget Truck Rental: Independent Review 2022(Opens in a new browser tab)
Price and Availability
Pricing: Nobody wants to spend more money than necessary on a move, which is why it's important to find a company with a transparent pricing policy, rather than just a company that advertises cheap trucks.
Relocation Assistance: Will your company pay?(Opens in a new browser tab)
Availability: It goes without saying that truck rental companies with many locations and large fleets of trucks will have a higher number of trucks available, which means you're more likely to secure the truck you need on the date you need it.
Equipment: When you need to transport an ATV or garden equipment, you may not want to include it in the truck. However, most truck rental companies offer additional trailers. Some offer car transportation trailers, but it's important to weigh up the cost and safety of towing a car. [Read more: 2020 Car Shipping Guide]
Dually Truck Owners in the Car Hauling Industry(Opens in a new browser tab)
Cargo Insurance: 5 Important facts about auto transport insurance(Opens in a new browser tab)
Nationwide Auto Transportation completed reviews of the four biggest truck rental companies, as well as PODS (Portable On Demand Storage) to help make choosing the right moving company just a little easier.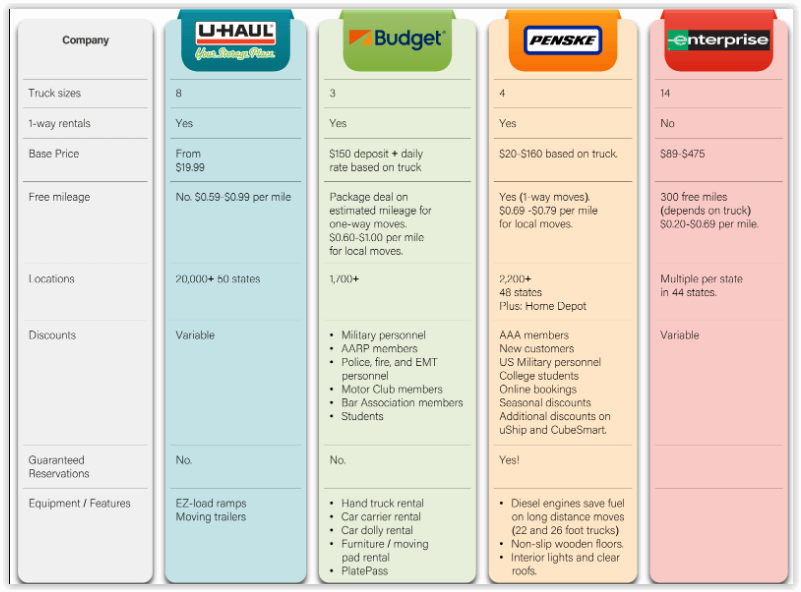 Check out our independent rental moving truck reviews on these pages:
We'd love to hear from you! Please tell us about your most recent moving experiences in comments below.