Reading Time: 6 minutes
What is Penske Truck Rental?
Penske Truck Rental is your go to company for moving your house or business to another location. If you want to save money on moving costs, you could handle your own move by renting a truck from them. The company offers generous discounts and is committed to reducing its impact on the environment. It's a great solution for DIY moves.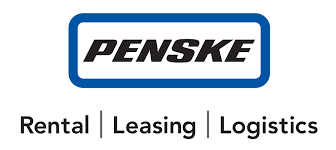 Pros: Truck Rental from Penske is a great option if you're:
Looking for a budget-friendly option.

Confident driving a truck.

Concerned about the environment.

Looking to save money on one-way truck rentals.
Cons: Penske Truck Rental is not ideal if you're:
Located in an area that Penske doesn't serve.

Looking for a trailer, as the company only offers trucks.
Availability
Truck Rental from this company does have more than 2,200 locations in 48 of the 50 states, as well as in Canada, but it is less widely spread than other truck rental companies. However, one benefit is that you can collect or deliver your truck to Home Depot.
When you reserve your truck at least 48 hours in advance, Penske Truck Rental guarantees both the pickup location and truck size, which is something other truck rental companies don't offer. This is a great benefit, as customers often encounter hiccups during their moves and extend their bookings. With another company, your schedule will be impacted.
Unlike other truck rental companies, Penske Truck Rental has hikers (drivers) who will collect your truck from a main district office and bring it to your chosen location, so that it is available when you expect to collect it.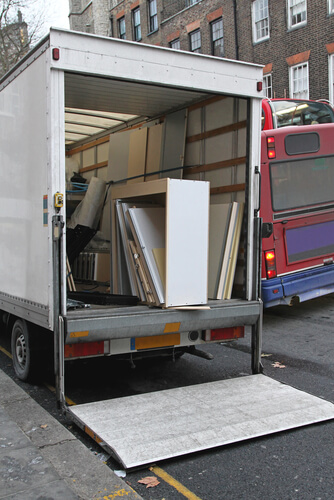 Options
Penske Truck Rentals offers a varied fleet of well-maintained, clean and relatively new vehicles, ranging from cargo vans and small trucks to 10'-12' trucks, 15'-16' trucks, 17'-22' trucks, and 24'- 26' trucks. If you want to tow your car behind the truck, you will have to rent a tow dolly or car carrier from a different service provider.
A high-roof cargo van measures 11'11" x 4'6"x 6'9" and offers a capacity of 53 square foot. It has a 3,500 lbs weight limit is suitable for:
A 10'-12' truck is suitable for people moving from studio-, one- or two-bedroom apartment with only a small amount of belongings. A 12' truck measures 12' x 6'6" x 6'9"and has a 78 square foot capacity and 3,500 lbs. Weight limit.
Size Matters
The next size up, 15'-16' trucks, are suitable for families who live in two-bedroom apartments or small houses. A 16-foot truck measures 16'x 7'7" x 6'6" and has a 120 square foot capacity and 4,300 lbs weight limit. The cab has space for three people, but no facilities for a child seat.
If you're moving a large apartment, a two-bedroom house, or an office, opt for a 17'-22' truck. A 22-foot truck has sufficient space for three to five bedrooms with a capacity of 164 square foot and a 10,000 lbs weight limit.
A 24'-26' truck, which measures 25'11"x 8'1"x 8'1" and has a capacity of 192 square feet, and a 10,000 weight limit is best for large households, as it has a large enough interior for up to seven rooms' worth of belongings.
Only the 22'-26' trucks are diesel powered.
Additional Services
Penske Truck Rental's additional services include:
Moving boxes and packing suppliers

Self-storage rentals

Moving labor

Loans
And other moving services.
Pricing
A DIY move is typically more cost effective than a full-service move, which can cost upwards of $550. However, with budget-friendly truck rental options from Penske, you'll pay anywhere from $35 upwards. It's important to consider the logistics of a DIY move, however, as that will impact the full cost of your move.
While you don't need a special driver's license to rent a truck from Penske Truck Rental, you need to be confident driving a large truck with a heavy load on the open road.
When it comes to local moves, Penske Truck Rental charges between $0.69-$0.79 per mile in addition to the rental fee, which is $20-$160. The company also charges a $9 environmental fee, and insurance depends on the package you select.
Penske Truck Rental Insurance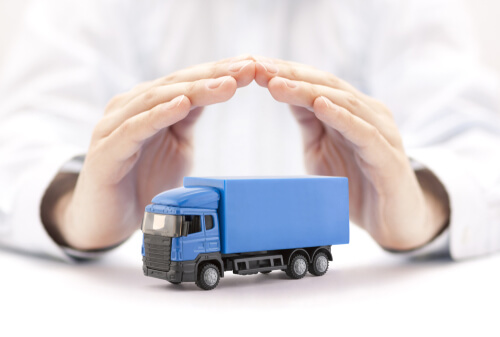 Even if you're an experienced truck driver who has done this a million times, accidents happen. You may be a careful, competent driver, but others are not. Then you also have to contend with road conditions, and weather. If you're going to hire a truck, it is a good idea to look into Penske Truck Rental's insurance options.
What is Recommended?
It is recommended that you select your insurance cover based on your comfort levels driving a rental truck of the size you require. The following options are available:
Liability insurance is available in the event that you cause an accident. It will cover the minimum amount of money payable for damages to the other driver's vehicle.

Supplemental liability insurance covers you if you are sued for damages to another individual or to their property if an accident occurs during the rental period. All authorized drivers are covered for up to $1,000,000.

Limited damage waiver cover is the most pricey coverage, but it offers protection against accident damages (including scratches and dents). However, it does not cover you against accidents that occur while you are behind the wheel.

Personal accident insurance provides medical cover for yourself and your passengers in the event of injury or death involving a Penske truck.

Cargo insurance provides cover for anything in your truck that is damaged as the result of a natural disaster or accident up to a value of $15,000, but it does not cover damages that occur during loading or unloading.

Towing insurance is important if you're towing your car or any other vehicle behind your Penske truck. If an accident occurs while you're driving your rental truck, or while you are loading or unloading it, the insurance will cover it.
What else you should know about Penske Truck Rental
Penske Truck Rental offers a range of discounts, including:
20% off your first rental as a new Penske Truck Rental customer

12% off truck rentals for AAA members

10% off all truck rentals to US military personnel

10% off all truck rentals for college students
Additionally, they offer seasonal discounts, as well as unlimited free mileage on all one-way moves. You can extend your reservation at an extra $100 per day if you do run into challenges during your move.
Penske Truck Rental does not charge a penalty if you cancel a reservations up to 48 hours in advance.
What do customers say?
Budget-conscious customers love the discounts Penske offers, as well as the guaranteed availability on reservations made well in advance.
The company's environmental initiative is received with mixed feelings, as maximum speeds on the trucks are limited to save fuel and a $9 environmental charge is levied. Penske owns fuel efficient 22- and 26-foot diesel trucks that provide better fuel economy per gallon compared to gasoline-powered trucks.
Penske Truck Rental sets the standards in environmental friendliness by installing truck bodies that are made of 100% recyclable materials on low-emission trucks.
Customers who wish to tow their personal vehicles often prefer hiring trucks and tow dollies from the same company, as it enables easy one-stop returns. However, it is almost always best to hire a company that does professional door-to-door auto transportation. Driving a moving truck and towing a vehicle behind it is much harder than driving a light motor vehicle, unless you have sufficient experience.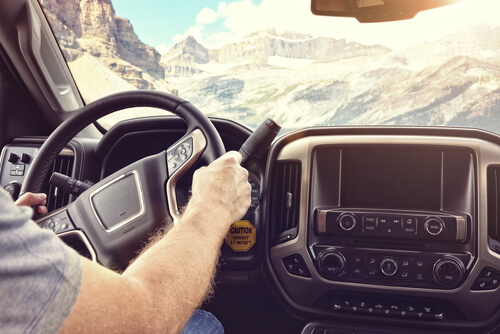 What is the best option for your move?
There are many reasons why people choose Penske Truck Rental for their DIY moves, but to recap some specific advantages:
A variety of attractive discounts.

Transparent upfront pricing.

Penske Truck Rental offers guaranteed availability on reservations made more than 48 hours before collection.

Helpful website with clear information on the various options.

Penske Truck Rental offers free unlimited mileage on one-way moves.
These benefits makes Penske Truck Rental one of the most affordable rental truck options.