Reading Time: 5 minutes
Need to ship a car within the state or to a different state? No worries! The good news is that you don't need to do any heavy lifting to ship a car interstate. It doesn't mean you have to hunt down a carrier for that one moment in his 14-hour driving days when he's not on the road… It's in 2020. There are self-driving cars and technology for you to easily book your interstate car shipping within a few clicks of the most (or taps if you're using a smartphone).
In this post, Nationwide Auto Transportation will provide the guidelines you need to safely and easily ship a car interstate, whether you're moving across state lines or to another county in your home state. Our reliable team of carriers is standing by to safely and efficiently handle your interstate car shipment.
How can I ensure a good auto shipping experience?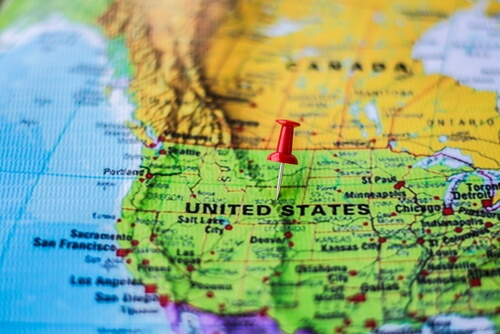 Step 1: Know what's available in terms of auto shipping options – door to door, terminal to terminal, open and enclosed car transport.
Most people have heard of door-to-door auto transportation. But within that, you will find a range of other options. In this mini car shipping glossary, we'll explain your options:
Door-to-door car shipping – Quite self-explanatory, door-to-door auto transport is when the car is collected from your home in one city, and delivered to the door of the designated delivery address in a different city or state. There's one caveat though: If the streets are too narrow, or if there are restrictions for heavy vehicles at either of the addresses, you will need to meet the truck at a mutually agreed-upon public parking area where there is sufficient space to unload the car.
Terminal-to-terminal auto shipping – This service involves the truck collecting all cars designated for the same load at a central terminal. All cars will be delivered to the same terminal in another city or state (the destination terminal). Since there are fewer collection and delivery points along the way, the quote for terminal-to-terminal shipping can be cheaper than with door-to-door transport. However, it does not take into account your costs in getting the car to the terminal and from the terminal to your actual destination address. Be sure to discuss the type of shipping you opt for. Terminal-to-terminal interstate car shipping can take significantly longer than door-to-door auto shipping.
Open car shipping – This type of car shipping involves the car being placed on an open trailer along with 4-10 other cars. Each car is individually loaded and secured to the trailer. Open auto transport has been proven a safe and 99% damage-free way to ship a car interstate. In the highly unlikely event that there is damage to your car from the elements or from the road elements, auto shipping insurance will take care of it. That's why this is the most popular (and affordable) way to ship your car fast and safely.
Enclosed auto transport – If you're shipping a high-end car or a vintage car, you will want to use enclosed auto transportation. That means your car will be placed in a covered trailer with no more than 4 other vehicles. The soft or hard sides and roof of the truck will protect the car from prying eyes, the elements, and road debris. Of course, this service comes with a higher price tag, as fewer cars can be shipped on the same route at a time.
Step 2: Estimated shipping dates – How long will it take for my car to be shipped?
At Nationwide Auto Transportation, we highly recommend door-to-door car shipping using open carrier vehicle transport. Why? Because 1) it's the cheapest and 2) it's the fastest way to ship a car interstate. Of course, there are circumstances that warrant the use for enclosed auto transport and terminal-to-terminal transport, but in most cases, open car carriers are the best choice.
When you are given estimated collection and delivery dates, it's important to understand how the logistics are calculated. Although all the cars are going in the same direction, they are not all dropped off at the same destination. There's an art to logistics. Cars have to be loaded and unloaded in a certain order, and if the driver runs into unforeseen issues (breakdowns, bad weather, or delays due to traffic or accidents) your car may only be delivered towards the latter stages of the date range given. That's why it's difficult for auto transport brokers and even the carriers themselves to give exact dates. For that reason, it's important to ensure that the date range provided works for you.
If you're on a very tight schedule, it would be best to spend a bit extra (about $75-$100) and opt for rush or expedited interstate car transport.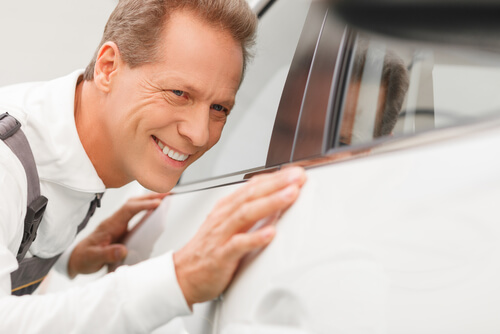 Step 3: How to find the best car shipping company
A car is one of the most valuable items most working adults own, and it should be treated as such. When it comes to interstate car shipping, you want to be sure your vehicle is in good hands. It is important to select an auto transporter that you can trust with your car. If there's no reliable interstate car shipping company in your area, it's worth your while to find one that travels through your city. You don't have to do it yourself, though.
Sure, some smaller areas that are off the beaten path have fewer shipments and that may result in a higher price and longer wait. However, Nationwide Auto Transportation has a vast network of carriers that operate across the US. Some regions are popular shipping hubs with regular trucks coming from all the different states. In these areas, convenience and competition determines the price, rather than distance.
Instead of trying to get hold of individual truckers one-by-one, let NAT find you an interstate auto transport booking at the right price and within a timeframe that suits your needs.
Step 4: Check if your personal auto insurance policy covers rental cars
Even the most experienced, meticulously safety-conscious drivers can encounter issues. Accidents happen to the best of people. Although this is highly unlikely (because these drivers are so experienced at maneuvering big rigs on small roads and anticipate the actions of other drivers on the road) things can go wrong and your car can be damaged. It's important to know that the typical auto insurance policy does not cover car shipping. However, reputable and legitimate auto transporters offer insurance plans to help your car to be covered on the road. If their offer is insufficient, you should consider buying additional car shipping insurance.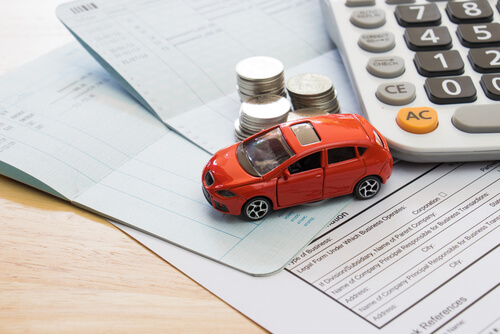 Step 5: Prepare your car properly for auto shipping
Car shipping companies prefer that your car has no more than a quarter tank of fuel when it is being shipped. So keep the tank low, with just enough gas to drive it onto the truck and back down, and to the nearest service station.
If you're selling your car, you might think that it's a waste to wash it before it goes on the back of a truck for thousands of miles. But the wash has less to do with looking pretty and more with being able to see any scratches and scuff marks or other issues that should be mentioned on the bill of lading.
Last Word on Interstate Car Transport
So, there you have it! All that's left is to choose the right interstate auto shipping company that will not only be affordable, but also trustworthy and able to make the whole process a little simpler for you. Peace of mind is a big factor when it comes to auto shipping and the right nationwide auto transportation company will make you feel satisfied that all is going according to plan.