Reading Time: 4 minutes
Sometimes, the simplest of questions have the most convoluted answer. That's also the case with "What's the cheapest way to ship a car?" or "How much does it cost to ship a car?". There are so many variables to take into consideration, and most of them are not within the control of the auto transportation company you choose.
Car shipping costs at a glance – What's the cheapest way to ship a car?
When comparing rates from some top-ranked car shipping companies, rates range from $4 per mile to move a car up to 500 miles, and about $0.90 per mile when shipping your car more than a thousand miles. Car shipping prices are made up of the following factors:
Your vehicle's weight and type
Whether the vehicle is functional
Shipping distance
Type of shipping (door or terminal shipping)
Locations
When you ship your car door-to-door, the transporter may have to drive out of the major centers to collect or deliver it. This is usually off the main route, and will therefore cost more.
While there are many considerations (which we'll explain in more detail) some of the tried-and-true ways to save money include:
Get at least 3-5 quotes from different shipping companies and read their online reviews.
Ship your car in the off-season when it is cheaper than during peak seasons.
Ensure that your car is operational.
Choose open car shipping rather than enclosed shipping.
Your reason for shipping a car will also determine the cheapest way to move a car. If you're buying a car from out of state and you have to fly to collect it, you're liable for the costs of:
Your plane ticket
Gas
Toll roads
Loss of earnings – you're not earning money while you're not at work.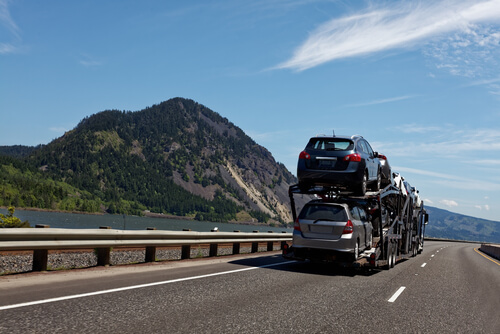 The Cheap, Okay and Nasty of Auto Transport
When you're looking for the cheapest way to ship your car, be sure to factor in the risks. Cheap auto shipping companies may be cheap because:
They don't care about keeping up industry requirements (registration with DoT, licensing, FMCSA, and Better Business Bureau.
Not sufficient insurance.
They don't have all the equipment to safely transport your car.
Shortcuts that may jeopardize your car's safety.
Instead of opting for the cheapest quote, learn what you need to know to find the most cost effective quote. That's the one that combines excellent service with industry accreditation, long standing relationships with transporters, many happy past and returning customers, and insurance.
Types of Transport
In almost all cases, open shipping is the cheapest way to ship a car from one place to another. Together with distance, the type of carrier (open or enclosed) has the biggest influence on the price. The following options are available:
Open air car shipping – Multiple vehicles are transported on a trailer with two racks and no sides or roof. Because carriers can ship up to ten vehicles at a time in the same direction, this option makes the price of individual car shipping cheaper.
Enclosed car transportation – Vehicles are shipped in a truck with hard or soft sides, which offers more protection than an open trailer. However, since fewer vehicles can be transported at a time, the price is typically marginally more than that of open air car shipping.
Container shipping – Some individuals opt to ship their vehicles in a container along with their household goods when they are moving house. This might be the cheapest option, unless you consider the fact that there are several risks, such as boxes or other household items falling onto your car, causing dents and scratches.
The Most Affordable Ways to Ship a Car
When choosing the cheapest way to ship a car, be sure to remember that some methods may be slower than others. And time is money. Finding enclosed transportation carriers can take longer, as most transporters have open air trailers. Also, enclosed trucks can carry fewer cars at a time, so the demand outweighs the supply. This means that you will have to wait longer for the truck to show up. These are just some of the reasons why most people prefer to ship their cars using open carrier vehicle shipping.
In addition to the options above, you can choose terminal-to-terminal services or door-to-door car shipping: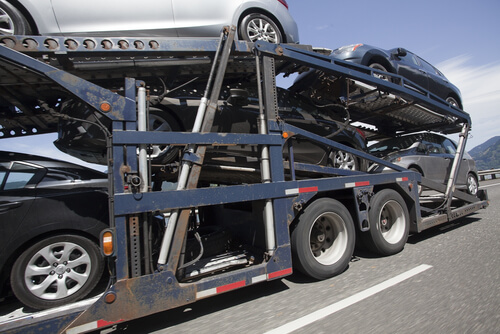 Terminal-to-terminal – You leave your vehicle at a terminal, from where it is added onto the trailer along with other vehicles, and shipped to a different terminal.
Door-to-door – When you opt for door-to-door auto shipping, the truck will collect your car from your desired pick up location (your home address, work address or similar) and shipped to another location of your choosing.
While terminal-to-terminal shipping can be cheaper, your car may have to sit at the originating terminal while the transporters wait for the load to your destination to fill up. In many cases, terminals are large parking lots where your car will likely be exposed to the elements. Sheltering costs may also be a factor if you have to drive a reasonable distance to reach the terminals.
When choosing an auto transportation service, be sure to consider online ratings and get in touch with the Federal Motor Carrier Safety Administration hotline at 888-368-7238 to ensure that your shipper meets the insurance and licensing requirements. Always resist the urge to opt for the cheapest company. It's better to find a company that ensures on-time and damage free delivery.
Nationwide Auto Transportation Car Shipping Cost Calculator: cheapest way to ship a car
Nationwide Auto Transportation has been in the car shipping market for long enough to understand prices and market fluctuations inside out. We have used our experience to create our proprietary car shipping quote calculator. The software pulls relevant information from a number of databases simultaneously to provide you with the most accurate quote possible, based on the information you provided.
For more than 16 years, we've been proud to transport cars across all the states on behalf of more than a million clients, who included car dealers, antique car collectors, motor clubs and more. We have a 99.7% damage-free record and the required insurance. Get in touch with us today to request your car shipping quote or learn why NAT offers the cheapest way to ship a car.